WHO WE ARE
PlantNative is dedicated to moving native plants and naturescaping into mainstream landscaping practices. We believe this promotes biodiversity, preserves our natural heritage, reduces pollution and enhances livability. Our goal is to work with nursery owners, landscape professionals and consumers to increase public awareness of native plants and related landscaping practices and to increase both the supply of and demand for native plants.
OUR TEAM
Our team includes Steve Sullivan, Director, Sarah Foster, Webmaster, Kris Freitag, Botanist, and Kava (the wonder dog), Entertainment Director.
ACKNOWLEDGEMENTS
We are grateful to a tremendous array of people who have contributed to our effort (you know who you are) and, in particular, to the exceedingly beneficial input of our de facto advisors:
Dennis "Whitey" Lueck, landscape designer and naturalist, Eugene, OR.
Linda Robinson, former director of Naturescaping for Clean Rivers, Portland, OR.
Kathleen Baughman, landscape architect, Portland, OR.
Bob Ward, website designer for Lane Forest Products, Eugene, OR.
LOCATION & CONTACT INFO
We are located inside a little orange building in North Portland, on N Vancouver Ave between Shaver and Fremont (see photo).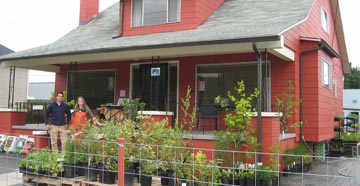 Our contact information is as follows:

Mailing Addr: P.O. Box 5997, Portland, OR 97228

Physical Addr: 3926 N. Vancouver, Portland, OR 97227

Tel: 503.248.0104 Fax: 503.248.0105

Email: inbox at plantnative dot com
FEEDBACK
We are dedicated to providing accurate information and attentive customer service.

If you feel that this website or our operations can be improved in any manner, please email us to explain the problem and possible solutions. Thank you for your worthy feedback. PN