15 Ornamental Trees to Grow in Tennessee
A fascinating selection of tree species are in Tennessee's varied and abundant landscape. The ever-beautiful state is home to a wide variety of breathtaking scenery, from the Appalachian Mountains to the Highland Rim and the Blue Ridge.
All kinds of trees that provide shade thrive in Tennessee's relatively warm climate. Trees and plants like maples, dogwoods, oaks, and many others are indigenous to the state.
Several flowering trees thrive in the Southern state's mild winters and hot, humid summers, including the Eastern Redbud, the Tulip Tree, the fascinating Crape Myrtle, and a wide variety of gorgeous Magnolia.
The brilliant, multi-hued blossoms of these trees, each with its distinctive outline, are only one of the many reasons they make such a wonderful addition to a home's landscape.
These trees may be the single focal points in a garden or as a component of a mixed deciduous hedge. Here are the 15 ornamental trees that you can grow in Tennessee.
1. Eastern Redbud
Blooms in the spring.
30 Feet in height.
The Eastern redbud is an attractive multi-trunked tree with spreading branches and a rounded crown. As the name suggests, it produces clusters of little magenta buds that open to reveal stunning, long-lasting, rosy-pink blooms.
The heart-shaped reddish leaves of its foliage mature to a green and, finally, a canary-yellow color. Redbuds can tolerate varying amounts of shade and do well in various soil conditions. While redbud trees may survive brief periods of drought, they require consistent watering when grown in full sunlight.
You should mulch around the trees to help keep the ground cool and moist all summer. It is ideal to prune this tree immediately after the flowers have faded or when the plant is dormant in the late fall.
Fungal infections are the leading source of harm to redbuds, specifically verticillium wilt and leaf spots. In particular, older trees are at risk. The best treatment is prompt diagnosis and surgical excision of the afflicted areas.
2.White Fringetree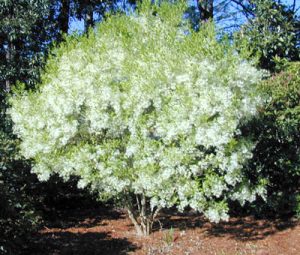 Flowering Time: Spring.
Grows to a height between 4 meters (13 ft) and 6 meters (20 ft).
Originating in the eastern United States, white fringetree is a natural tree species. The little deciduous tree has a broad, rounded crown. It grows clusters of delicate, white flowers that hang down. Its leaves are broad and spear-shaped, which turn a bright yellow in the fall. In addition to olives, this tree has dark, bluish-black fruits.
It prefers a location with full or partial sun and moist, healthy, and well-drained soil. The many tiny, fragrant, white to greenish-white flowers each have 4-6 narrow, strap-shaped petals that measure 1 inch in length and 1/16 inch across. They are hung in elaborate clusters ranging from four to six inches.
When the first leaves appear, the flowers will also bloom. Leaf sheen and dark green coloration aren't the only distinguishing characteristics; the trunk is banded in white and gray.
The petiole of this tree is an inch long, and the leaves measure 4-8 inches in length and 1/4 inch in width. Dense clusters of fragrant, lacy white blooms cover the branches of this small tree.
3. Crape Myrtle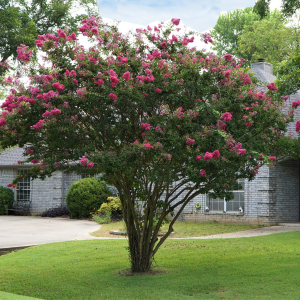 Periods of blooming: Summer and spring.
Grows to 35 feet in height.
Large, showy clusters of purple or pink blooms are produced by the Crape Myrtle, which has earned the nickname "lilac of the South." It has a beautiful trunk and thick, evergreen leaves. This tree prefers a sunny location with wet, well-drained soil. It has the potential to become either a huge, luxuriant shrub or a beautiful, medium-sized tree.
Over-pruning, often known as "crape murder," refers to the practice of chopping off the tops of this fruit tree. This pruning can cause your plant to focus on growing new limbs and leaves instead of flowers. Greater bloom clusters on fresh branches can lead plants to droop and break, but some people claim that this results in larger flowers the following season.
The tree's aesthetic value is diminished since the knobby growth that develops at the cut place each year makes it more susceptible to disease. Crape myrtles are adaptable and may be grown in almost any soil, though in alkaline conditions, the leaves may turn yellow.
4.Yellowwood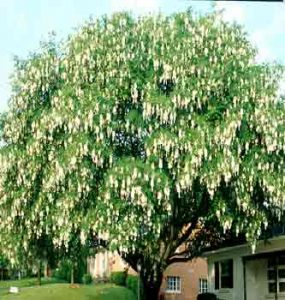 Blooms during late spring and early summer.
Grows to 80 feet in height.
An impressive deciduous tree, the yellowwood stands out for its rounded, wide crown and upwards spreading branches. It has massive flower clusters that hang like pendants and emit a powerful fragrance. It has pinnate leaves that are a bright yellow in the spring and summer and lighter green in the fall.
This tree thrives in sunny locations with rich, moist soil that drains well. It does best in deep, fertile loam or moist sand with a pH of about 6.5 to 7.5. Both alkaline and acidic soils are fine for it to grow on. Yellowwood flourishes well in the forest, even though it prefers full sun for flowering.
If you don't prune your yellowwood, the branches will grow at awkward angles and eventually fall off. When pruned in the spring, the tree bleeds; thus, summer is the best time to do it. Yellowwood, if unpruned, can deteriorate in as little as 30-40 years.
5.Sweet Bay Magnolia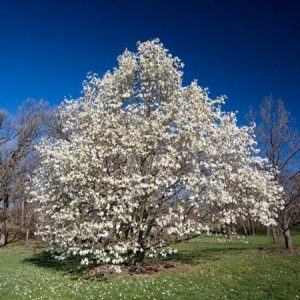 Begins blooming during the summer.
Grows to 10-20 ft in height.
Sweet Bay Magnolia is an evergreen, multi-stemmed shrub that is endemic to the southeastern United States. It is adorned with glossy green leaves. Its flowers have a mild fragrance and are a creamy white color with waxy petals that form a cup shape. Full sun to partial shade with acidic, wet, naturally rich, well-drained soils are ideal for its growth.
When you need a little tree but want some shade, sweetbay magnolia is the way to go. Growing sweetbay magnolias on dry soils is impossible even with irrigation because these trees are typically categorized as wetland plants.
Keep the pH around 5.5 and 6.5 (slightly acidic) for its ideal growth. Chlorosis, a condition in which leaves turn yellow, occurs when these plants are grown in alkaline soil. If the soil needs to be acidified, sulfur might be used for this purpose.
Lawn debris can easily harm sweetbay magnolia trees. Always direct cuttings away from the plant when using a lawn mower, or invest in a debris guard. Avoid accidental harm when using a string trimmer by keeping a safe distance of at least four inches (10 cm).
6. Kousa Dogwood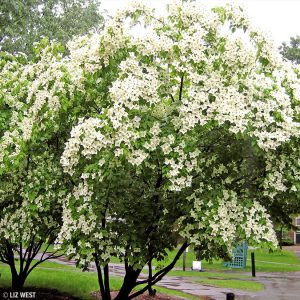 Springtime bloomer.
Size: 5-10 m in height.
The Kousa dogwood is a tiny, deciduous, multi-stemmed tree that bears beautiful flowers in the fall. It features an oval, pointed crown ranging from vase-shaped to rounded, and its dark green leaves turn a reddish-purple in the fall.
A flower of yellowish green color is produced, and it is surrounded by four white bracts that are slender and pointed like petals. Sun or partial shade, acidic to neutral soil with appropriate moisture,, and good drainage are all ideal conditions for the growth of Kousa Dogwood.
7. Cornelian Cherry
Blooms from the end of winter into the beginning of spring.
Grows to 20-40 feet in height.
Cornelian Cherry is a tiny, deciduous tree native to western and central Europe. The bracts, which resemble petals, are a shade of yellow. The flowers themselves are tiny and appear on short stalks. This tree features many dark green leaves that range from ovate to elliptic. Cornelian Cherry does best in full sun to partial shade on wet, organically rich, well-drained soils.
A Cornelian cherry can outlive a hundred years. In this time frame, it develops a trunk, reaching heights of 6 to 8 m and widths of 2 to 4 m. It's one of the slower-growing, less aggressive woody plants, with an annual growth rate of 20-30 centimeters.
The ovate-elliptical foliage is glossy green in the summer and a yellow to reddish-orange in the fall. The leaves are typically between 4 and 10 cm in length, wavy at the margins, and hairy on both the top and bottom surfaces.
The cornelian cherry's bright yellow flowers, arranged in round umbels, bloom in February and April, much before the tree's leaves do. They provide an important food source for pollinators like bees and bumblebees.
8. Smoke Tree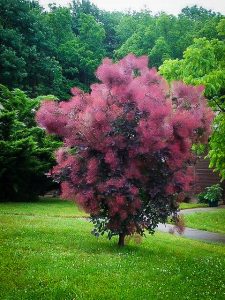 Begins blooming during the summer.
Grows to 5-10 m tall.
From central China to southern Europe, the Smoke Tree is widely grown. Its natural environment is open, and the shrub is erect and bushy with several stems. The blue-green leaves of this plant change color to shades of orange, purple, and yellow in the fall.
It has wispy, pink to purplish-pink hairy stalks that bear tiny yellowish blooms. Smoke Tree prefers to thrive in soils that are mildly acidic and fairly well-drained.
9. Franklin Tree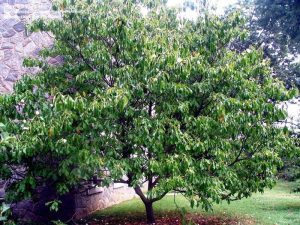 Begins blooming during the summer.
Grows to 10-20 ft in height.
Franklin Trees are multi-stemmed shrubs or small trees with a round crown that grows from a single trunk. It blooms with white cup-shaped flowers with yellow stamens in the center, resembling camellias.
It has shiny dark green foliage that is narrow and oblong-ovate in shape, and they change colors to red, purple, and orange in the fall. It does best in full sunlight to partial shade and in organically rich, moist but not soggy, and well-drained soils.
10. Galaxy Magnolia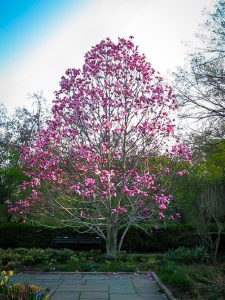 Springtime bloomer.
Reaches 30-40 feet in height.
The Galaxy Magnolia is a deciduous hybrid tree or shrub with a single stump and is big, narrow and colorful with climbing branches. It can generate up to twelve spectacular tepals that resemble petals and come in various colors, including reddish-purple and rose-pink.
Its big, oval, medium-green leaves occur in whorls. This tree does best in mildly acidic, ecologically rich, adequately moist, and well-drained soil in full sun to partial shade.
11. Carolina Silverbells And Mountain Silverbells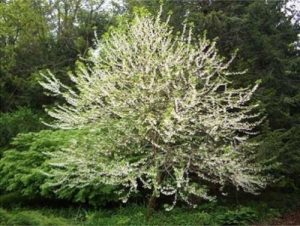 Springtime bloomer.
Grows to 30-40 feet in height.
The Mountain Silverbell is a beautiful deciduous understory tree with a broad, rounded crown. This plant is notable for the bunches of two to five white bell-shaped blooms it produces.
It has ovate leaves that are a dark yellowish green and sharply serrated. The fruits are a lighter green. This low-maintenance tree prefers full sun or partial shade and thrives in rich, moist, acidic soils that drain well.
12. Witch Hazel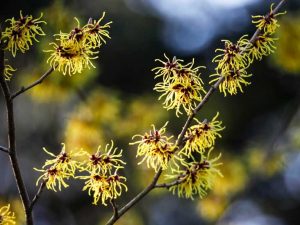 Late winter/early spring blooming.
Grows to 10-20 ft in height.
Witch Hazel is a moderate deciduous shrub which spreads and has ascending branches. It grows fragrant copper-red blooms with narrow, wavy petals tipped in yellow.
It has large, oval foliage that becomes a fiery orange in the fall. Growing witch hazel requires soil that is acidic, organically rich, well-drained and has enough amount of moisture. It can also benefit from partial shade or full sun.
13.Golden Rain Tree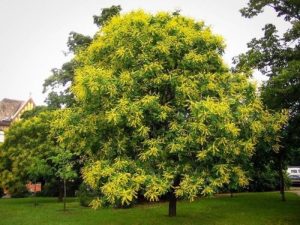 Blooming Time: Towards the End of Spring and the Beginning of Summer.
Grows to 30-40 feet in height.
The Golden Rain Tree is a beautiful medium-sized deciduous tree with a round crown and wide branches. It has pinnate leaves that are initially a purplish pink color but eventually become an apple green and a golden yellow in the fall.
Long clusters of stunning, deep yellow flowers are another bonus of this low-maintenance tree. It requires full sunlight and moderate, well-drained soils to flourish.
14. Star Magnolia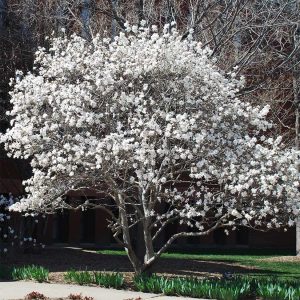 Springtime bloomer.
Grows to 20 feet in height.
The Star Magnolia tree is modest but beautiful and resistant to pests thanks to its well-shaped, lustrous, oblong leaves. Large, fragrant blooms in the shape of stars cover the bare branches of this deciduous shrub, making it a popular decorative.
Its flowers are recognizable due to their 25-30 long cord petals and pale-yellow centers. This tree prefers partially shaded or full sun locations with well-drained soils.
15. Seven-Son Flower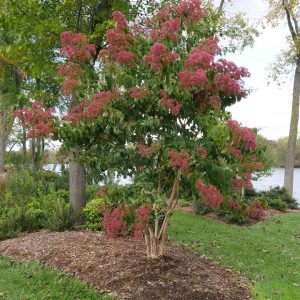 Begins blooming during the summer.
Reaches 10 feet in height.
The Seven-Son Flower grows as a stemmed, fountain-shaped, deciduous shrub, but it can also be turned into a tiny tree with a single trunk. Seven-branched groupings of fragrant, white flowers are produced from this tree.
Six blossoms are on each branch, followed by small, bright red fruits. This tree's glossy, medium-green leaves are narrow and ovate-oblong in shape. It thrives in sunny locations with evenly moist, well-drained soil.