Best 6 Flowering Trees To Grow In Arizona
Property values can be increased by $1000 to $10,000 through the addition of mature Flowering trees. Flowering trees add curb appeal and give an excellent return on investment.
Arizona's climate may not be conducive to all types of flowering trees, however. You may want to consider adding flowering trees to your landscape if you would like to make it more beautiful. Perhaps you are looking for advice on what trees are best suited to the Tucson climate.
Flowers are an excellent way to add a touch of color to any landscape, and a lot of them can be found in flowering trees. They make beautiful accents alone or can be planted in groups to define a straight or curved path. Many flowering trees offer gorgeous views all year-long.
Consider what Tuscan Landscape Design has to offer as a means of giving your yard a fresh look if you would like to give it a new look. This will let you take advantage of the rustic accents of a region in Italy that will be the envy of everyone in your area.

---
Sioux Crape Myrtle Tree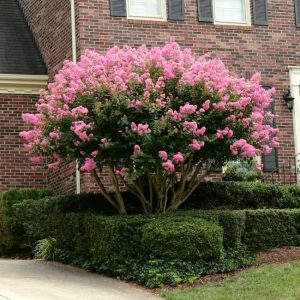 If you have the cold hardy Sioux Crape Myrtles for your landscape, it is good to know you will never be without color, especially during the summer when you can see their dark pink flowers bloom continuously and into the fall.
A cold hardy plant capable of surviving in zones 6 and 7 with the ability to thrive in heavy ice and snow.
The Sioux Crape Myrtle brings its pink blooms farther north than most other crape myrtle varieties.
A Crape that thrives down to 0 degrees? It seems almost too good to be true, but the Sioux delivers without hassle for you.
The pink blooms will last for months, and you will delight in their fragrance for a long time to come.
Flowering in large bunches, these flowers boast an attractive color and will catch your neighbors' attention as they pass by.
This rich color looks even better against its backdrop of dark green leaves that create a radiant, contrasting show.
Autumn brings vivid colors of purples and reds to the leaves, turning them into a beautiful work of art.
You will have to see it to believe it – they sparkle in the landscape with vibrant hues that will make your jaw drop. It is worth mentioning that Sioux Crape Myrtles possess a brightly colored bark that goes well with their leafy foliage.
Eventually, the older brown bark peels off, revealing a light beige bark underneath. Then, the older and younger bark intertwine on the trunk together to create a marbled look.

---
Autumn Brilliance Serviceberry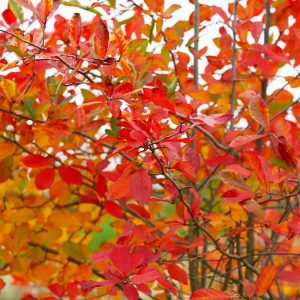 As a cultivar that produces visual interest nearly throughout the year, the Autumn Brilliance Serviceberry lives up to its name.
There are always blooms in spring that stand in preparation for summer fruit that can be used to make jams and jellies.
Later on in the year, brilliant fall colors can be seen taking center stage, giving you the best yard on the block and creating a focal point in your lawn.
There is also the possibility of training this multi-trunked variety to be a tree or a tall shrub.
There is very little that Autumn Brilliance is not capable of doing when it comes to the appearance of autumn colors.
From its eye-catching white April blooms to its blueberry-like fruit in June and orange-red fall color, the Autumn Brilliance (also known as the Juneberry) covers all your landscape bases.

---
Sunny Knock Out Rose Tree
This Knock Out Rose Tree has become the standard for disease resistance and low maintenance gardening. As a result, it has set the bar for outstanding color and adaptability.
You'll find all the hardy, reliable growth of Knock Out shrubs, but with an even more versatile growth habit…and a continuous supply of rich yellow blooms for up to nine months.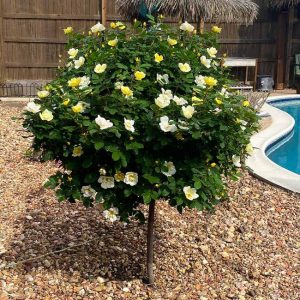 If the weather gets colder, the Sunny Knock Out Rose Tree might be planted in a container by the entryway, on the porch, or even indoors if the temperatures dip.
However, regardless of where it is positioned, it is sure to be a unique specimen that will bring you large quantities of vibrant yellow blooms throughout the year without the need for much effort.
And the best part?
This rose tree has everything you love about the Knock Out Rose family  all the attractive blooms, the easy care, and the remarkable disease and pest resistance associated with it.

---
Merlot Redbud
Redbuds have always been a favorite of gardeners, but the Merlot combines all your favorite aspects in a smaller, more compact tree.
The Merlot produces classic blooms with a twist of purple leaves that last all summer long.
Furthermore, you'll find that this tree will be able to withstand droughts to an even greater degree and have glossy leaves that can stand up to the summer heat on its own.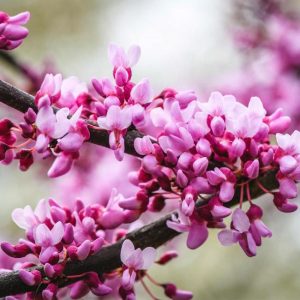 Merlot's red-purple leaves make it a worthy match for the name 'Life of the Party'. The most exciting feature of the new Merlot Redbud is the outstanding color of the foliage.
Merlot is first rewarded with bright pink blossoms…then with deep, dark purple leaves. If you plant this tree alone or in a group of other trees in your garden, it will transform your property.
Ylang Ylang Tree
There is no doubt that Ylang Ylang is best known for the amazing fragrance given off by its blossoms.
As the whole landscape is filled with the scent of jasmine and custard apple, it can also be described as a heavenly aroma.
The Ylang Ylang tree is a popular attraction among many people because its oils are used in a selection of perfumes.
You can make homemade scents with the essential oil by adding a few drops into candles, perfumes, and potpourri.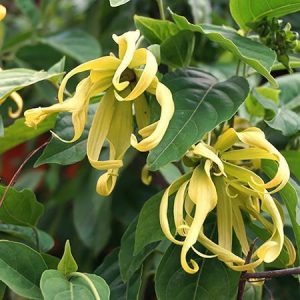 As this tree blooms all year round, especially during the cold months, the white, light green blooms are the first to emerge, and the light green blooms transform into the bright yellow blooms as they mature.
You will have months of continuous flowers from your tree, while your neighbor's trees will only have a few weeks of flowers.
As the blossoms are contrasted against the dark green, lush, tropical leaves of some Ylang-Ylang trees, the flowers look stunning.
Trees that are native to tropical zones are the Ylang Ylang trees. They will thrive in the heat and humidity of zones 9 through 11, depending on where you live.
This particular variety of tree is not only very resistant to drought, but also very hardy. It is recommended to place your Christmas tree in a container and bring it indoors during the colder months if you live farther north than Zone 9.
Red Hummingbird Tree
Clusters of red blooms look like hummingbirds
The foliage looks like ferns and the fruit pods are green
Perfect for patio pots or tropical landscapes
A living optical illusion, Sesbania Grandiflora (Hummingbird Tree), is an amazing specimen of trees. When looking at its clusters of bright red flowers, it immediately reminds me of a hummingbird fluttering around your house.
There are a variety of hues of red, white and pink that bloom on Hummingbird Trees, and this red blooming variety will pack a colorful punch in your yard or home.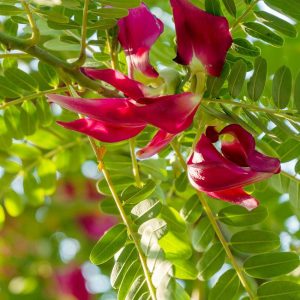 Its thin, straight trunk diverges into loose branches with fern-like fronds in a vibrant green.
Red flowers appear in the spring, followed by bright green fruit pods that can grow as long as 23 inches, complimenting the slender stem and droopy canopy of the tree.
There are many hot, humid climates in which the Hummingbird Tree is native to, such as Southeast Asia, where it can reach upwards of 40 feet tall under the right conditions.
For those who prefer to keep it in a pot (which is perfect for cooler climates), you can reduce new growth to maintain a smaller size, which will make it easier to take care of on the patio.
However, there is no need to worry because even in miniature form, you can admire its famous blooms.
There is an interesting reason why the Vegetable Hummingbird Tree, or Sesbania Grandiflora, is also called the Hummingbird Tree, or Sesbania Grandifforia – because its leaves, flowers, and fruits can all be eaten.
Enjoy them raw, or toss them into soups, stews, and stir fry dishes for extra nutritional value. The Hummingbird Tree also has medicinal uses, beloved in Southeast Asia for teas and salves.
As a fruit bearing tree, it will attract both birds and pollinators, its wood can also be used for woodworking purposes. As a mature tree, it provides excellent shade for seating areas or for plants that are grown at the base of the tree.