7 Best Flowering Trees To Grow In Kentucky
Would you like to enhance the curb appeal of your home with Kentucky flowering trees? You are in for some excellent news as Kentucky has some of the most stunning and diverse blossoming trees in the entire United States.   
The state is divided into six distinct geographical regions – the Cumberland Plateau in the east, the western coal fields, the far western Jackson Purchase, the north-central Bluegrass Region, and the south-central and western Pennyroyal Plateau. Forests, hills, ridges, mountains, coal fields, and more of these natural features can be found here. 
The Bluegrass State enjoys plenty of sunshine and four beautifully distinct seasons, including hot, humid summers, and mild winters thanks to its central location in the United States. There are over 400 different types of trees in the state, which can be grown in its humid subtropical climate. A few of the most popular trees grown in Kentucky are Black Oak, Pitch Pine, American Beech, American Holly, and American Holly.
Several attractive, low-maintenance flowering trees can be grown in Kentucky gardens, including the serviceberry, the incomparable Magnolia, the intriguing Eastern Redbud, and the ever-popular Tulip Poplar.
Fire fall Freeman Maple
In the summer, you'll find a cool, relaxing shade while in the fall, you'll see bright, flaming foliage. A shade tree has everything you want.
Fire fall Freeman Maples (Acer x freemanii 'Firefall') are not only perfect shade trees, but are also dazzling displays of stunning orange-red foliage all year long.
The leaves of this tree are lacy and elongated, beautifully contrasting the fiery red autumn coloration of the Red Maple.
Is your landscaping in need of a vertical accent? You should take a look at this maple tree.
The Fire fall Freeman Maple is the perfect accent for you and your property that you've been searching for for so long.
As your backyard's centerpiece tree, you should plant this majestic tree as a specimen. It won't take long for the canopy to become colorful and cool after planting.
Fire fall Freeman Maple needs full sun and well-drained soil to grow to a height of 50 feet and a width of 35 feet.
Autumn Splendor Buckeye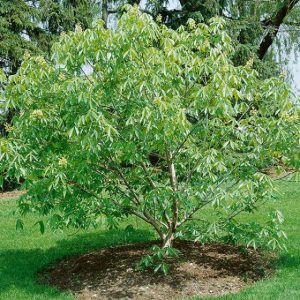 This Autumn Splendor Buckeye (Aesculus x arnoldiana 'Autumn Splendor') was developed to be the show star of its breeding program. The colors of each season offer a new reason for enjoying the outdoors.
Although the tree may just be green in the spring, you will be amazed when the creamy yellow blossoms bloom. Make way for fall colors that will blow your mind.
It is the orange-red to maroon leaves that give this tree its name of Autumn Splendor Buckeye.
This colorful tree should not be wasted, so consider planting it near your patio, porch, or deck so you can enjoy the little things like this tree.
---
Ivory Silk Lilac Tree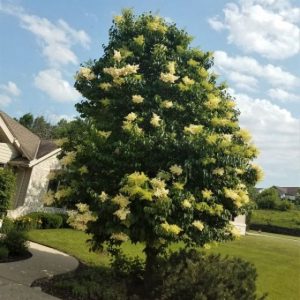 You want something that stands out in your neighborhood, but you're not sure what? It probably isn't news to you that Lilac shrubs come in different varieties, but here's one that is different. Lilac trees (Syringa reticulata 'Ivory Silk') grow tall and wide in comparison with other species. Super-Size version of the same fragrant blooms.
A silk tree made from ivory silk is a great choice if you love Lilacs, but need to make an impact. In June, this species of tree bears huge panicles of flower, not a flowering shrub.
Lilac trees are great for extending the bloom season well after other trees. In early summer, delicate white flower bouquets exude a fresh, sweet scent throughout your garden. I'm so glad I found this!
Large leaves will provide refreshing shade even after the blooms have passed. Seeing this Lilac, you'll know it's very special. The dark green leaves of the Ivory Silk Lilac Tree will cover this tree during the summer, creating a refreshing sight during the middle of summer heat.
---
Marina Strawberry Tree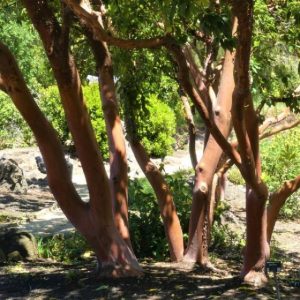 Arborists and urban planners love Marina Strawberry Tree (Arbutus x 'Marina'). The material is used in ultra-modern commercial campuses and in upscale home landscaping.
West Coasters enjoy its performance. Despite its compact size, you can clearly see this tree from inside your house from your patio or windows, which makes it ideal for use near patios or windows.
There are many green leaves on this small, broad-leaved evergreen tree. You can add a lush green accent to your landscape by planting the tree.
Flowering is greatest during autumn and winter, when the main flush of blooms produce a spectacular display. Rose-pink flowers are borne in pendulous clusters on the tree.
Urban Sunset Maple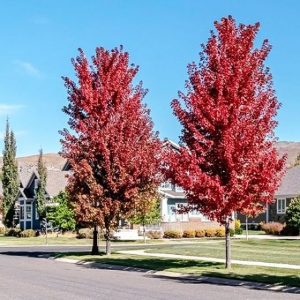 Maples like the Urban Sunset Maple (Acer truncatum x platanoides 'Urban Sunset') have a delightful oval shape with dark green glossy foliage that turns a deep red in the fall.
Thanks to its unique shape and calming colors, this maple tree captures the hearts of everyone who sees it. The new addition to your yard will be hard to resist.
A small, upright tree with an oval shape, this ornamental tree makes for a beautiful addition to a small area of landscaping.
'Urban Sunset Maple' blends in perfectly with finer or coarser trees and creates quite a work of art. The deep red coloration of the maple stands out remarkably well against the dark foliage of surrounding trees.
A low canopy is about 2 feet above the ground and the canopy can grow up to 35 feet tall and 20 feet wide. The foliage of this tree is excellent for covering bare surfaces above ground.
Autumn Splendor Buckeye
As the name implies, Autumn Splendor Buckeye (Aesculus x arnoldiana 'Autumn Splendor') was made to be a real attention-getter. Every season brings with it a new reason to sit out and enjoy the views of its gorgeous colors.
Although the tree may only be green in the spring, the cream-colored flowers will dazzle you. However, you're not going to believe the fall colouration that's coming.
As a result of it's bright scarlet-orange to maroon foliage in autumn, this tree has acquired its name of Autumn Splendor Buckeye.
If you plant this tree near your deck, porch, or patio, then you can enjoy the beauty that this tree exudes.