6 Best Trees For Privacy To Grow In Southern California
There is an increased need for privacy in a busy area like Southern California. Privacy hedges are a great way to improve the appearance of your home and often provide greater benefits than fences for ensuring privacy.
In addition to providing privacy, hedges also act as a sound barrier, act as a windbreak and increase security on your property. When it comes to privacy hedges, there's no one-size-fits-all solution, but there are a variety of great options when it comes to the best privacy hedges for Southern & Northern California backyards.
What to Consider When Choosing Privacy Tree / Hedges
Hedges should be selected according to the location and conditions. A few considerations should be kept in mind when choosing a privacy hedge for your Southern California home
Dimensions: Height and Width
Trees and shrubs do not have a standard height. Depending on the height and width of your hedge, you must find a plant that meets your needs. Choose a privacy hedge that will grow to the height of your second-story window, for example. Choose a plant that will grow too tall, however, as it will require more maintenance.
A Deciduous Tree or an Evergreen
It is important to decide whether the species of plants you choose will be evergreen or deciduous before choosing them for your privacy hedge. Trees and shrubs that remain evergreen all year round can serve as a year-round screen. You may not have any screen in place during certain months of the year if you choose a deciduous shrub.
Leaves falling from the tree
It is possible for some plants to drop their leaves or flowers. Trimming and cleaning are a few extra tasks you'll need to do. A shrub that drops leaves or flowers might not be a good choice if you have a pool or walks nearby.
Some of the best

trees for privacy in

Northern & Southern California
---
Bald Cypress
Character with amazing qualities

Specimen of excellent quality

Screen of a large size

A central leader with drooping branches

A vibrant orange color for fall

The plant can tolerate periodic wet soils

An Oriental Garden
With beautiful plants such as the Cascade Falls Weeping Bald Cypress (Taxodium distichum 'Cascade Falls'), you can relax from the stress of modern life. You'll be sure to grab the attention of everyone with this spreading weeper.
Separate an entertainment area from a place of quiet reflection with its weeping form. Downturned branches open the way for witty conversation about what life is all about.
Despite its exceptional qualities, this specimen is full of interesting considerations. Season after season, feathery-textured green leaves make for an attractive display.
As you watch the light play across the canopy, you will see the play of shadows. There are so many intriguing garden stories that await you with this special weeping cultivar.
Cascade Falls Weeping Bald Cypress has been grown as a staked tree form by plant experts. Weeping branches make an excellent ground cover, but they can also be cut up into uniform skirts.
As temperatures drop, the green foliage turns into a vivid orange for a striking autumn accent that cannot be missed. Asters, for instance, make an excellent ground cover for this showy fall display.
The plant looks stunning if it is repeated along the far side of a pond or water feature. Gather a trio of plants…varying the spacing between them to create an evocative garden feature.
---
Black Diamond® Mystic Magenta™ Crape Myrtle
Smaller landscapes are perfect for this planter

A magenta-pink bloom glows in partial shade or the sun

Several months of flower production

Dark foliage adds a dramatic contrast to the beautiful greenery

Focal Point or Specimen of Great Interest in Containers

To line your fence or driveway, use this low hedge

Interests during the three seasons

Growth at a rapid pace
Its pinkish purple blooms really pop against the deep purple to black leaves of the Black Diamond Mystic Magenta Crape Myrtle. This gorgeous magenta flower cluster blooms all summer and into the fall. A profuse bloomer, the Mystic Magenta is another beautiful dwarf crape myrtle from the Black Diamond series.
For small yards and urban gardens with limited space, Black Diamond Crapes are the perfect choice. Crape Myrtles grown by Black Diamond look great in any landscape. Your yard will be more vibrant, bold, and unique when you plant these magenta-colored bloom clusters and leaves. At maturity, the plant stands between 10 and 12 feet high and 6 to 8 feet wide. Because it has a dense, shrubby nature, the Mystic Magenta is perfect as a privacy screen or hedge. During spring, summer, and fall, space each plant approximately six feet apart.
Despite being drought tolerant, these beautiful crape myrtles require little maintenance. Amazing how a plant that is so easy to grow can provide such a stunning and unique beauty! The Black Diamond crape myrtle series is disease resistant, including resistant to powdery mildew, and has little pest problem. In zones 7, 8, 9 and 10, this tree would be a perfect flowering tree.
To get the best flowers, plant in direct sunlight. Any well-draining soil is suitable for growing crapes. Plant slowly-releasing fertilizer at the time of planting, as well as in spring, to ensure the best flowers and the fastest growth. The Black Diamond Crape thrives in zones seven through ten. These beauties can be grown in the ground in Zone 6 and treated as perennials. The roots should be heavily mulched in winter. Every year, your plant grows upwards of four feet from its roots.
---
Pink Crape Myrtle
A Pink Flower catches Your Eye

Flowers Last All Season

Living screening made from lush, purple-green foliage

The look of ornamental seed pods and bark during winter

Growing rapidly

Suitable for use in large containers

Pruning is possible at any height

Dry Tolerant

Favorite of hummingbirds
You're in love with pink things. Whether it's hot, shell, or baby, you'll take it. You're fine with any shade of pink! The color pink enhances your complexion, so it is no wonder!
Check out fabulous, ruffled blooms on Pink Crape Myrtle (Lagerstroemia indica pink selection) if pink is your thing. During the summer, vivid pink flowers bloom in voluminous clusters.
Your summer backdrop will always be stunning with these pretty plants!
The Pink Crape Myrtle is a deciduous tree that provides brilliant color all summer long. Plant one anywhere you'd enjoy an enduring splash of color.
This plant is a perfect choice, whether you are a newbie or an experienced gardener. It grows cleanly and easily and offers a tremendous amount of interest in every season. It's also incredibly versatile in the landscape!
Of course, you'll want to grow these for their amazing, massive bloom display. Flowering starts in early summer and continues right into the fall.
You will be mesmerized by the gorgeous pink blossoms on pink crape myrtles' branches. To the flowers, dark foliage provides a striking contrast.
Summer foliage is beautiful and serves as a good screen. A little more privacy wouldn't hurt anyone, right? Around your pool deck, these make the most amazing living fences.
When the crape myrtle leaves first open in the spring, they are bronze in color. After autumn, they'll become yellow, orange and even red.
In the fall, the leaves of the plant still look good after the summer heat fades. Your winter garden will be more interesting with round, unique seed pods.
A fantastic, exfoliating bark is best seen during the cold season. There are many attractive shades of brown and gray to choose from.
Moreover, it has a huge variety of uses. There are several different ways to prune it based on your needs. Upon establishment, it shows good drought tolerance, as well as being very hardy.
Whatever the season, you are sure to enjoy spending time with Pink Crape Myrtle! Don't hesitate to order today, this is a wonderful choice. It's a decision you'll never regret

---
Leyland Cypress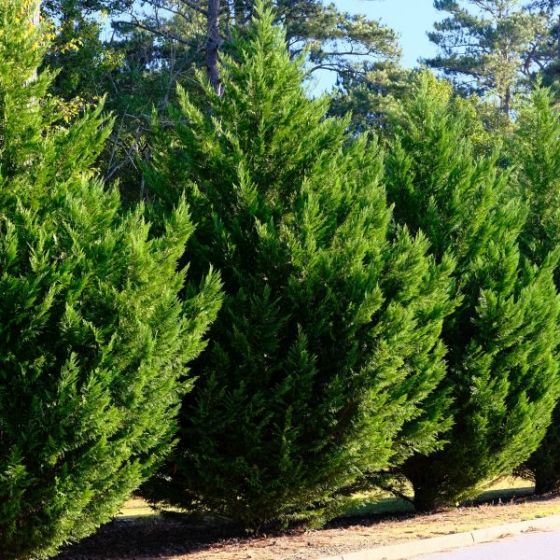 Increasingly fast-growing

Hardy

Beautiful natural color and shape
Look at one of the most popular selections of evergreen trees, Leyland Cypress, if you're looking for a massive, beautiful living fence that will give your large property an air of privacy.
Leyland Cypress (x Cupressocyparis leylandii) has a beautiful form and grows quickly. Leave it to grow naturally in its conical form and you will appreciate its perfect shape.
It can also be sheared to maintain your chosen height. There's almost no limit to the size or shape you can give it. The garden is thus given a formal look reminiscent of stately English manors.
The Leyland Cypress makes a perfect living privacy fence, so why would you want to spend money and time on one?
In addition to the Leyland Cypress tree's impressive growth and hardiness, it'll also make a particularly beautiful evergreen for your yard. This plant has a beautiful blueish-green color and is uniformly upright in shape. Branches grow into a fan-shaped pyramid.
Those who live in places that suffer from ice and wind are better off choosing the Green Giant Arborvitae, can be a good privacy hedge for northern California.
A Leyland Cypress is the ideal privacy screen tree for all other climates, as it is fast-growing, low-maintenance, and requires little care. Get yours now!
Blue Italian Cypress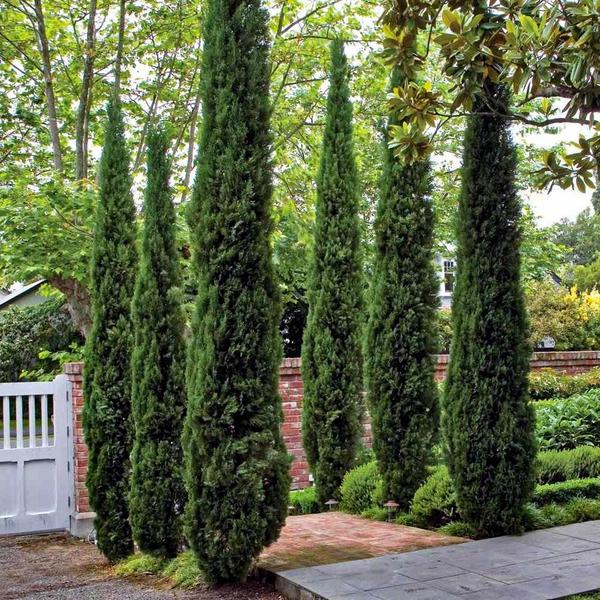 For centuries, gardens have been graced with the bold and gorgeous Blue Italian Cypress (Cupressus sempervirens 'Glauca') tree. An instant feeling of romance is evoked by this beautiful tree.
The plants are also hardy in the home landscape and will look just as stunning in the slumbering winter garden as they will in the vibrant summer garden. Several garden goals can be met by this tree, including privacy, shade, accent and definition.
They are evergreen conifers that are hardy. These plants are stylish all year round thanks to their narrow, tall habit. Almost to the ground, their foliage will stay lush, blue-green.
These trees never need to be pruned to maintain their classic upright shape, although you can shear them for a more formal appearance. Any other errant branch can be clipped with a simple clipper. In general, this tree requires very little maintenance.
These blue Italian Cypresses represent the pinnacle of refined worldliness. This style works just as well in a small lot with today's modern landscape. Don't wait to get started with your project, order enough today!
A detail of sculptural work

The foliage is lush and blue-green.

On the coast, it works beautifully

The ability to tolerate drought once established

Life expectancy is exceptionally high
Italian Cypresses grow tall and narrow. Its compact shape makes it ideal for tight spaces. The evergreen tree can grow up to 50 feet in height, but its trunk is only 4 to 5 feet in diameter at maturity, so it isn't one of the tallest columnar trees.
Adding beauty and value to your property, this tall, unique tree is sure to attract attention. Italy Cypress leaves are highly sought after for landscape design due to their blue-green color.
This evergreen tree can grow up to three feet per year. Cutting the top of the bush will allow you to control its height. Most soils are tolerant of them, and they require little water. Drought-tolerant Italian Cypress trees grow in Italy. For them to thrive, they need full or partial sun.
Italian Cypresses: Caring for Them
The Italian Cypress prefers a dry climate. You should choose a sunny, well-drained location (4 to 8 hours of sunlight a day).
A hole corresponding to the tree's root ball in both depth and width should be dug.
Plants should be watered well after planting. Within the first few months of establishing your new trees, do not let them dry out. Our recommendation is to water your trees right away – before they are planted. Planting roots that are moist will ensure that they will thrive. These evergreen privacy trees require only a few sprinklings of water per month as soon as they are established.
Pruning for shape, height, or removing problematic branches is ideal in the winter.
If you need to fertilize or make soil amendments in the early spring, do so then.