10 Flowering Vines to Grow in Oklahoma
Any garden in Oklahoma is not complete if it does not have flowering vines, which not only add beauty to the landscape but also produce fruits and attract pollinators such as butterflies and hummingbirds. Flowering vines can either be left to bloom on the ground level and act as ground covers or given a sturdy support system so that they grow in an upright manner and act as decorations on walls and fences. The climate and soil in Oklahoma support the growth of a variety of perennial plants, with the most reliable perennials being the cultivars and the Cranesbill.
While selecting the most suitable flowering vines to plant, ensure you conduct a background check of the hardiness zone to determine whether the flowering vine will survive or not. These perennials have different specifications to grow to their full potential, as some require well-drained organic soils, and others have the potential to grow fully under direct sunlight. In contrast, others prefer partial or full shades. These plants grow to different heights and require little or no maintenance making them easy to work with.
These flowering vines serve to elevate the garden and take it to gorgeous heights with their fast growth and interesting flower colors. Some of the flowering vines to grow in Oklahoma include:
1. Black-eyed Susan Vine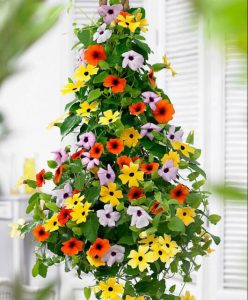 This perennial plant produces scores of orange, white, or bright yellow flowers that contain dark centers and is a fast-growing specie. This tender flowering vine is grown in cooler and temperate zones and can also be preferably grown as house plants so long as you are wary of the length, which can go up to eight feet. The vine is a common house plant because it can be easily propagated from stem cuttings; hence gardeners and farmers find it easy to pass along one piece of the plant. Other flowering varieties include ivory, salmon, and red.
This flowering vine may need a trellis or vertical stand to provide support and ensure the plant maintains its vertical position. The black-eyed Susan vine can also be grown from the seeds by starting the seeds indoors before the last frost or outside on warm soils, with the seeds expected to emerge 14 days after the planting has happened.
During planting, ensure the soil is well-drained but ensure the soil is also not too dry to avoid wilting. If planted in pots, ensure the soil is well moist but not soggy, and a little pruning once in a while ensures the plant grows to its full potential.
2. Carolina Jessamine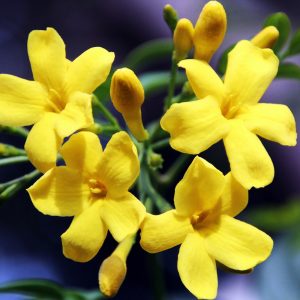 Carolina jessamine constitutes stems that grow up to 20 feet in length and is a twinning plant that takes advantage of any structure it finds close to showcase its twining abilities. These perennial plants flowers in February during the mild winter climates and are characterized by trumpet-shaped, golden-yellow fragrant blooms that contribute to brightening the garden. Due to its fast-growing nature, the plant can grow to tower heights if left unpruned and needs adequate support for the best growth. Moreover, the glossy green color of the Carolina jessamine leaves remains healthy all year round and provides their supporting structure with a dense coverage.
The flowers of this perennial plant are followed by seed capsules that use the remainder of the season to ripen slowly. Although they can withstand occasional frosting, they are killed by extreme freezing and are best for sunny locations or partial shade.
Ensure the identified planting spot has well-drained soil and is fertile and organically rich to receive the best results. You can improve the condition of your soil by incorporating generous compost amounts and fertilizing it annually using a general-purpose commercial fertilizer.
3. Morning Glory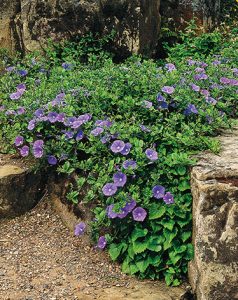 Morning glory flowering vine is characterized by beautifully shaped blooms and romantic tendrils with an old-fashioned charm. Its flowers unfurl in the sun, and these tender annuals are sensitive to late frosts and cool temperatures. Because of their frost sensitivity, it is recommended to sow after the spring frost is over, and they bloom from early summer down to the first frost fall. Their fragrant flowers are not only appealing to the eyes but are also a favorite of pollinators such as butterflies and hummingbirds.
It is called the Morning glory because its flowers open up during the early morning and close as the afternoon approaches. They can be planted as ground covers or given support systems to act as wall and fence decorations. The perennial grows quickly, is drought-tolerant, and is fairly capable of self-seeding.
Because of the self-seeding mechanism, it is important to identify a favorable planting spot to avoid having too many unwanted vines in your garden. Ensure you plant using moderate fertilizer in well-drained soil for the best foliage growth.
4. Madagascar Jasmine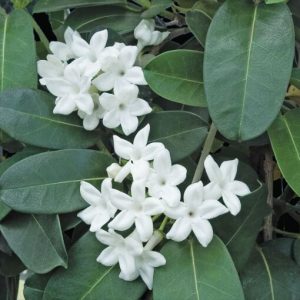 Madagascar jasmine can be grown indoors for its scented bloom clusters or even outdoors and has oval-shaped leaves. Generally, this perennial plant is low-maintenance and is a great choice for patios. Furthermore, its white flowers produce a sweet fragrance and can survive in a cool location during winter. In temperate conditions, the Madagascar jasmine can find it fairly difficult to bloom, requiring only favorable conditions to achieve successful blooms. The vine is worth growing because of its rich foliage with large healthy leaves regardless of whether the plant is large or small.
These plants need to be exposed to plenty of bright light in their active growing season, although the hot summer sun threatens their growth and development. It can be propagated through stem cuttings of the non-flowering type, and there must be at least two nodes to ensure successful propagation. This perennial flowering vine does not need a lot of pruning because this does not necessarily encourage new growth.
5. Passion Vine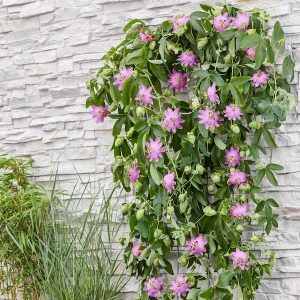 Passion vine is a favorite of the pollinators, and butterfly species like the zebra longwing and gulf fritillary use it as a nectar plant and a host. These plants can also produce edible fruits if placed in the pollinator's garden and have unusually-looking flowers that only remain open for about a day. The passionflower's petal base is not only wide but also flat and consists of five to ten petals arranged in a reflex or a flat circle. As much as they look like they have come from the tropics, these perennial vines can survive and grow anywhere, including in cold climates.
They are trained to grow on fences, trellis, or other vertical structures in hardy places. However, they are allowed to grow indoors and in pots in regions where they are not hardy. Typically, they are best grown in full sun but can also do well in partial shade. They require well-drained soils with some species that are sensitive to harsh weather and strong winds preferring sheltered locations such as garden walls where their protection is guaranteed.
6. Hyacinth Bean Vine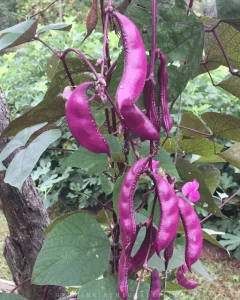 In its full bloom, a hyacinth bean vine displays pinkish-purple blossoms and reddish-purple pods and interestingly adds color to any garden or landscape it has been incorporated into. Unfortunately, the pod-like seed heads are achieved after the flowers have faded and are left to dangle from each branch end. Raw hyacinth beans can be poisonous unless properly cooked, and it is always best to let the vine stick as an ornamental. These plants rea not particularly fussy about the soil type but prefer to be in full sun and require a sturdy support system such as a fence, an arbor, or a trellis.
Upon the passing of the frost, its seeds can be directly sown outside but can also be grown indoors before the weather warms. These perennial vines require little to no care once they have been planted and have achieved their full growth. The ideal time to do harvesting of the bean seedpods is before the first frost, and they can be effortlessly removed from the seedpods for storage purposes.
7. Trumpet Vine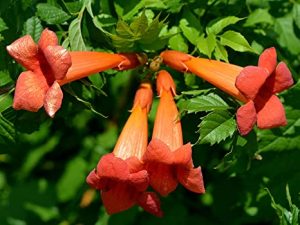 Also referred to as the trumpet creeper, this perennial vine is fast-growing and ideal for gardens with a large bare space that needs to be covered up. They develop foliages that are not only attractive but are also finely divided and are covered with funnel-shaped flowers that either have a red, orange, or yellow color. Over time, this perennial vine tends to be heavy and hence requires sturdy support that will not give in to the weight no matter how heavy it gets. This flowering vine is good for attracting pollinators such as butterflies and hummingbirds, and it blooms from summer to fall.
However, blooming can be limited for those species of trumpet vines planted in shady locations. For this reason, ensure you pick an ideal spot for planting and that all the conditions favorable for its growth are present. These vines can grow up to 40 feet tall, and frequent pruning is important to keep them in shape and prevent them from having an exaggerated appearance. They are easy to grow and thrive in both full sun and partial shade, and it is resilient and ready enough to achieve growth in any type of soil, but they can even do better in well-drained soils.
If the planting is too close to the home, its creeping roots can be a menace, pose a danger to the house's foundation, and find their way under the shingles. While it can do well on fences or large poles, be keen not to let the flowering vines twine around trees as it can potentially lead to strangulation. When it comes to maintenance and care, these plants are extremely vigorous and require little maintenance.
8. Honeysuckle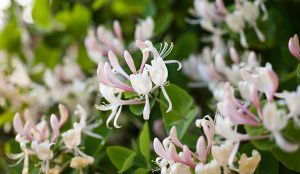 Although its flowers might appear tropical, this perennial vine prefers a northern climate, and its various species have a few things in common. These are such as:
All of them have a sweet fragrance
They have nectar-rich blooms that are a favorite of pollinators such as the hummingbird
They are easy to care for and maintain
Most gardeners cultivate the honeysuckle flowering plant for the beautiful flowers, and they can flourish and thrive in almost all types of soils. The honeysuckle vine comprises simple leaves arranged along the stems in opposite directions. They tend to be deciduous or evergreen. Most species of this flowering vine consist of double-lipped fragrant flowers with sweet-smelling nectar.
In addition, they produce red or orange fruits that serve as an attraction to wildlife.
These plants bloom during the spring and do well under full sun, although they can survive in [atrial shade. They can potentially grow up to 15 feet tall, require well-drained soils, and thrive in USDA zones 4 to zone 9.
9. Cypress Vine
Cypress vines are characterized by thin, needle-like leaves that give the plant an airy and light texture. They are rapidly-growing perennial plants that decorate gardens and landscapes with their colorful features. It is also referred to as the hummingbird vines because hummingbirds like to flock to their nectar-rich blooms. Usually, the cypress vine self-sow, but it is not difficult to prune and cut out the excess seedlings. The cypress vine is mostly grown along walls, poles, or trellis because of its climbing and twinning abilities.
During planting, ensure the soil is warm and moist until the seedlings are fully-established; although the plant can withstand dry conditions, it is recommended to grow them where there is plenty of moisture. Care and maintenance of the cypress vine perennial plant involve training the young vines to adapt to climbing by wrapping them around the support structures.
10. Wisteria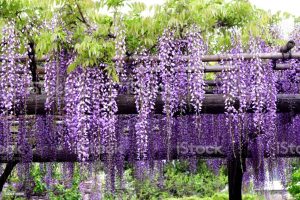 Wisteria perennial vine is a great choice for large pergolas, arbors, and porches because it has a sweet and colorful fragrance. In addition, the plant vigorously blooms in spring to produce clusters of lilac-color flowers. Often, this vine achieves a height of 30 feet long, and their vines adaptively find their way through any crooks or cranny; hence it is advisable to plant a bit distant from the house due to their aggressive growth. The fragrant flowers of the Wisteria are a feast for the senses, and a bean-like pod is produced and attached to the plant after the flowering season.
Therefore, when considering planting, ensure you do so during fall or spring when the vine is dormant. They require well-moist and well-drained fertile soils and ensure to add compost in case the soil is in poor condition. Moreover, they thrive in full sun but can also do well in partial shade.
Bottom Line
Various flowering vines do well in hardy zones, provided the available conditions are favorable. Apart from providing beautiful coverings, flowering vines act as shelters and food sources for wildlife. However, all plants need proper maintenance services during the establishment phase or when there are harsh environmental conditions that contribute to their stunted growth.