How To Troubleshoot a Lawn Mower That Dies When Choke Is Off
Have you ever encountered a situation where you noticed that your lawn mower only runs while the choke is On and immediately dies when the choke is Off? If yes, you might have wondered what went wrong and caused such trouble. Have you ever wondered whether it is possible to troubleshoot this, and if possible, then how?
Firstly, clean or replace the Air filter if necessary and remove the Carburetor Front. Next, turn off the Fuel Valve and Clean with a Carb cleaner. If the problem is still the same as before, install the New Carburetor and test the lawn mower again.
Continue reading the following article to learn how to troubleshoot a lawn mower that dies when choke off.
What Causes the Problem?
Often lawn mower users experience that either their mower only runs while the choke is on or the mower will start and run for a while the choke is turned on, but as soon they turned the choke off, it will immediately die.
This sudden trouble mostly occurs due to either fuel delivery system malfunctioning or carburetor defect.
Such commotions arise because of air leaks & clogging on carburetor, or excess amount of alcohol content on fuel.
The carburetor is mainly responsible for bringing an ideal mixture of air and fuel to generate the perfect combustion to supply into the mower engine.
Thus, when the carburetor working as it is supposed to due to any defects, your mower will fail to start or run without choke because it will require excessive use of the choke.
4 Steps to troubleshoot a Lawnmower that dies when choke off:
Often Lawn mower users complain that sometimes their mower only runs as long as the choke is On and as soon, they turn off the choke, their mower dies almost immediately.
Just imagine the situation isn't it a hassle?
This can be a frustrating situation to handle if you have no idea where you should start the investigation to look deeper into the problem.
In that case, you need an immediate but easy troubleshooting technique.
That's why I have decided to present a quick, easy, and cost-effective DIY method to troubleshoot a lawn mower that dies when choke off.
Things needed to troubleshoot a lawn mower that dies when choke off:
Have a proper glance at the checklist of the required tools and materials:
Tools
Materials
Standard Mechanical toolkit
Hoist
Proper sized Flat headed Screwdriver
New Carburetor
Safety Goggles & Gloves
Step 1- Clean or replace the Air filter And Remove the Carburetor Front: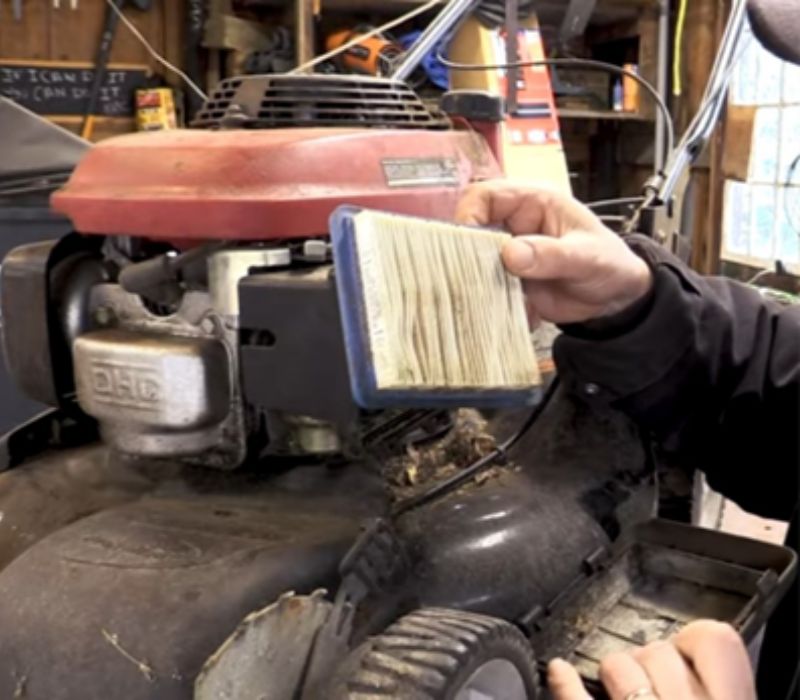 This is the air filter, which might need cleaning. If it looks like it needs to be cleaned or replaced, do that as required and move to the next step.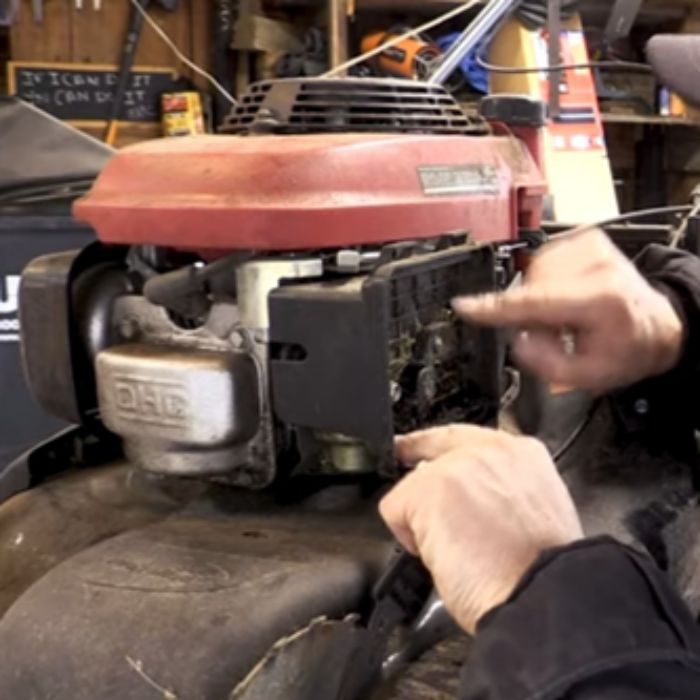 Behind this plate here is your mower carburetor.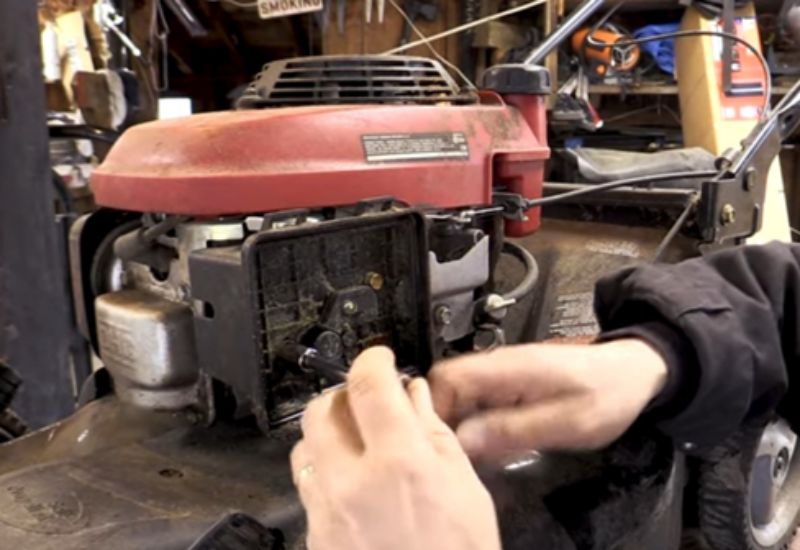 So, to make the work much easier, use a wrench to remove this plastic.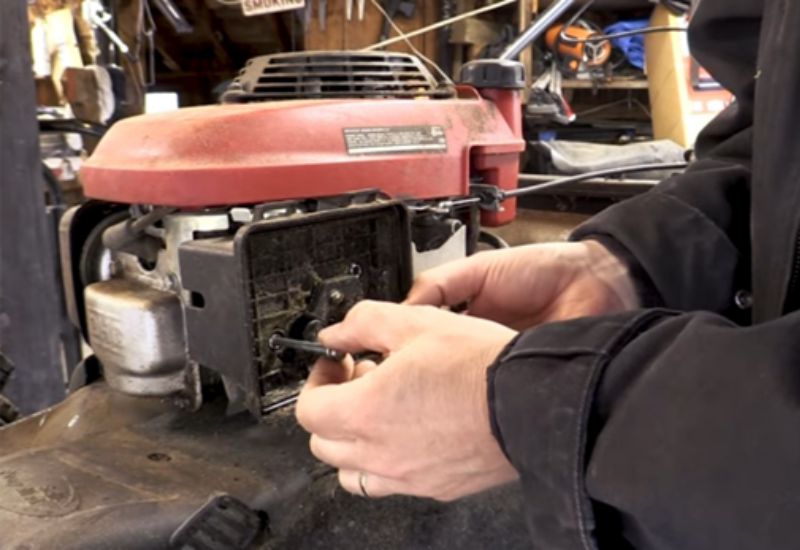 First, remove the screws, and the plastic will come off.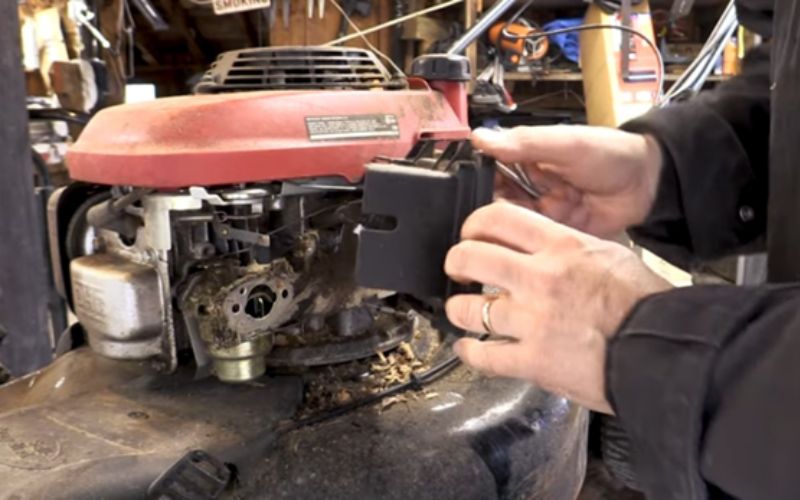 Now, see it's a little dirty under here.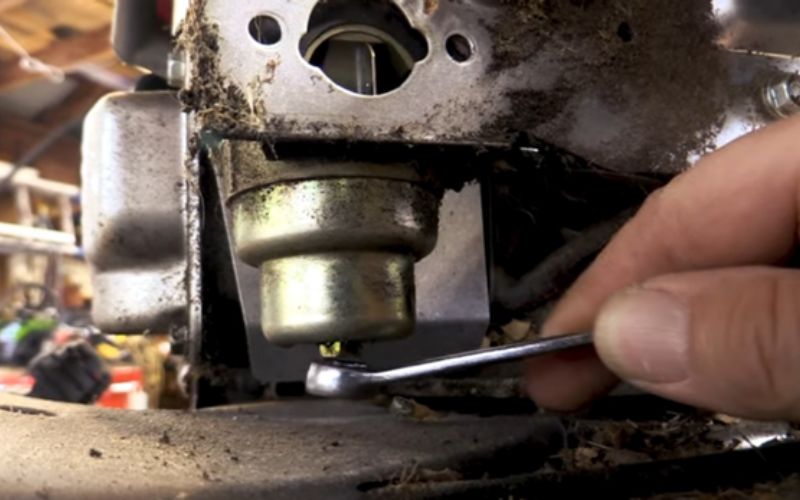 Next, you need to remove this bolt which is located at the bottom of the carburetor.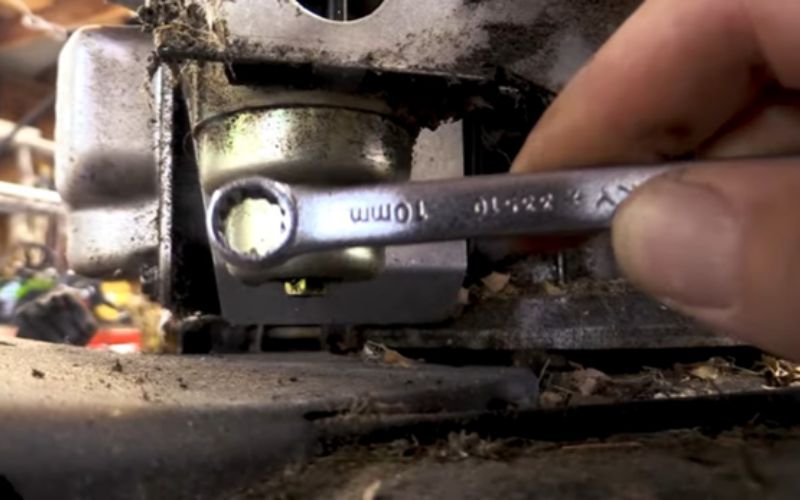 Use a 10-millimeter wrench for this task.
Put the screws back in because these hold the carburetor on the engine.
Remember, you don't have to remove the front.
Step 2- Turn off the Fuel Valve & Clean with a Carb cleaner:
Next, turn off the fuel valve or drain the fuel tank.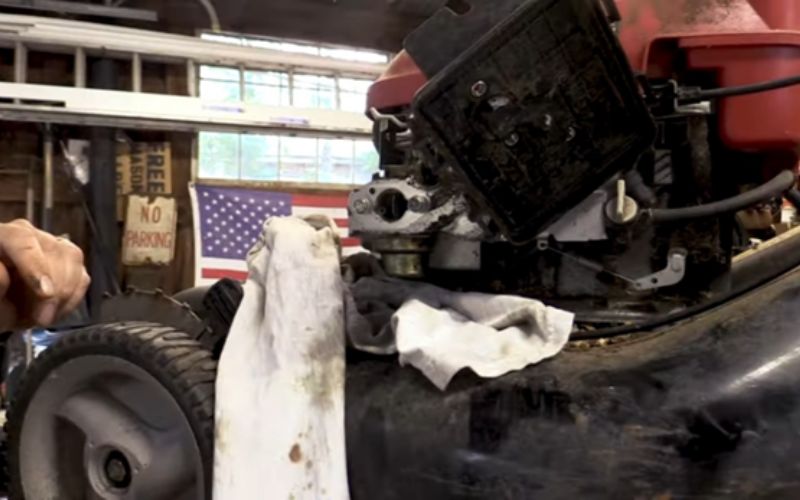 Put a rag under here while you are removing the bolt because a little amount of fuel might leak.
Remember, a gas-soaked rag plus a closed container means bad. So do not put the rag on a closed container and first let the rag air out for a while.
Now bring a Carb cleaner and wear your safety glasses on.
Set the Carb cleaner upside down and let it go up into there as shown in the picture.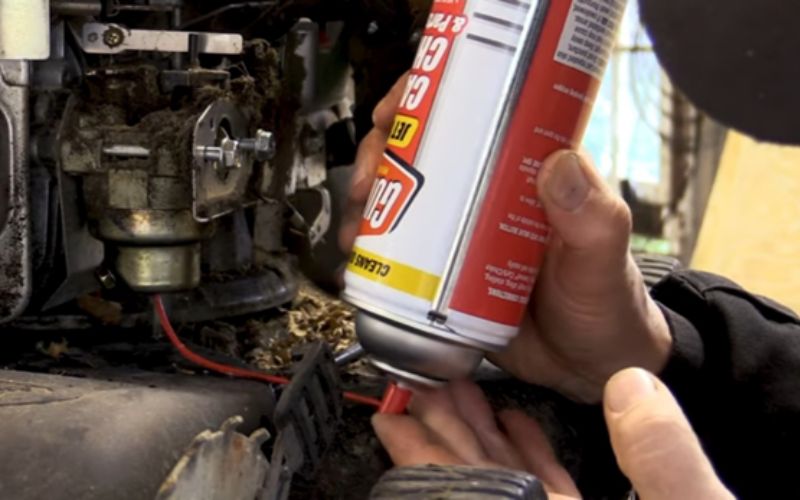 Then spray the cleaner.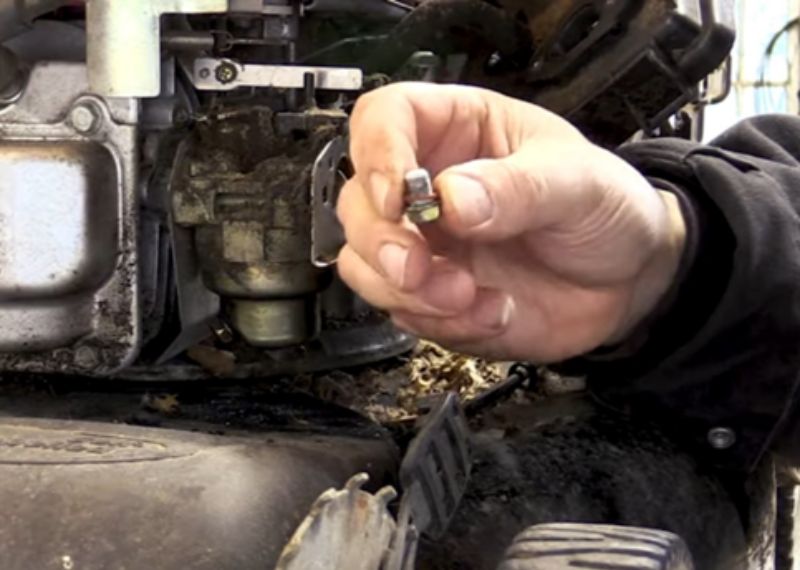 Do not forget to put the plug in the bottom.
Reinsert the cover again, and while you putting everything back together, do not forget a single element.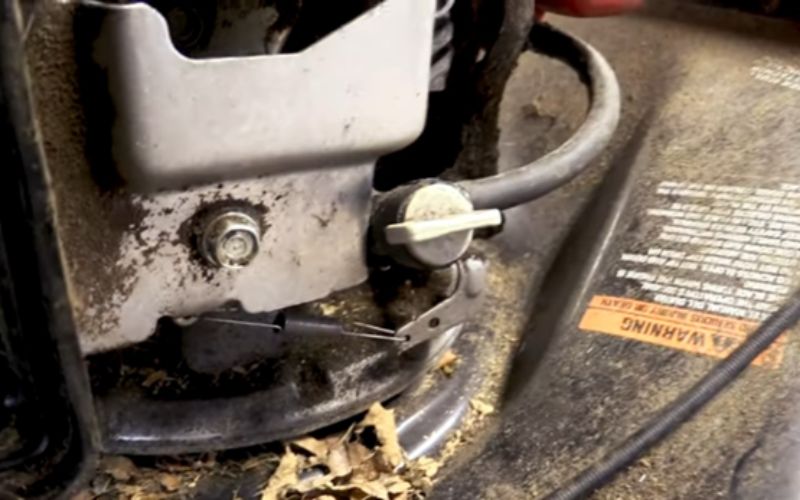 Now turn the fuel valve back on again.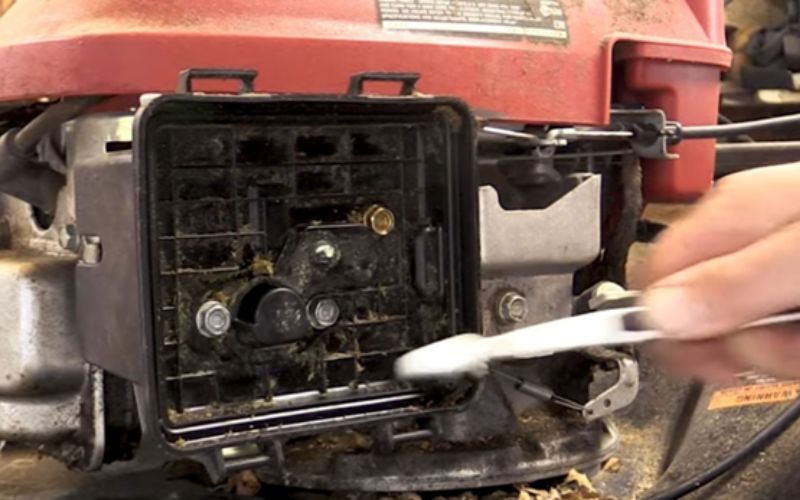 Clean this out with a wire brush or a toothbrush because it's not good to have junk or debris over here.
Step 3- Test your mower again & investigate further:
Now set the choke and start the mower to test whether it's working this time or not.
If your lawn mower is still failing to run while the choke is off, you should try this next trick.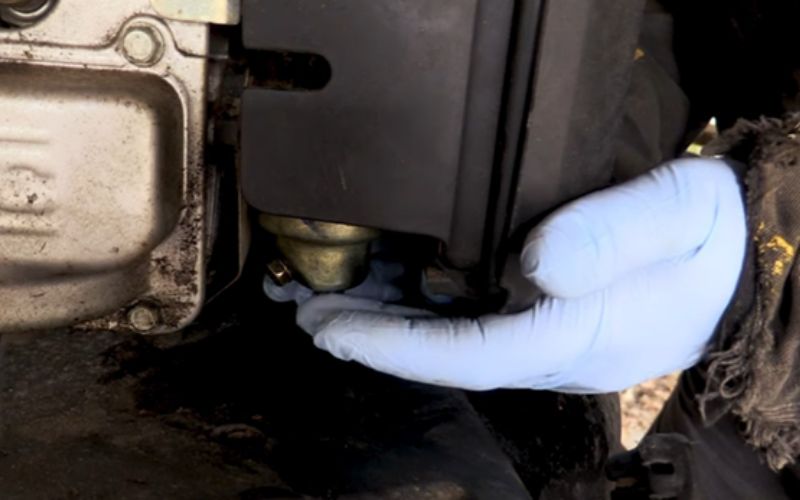 So, remove the bottom bolt or plug of the carburetor again.
You can see the curd on the bottom here, right?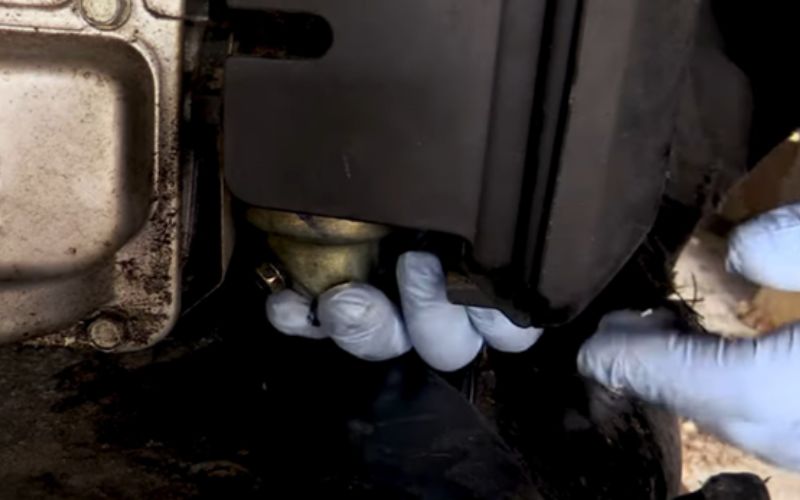 Thus, try and pop the bowl off.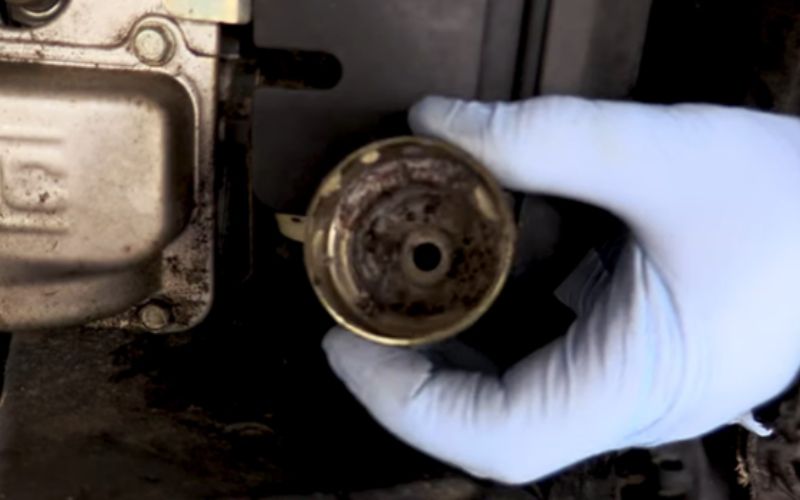 Now you can see rust sitting on the bottom of the bolt as shown in the picture. This means you have not used sea foam gas additive in your mower gas for a while.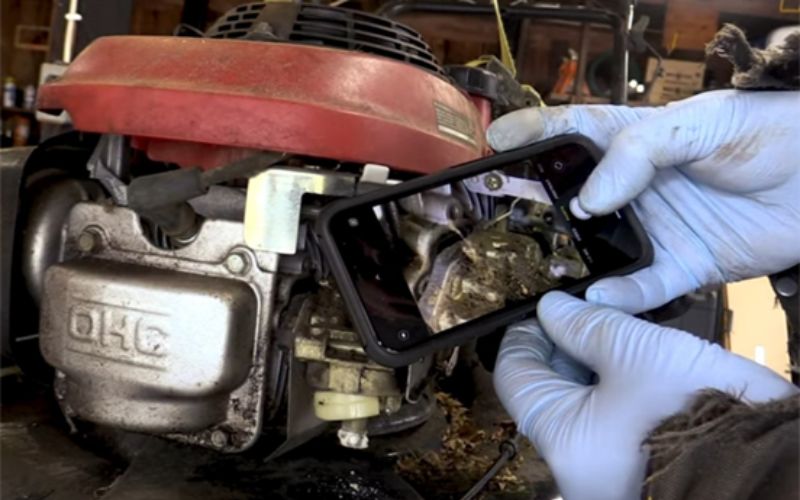 Take pictures of the linkage because there's some stuff connecting there. So, while you are taking them apart, keep a track of them by taking pictures.
If yours look like that, it's not worth cleaning all that off. Instead of that, buy a new inexpensive replacement option.
Step 4- Install the New Carburetor & Test again:
So, put the new carburetor back together as it was before. Now, the pictures you took previously will help you to put back each part or element correctly.
Also, put a bit of grease before putting the gasket back on and it will stick on there.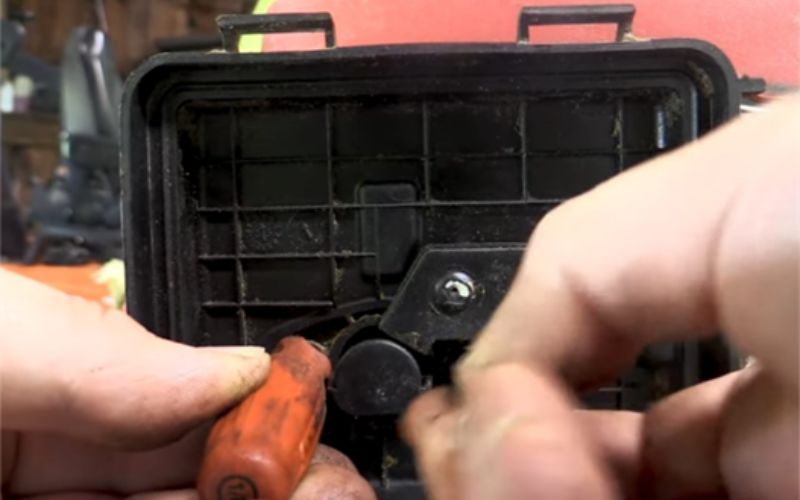 Finally, slide on the carburetor bolts and securely tighten them.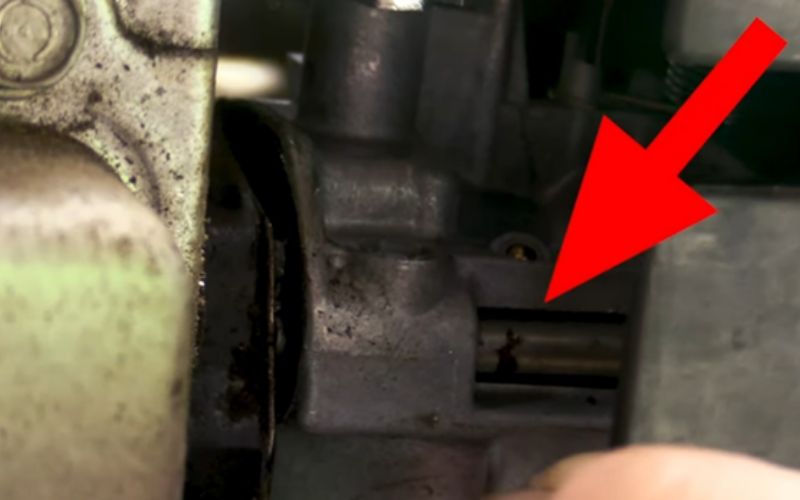 That's the bolt, the carburetor bolt. So, slide it into there.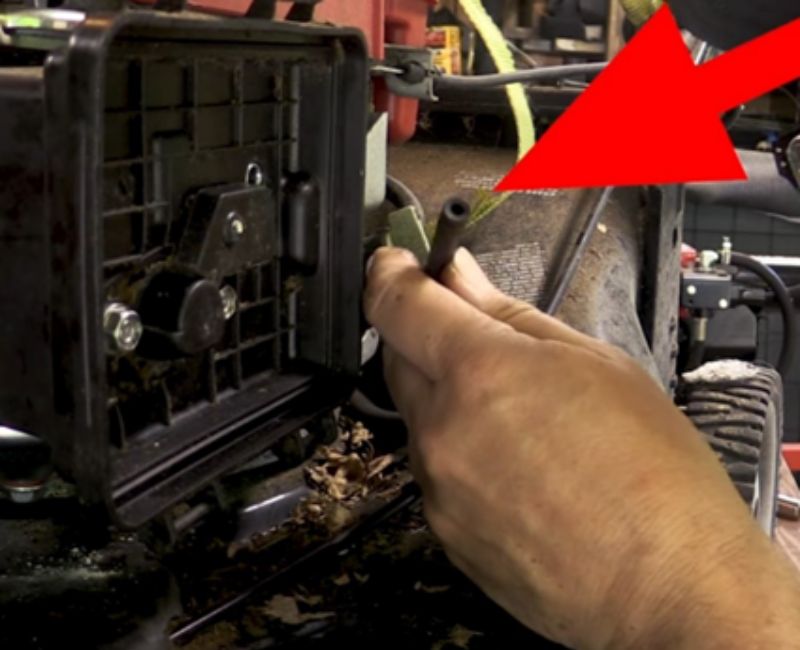 Now, that's fuel line, so lastly connect it securely.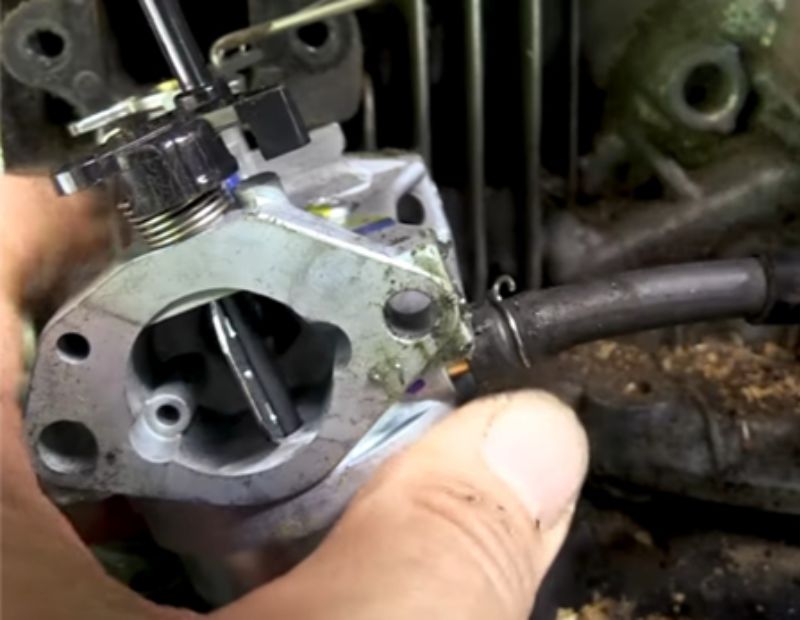 And take a test drive now to check whether this time the trick worked or not.
Warning:
Undertaking such servicing or repairing tasks can be hazardous. Thus, make sure you have enough knowledge and expertise to perform them. Always read your mower's instructions manual before operating, servicing, or troubleshooting it.
Frequently Asked Questions
Why does my lawn mower run only when the choke is on?
If your lawn mower only runs when the choke is on, it's most probably due to a fuel delivery or carburetor problem. It commonly occurs due to a clogged carburetor or air leaks. In some cases, this happens due to old fuel or because the used fuel contains too high alcohol content.
Can I spray carb cleaner directly into my lawn mower carburetor?
Yes, you can. Just set the tip of the aerosol can into the center of your lawn mower's carburetor and spray it directly into the running carburetor.
Is it possible to clean my lawn mower carburetor without taking it apart?
Yes, you can do this without even taking the carburetor out of the engine. In that case, you will need to use some commercial lawnmower carburetor cleaner to clean the inside and outside of the carb.
What happens when you run a lawn mower engine with the choke on?
If you leave the choke on while operating your mower, it will result in irregular engine power performance, excessive fuel consumption, and eventually might even damage the engine.
Final Verdict
If you ever encounter similar issues while operating your lawn mower, try today's free-of-cost DIY technique.
Initially, the whole process might seem a bit complicated to perform, but trust me, if you follow the steps thoroughly, you will be able to get rid of the issue in no time.
Remember, you have to thoroughly follow all the instructions of troubleshooting a lawn mower that dies when choke off without skipping a single detail to get the best result.
Related Posts: