19 Ornamental Trees to Grow in North Carolina
North Carolina has a hardiness zone ranging from 5b to 8b. Most of the state has a humid subtropical climate, with very warm summers and fairly cold winters. It allows for a variety of evergreen shrubs, bushes, and trees. The higher elevations of the Appalachian mountains have a moderate continental climate, which is dry with very hot, long summers and very cold, short winters. Many different types of flowering trees are there.
To grow ornamental trees in North Carolina, you need some knowledge of a tree's necessary conditions and the climate of the area you're in. Here are 19 small ornamental trees as well as trees with vibrant foliage and flowering trees you can grow in the state.
1. Snowdrift Crabapple
There are many varieties of the small deciduous trees known as crabapples, and the Snowdrift Crabapple is a special find. Starting with pink buds, it bursts into stunning white blooms in mid-spring. Deep green, shiny summer leaves turn yellow in the fall, while it maintains orange-red fruit through the winter, which attracts birds. It grows in hardiness zones 4 through 8, making it a versatile choice that is beautiful year-round. At maturity, it has a height of 15-20′ and a crown spread of 15-20′. Either single trunks or multiple stems are possible choices depending on the cultivar. It needs full sun with no less than six hours of sunlight a day. Moist, acidic, sandy, well-drained, silty, and loamy soils are necessary for it to grow. Bees help it self-fertilize by transferring pollen between flowers on the same tree.
2. Flowering Dogwood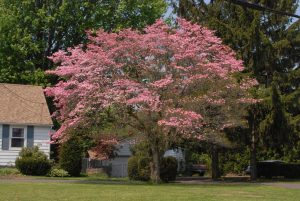 The Flowering Dogwood is native to eastern North America and northern Mexico, where it grows in hardiness zones 5 through 9. This popular tree is appealing because of its early blooms of pink and white spring flowers and bright scarlet autumn foliage. It is small, growing 20 to 40 feet high, with a single trunk or multiple stems, and almost-horizontal branches. A flat crown, 4 petals, and small oval leaves are characteristic of this tree.
3. Japanese Magnolia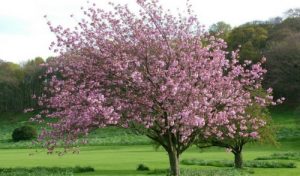 Also called Saucer Magnolia, the Japanese Magnolia is native to southwest China, and it has since been cultivated elsewhere in China as well as in Japan. The flowering tree grows 15-25′ high and has a spread of 10-15′ at maturity. Young flower petals start upright and look like tulips. Depending on the cultivar, it can have a single trunk or multiple stems. It loses its green foliage in the fall. Pink, white, purple, or red blooms appear in late winter and open in spring. It needs loose, well-drained soil with a 6-6.5 pH level, and partial to full sun (3-6 hours of sunlight) to grow.
4. Redbud
This flowering tree has horizontal branches. Its multiple trunks with heart-shaped leaves start off as reddish and dark green and become canary yellow in the fall, while small magenta bud clusters turn rosy pink. Because it is versatile, most levels of sun exposure and different types of soils are suitable for its growth.
5. Azalea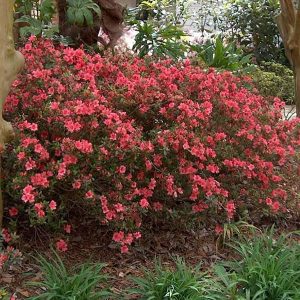 All Azalea species are native to Europe, North America, and Asia. Depending on the cultivar, its flowers can be deep orange, peach-orange, or, like the Christmas azaleas, bright red. Bright blooms appear during the spring and bright green foliage turns multicolored in the autumn. To grow, it needs moist, acidic, rich, sandy, well-drained loamy soil and full sun with minimal shade. Cat or dog owners should not keep it indoors because it is toxic.
6. American Fringetree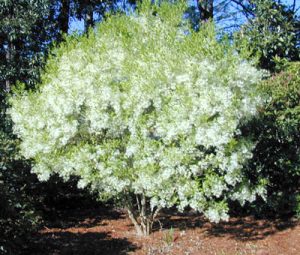 Also called the White Fringetree, Grancy Gray Beard, and Old Man's Beard, this flowering tree is right at home in the eastern United States, where it is native. It is most recognizable by its spray of white, fringe-shaped, drooping clusters of blossoms that appear in late spring to early summer. It produces metallic bluish-black fruit, which attracts birds, and wide, spear-shaped leaves turn bright yellow in autumn. With a height of 12-30′ and a wide, round crown, it's an attention-grabber you'll want to put on display. It grows in full sun to partial shade with rich, moist, well-drained soils.
7. Lipan Crape Myrtle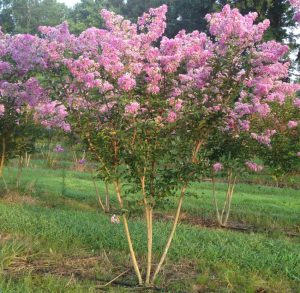 This flowering, dense, deciduous tree has multiple stems and an upright spread. As a low-maintenance tree, it does well in full and partial sun in a hardiness zone of 6b. Lavender-pink blooms appear during early to late summer with a delicate, frilly texture that is unique. It has dark green foliage and oval leaves that turn orange in the autumn. It has both a height and spread of 25′ and makes a great accent tree or a focal point for hedges or borders of gardens.
8. Carolina Silverbell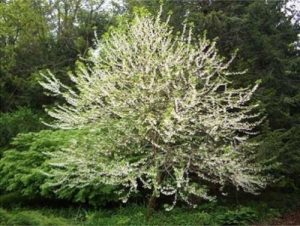 Native to the southeastern United States and common in the Great Smoky Mountains, this deciduous, small to medium-sized tree is 25′ high with a 20-30′ spread and flowers in spring. Its round, spreading crown shows two to five white, drooping, bell-shaped flowers with yellow stamens and dark yellowish-green, finely-toothed, oval-shaped foliage. The 'silverbell' in its name is due to its blossoms appearing silver from a distance. Striking but low-maintenance, this tree does well in full sun to partial shade with moist, acidic, rich, well-drained soils with damp to wet spots.
9. Purple Orchid
Looking for a vividly colorful tree that blooms in fall? The Purple Orchid Tree is a great choice and a common landscaping tree. You can expect glowing purple five-inch flowers September through November, and a height and spread of 25-30′ at maturity. Also called the Butterfly Tree, it has a unique, vase-like, round spread with two-lobed, large, deciduous leaves, and arching branches. It grows in hardiness zones 5b through 11. A versatile tree, it tolerates drought, full sun to partial shade, and acidic or slightly alkaline, well-drained, loamy clay and sandy soil.
10. Sourwood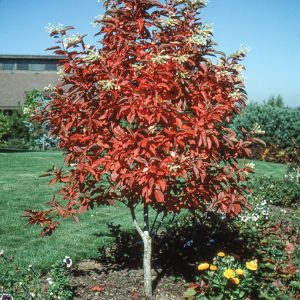 Sourwood is a small deciduous tree that is also called Lily-of-the-Valley and Sorrel. Native to eastern North America, it is popular in the South for its vivid fall colors. Typically red but also ranging from purple to yellow, all three colors often appear on the same tree. Long, drooping, bell-shaped white flowers have a sweet smell, leading to its nickname "angel fingers" in the Appalachians as well as Lily-of-the-Valley. Its sharply acidic or sour odor and flavor of the leaves lead to its name sourwood, which is due to oxalic acid. It does well in well-drained, slightly acidic soils with a pH level of 5.5-6.5.
11. Rhododendron
The Rhododendron is a fragrant, evergreen or deciduous woody plant with 1,024 species. This garden mainstay, like the Azalea, has large, leathery leaves that stay green through the winter. It blooms into bright, fragrant, and bell, tubular or funnel-shaped flower clusters in the spring and its flower buds need chilling to thrive. This excellent accent tree has a height of about 25′ and its flowers can be purple, red, pink, white, or yellow. Partial shade is best.
12. Yuletide Camellia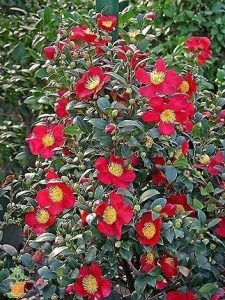 If you want an evergreen plant for a container or to put against a fence or the foundation of your home, or along a garden border, check out the Yuletide Camellia. It has single, long-lasting, fragrant, cherry-red flowers and shiny, evergreen foliage that blooms from September through January. With a height of 5′ and width of 8′, it grows well in partial shade, hardiness zones 7a to 10b, and well-drained, acidic soil with a pH of 5.0-6.5.
13. Serviceberry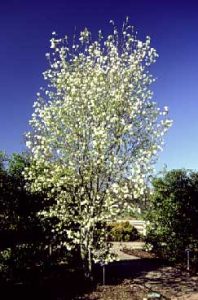 The Serviceberry is also called Shadbush, Hadwood, Shadblow, Sarvis, Sarvisberry, Juneberry, Downy Serviceberry, Saskatoon, Sugarplum, Wild-plum, or Chuckley Pear. It is a large deciduous shrub or small tree with airy, white spring blooms that attract bees and vivid fall foliage and purple berries that attract birds. At maturity, it grows to 10-25′ high and 10-15′ wide. A member of the rose family, it tolerates drought and grows in hardiness zones 4 through 9, in light soil with a pH of 6.0 to 7.8.
14. Carolina Cherry Laurel
A small evergreen flowering tree or dense shrub native to the southeastern United States, the Carolina Cherry Laurel has a height of 35′. Its fresh leaves have a fragrance of maraschino cherries or almonds when crushed or bruised. With a height of 20-30′ and a width of 15-25′, it has an oval-shaped spread with glossy, smooth, dark green leaves, and small white flowers. Reddish-purple cherries turn shiny black in the fall and last through winter. It tolerates drought once established and does best in full to partial shade with well-drained, moist soil.
15. Mountain Laurel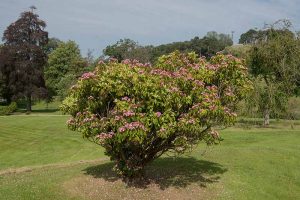 You won't want to overlook the beauty of the Mountain Laurel, a broadleaf flowering evergreen shrub with multiple stems that blooms in late spring and early summer. Even after its blooms fade, the deep green leathery foliage remains. Its delicate flowers have fused petals that look like origami rice bowls in colors ranging from white to pink and deep rose and with purple or maroon streaks or dots. At maturity, it has a 7–15′ height and a 7–15′ wide spread. It grows in hardiness zones 5 through 9 and in cool, well-drained, acidic soil. Although it tolerates full sun, it does best in partial sun, such as dappled light, for a maximum of four hours a day.
16. Hawthorn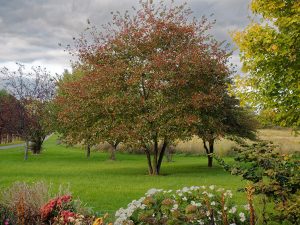 Also called quickthorn, thornapple, May-tree, whitethorn, Mayflower, or hawberry, the Hawthorn is a small, versatile, low-maintenance tree. This native of eastern North America blooms white flowers in spring, with blue and green fall foliage and rosehip-like red winter fruits, which attract birds. Although there are several species, the common hawthorn grows to 25-30′ high and reaches a spread of 25′ wide at maturity. The tree grows in hardiness zones 3 through 7 and in full sun with well-drained soil.
17. Common Persimmon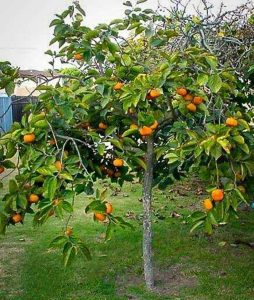 The Common Persimmon is also called common persimmon, American persimmon, eastern persimmon, simmon, sugar plum, possumwood, or possum apples. Native to the eastern and central United States, the deciduous tree not only has beautiful foliage but edible yellow-orange to red-orange fruit, which appears in late fall and lasts through winter. Single, simple leaves have a lighter shade of green underneath. The tree is medium-sized and slow-growing, reaching 30-80′ high and 20-35′ wide. It grows in hardiness zones 4 through 9 and in well-drained, loamy soil.
18. Pear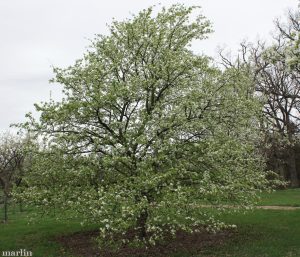 With pears, like apples and other fruits with several varieties, many people have a favorite. Generally, though, a pear tree has teardrop-shaped, symmetrical leaves with slightly serrated edges and small, oval, green buds that bloom in spring to reveal flat, broad, white petals. At maturity, a standard pear tree can reach 40′ in height and 12-13′ wide. The dwarf pear tree reaches 8-10′ high and 6-7′ wide. A versatile plant, the pear tree grows in hardiness zones 3 through 10 and in sandy, loamy soil with a pH of 6.0 – 6.5, although it can tolerate a pH of 5.0-7.5.
19. Tulip Tree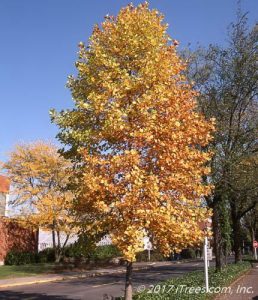 If you've heard of the phrase "tiptoe through the tulips," you know it's a warning to be careful. Falling flowers from the tulip tree can get messy and the tree releases sticky sap, so plant away from cars. This fast-growing tree is one of the largest in North America and attracts butterflies as it blooms in late spring. It sports goblet-shaped, orange-yellow-green flowers with cone-shaped seed clusters and large, bright-green, round-notched, four-lobed leaves. At maturity, it reaches 70-90′ high and 40′ wide. Tolerant of drought in humid areas, it grows in well-drained, loamy, acidic, moist, sandy, and clay soils and prefers normal humidity levels.