7 Best Fig Trees To Grow In Los Angeles
Although the fruit of Fig Trees is harvested in the fall, it can be dried for use later in the year. Trees here are deciduous and dormant in the Winter.  Dark green, large, lobed leaves. Green branches turn brown as they grow and harden. Ten to thirty feet is the height of the fig tree.   
To ripen, these varieties do not require pollinators. Figs are a delicious, sweet fruit with a soft and slightly juicy consistency. They are rich in antioxidants, potassium, and dietary fiber, making them a great source of health benefits. Fresh figs off a tree are delicious. They can be used in salads, baked into cookies, or dried to be enjoyed at a later time. Pruning figs to any shape is easy, and they bear lots of fruit very quickly.
If possible, choose a mild climate such as Beverly Hills, Santa Monica, Long Beach, or Malibu to grow your plants. However, cities like Los Angeles, Burbank, and Glendale, who are inland, are very hot during the summer months. Additionally, Fig trees can be planted in morning sun and afternoon shade in cities such as Woodland Hills, Reseda, and Northridge. In the heat waves in the Summer, their large leaves will be protected from burning.
Plant fig trees in the spring or summer and water them once or twice a week. Fall is the time to reduce water use. Winter is a dormant season for fig trees. Water is not necessary for them then. Winter is the best time to prune fig trees. Feed your plants with low nitrogen and high phosphorus and potassium fertilizer in the Fall and Winter, and fertilizer with higher nitrogen than phosphorus and potassium in the Spring and Summer to enhance growth.
LSU Purple Fig Tree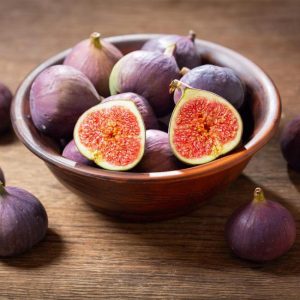 LSU Purple Fig Trees are hardy trees that yield sweet fruit by requiring little maintenance. Louisiana State University's College of Agriculture bred the LSU Purple Fig for superior disease resistance and delicious fruit that can be harvested from home.
A year after planting, the LSU Fig produces fruit! LSU Purple Figs are capable of setting small crops of figs as early as their second or third year of maturity. Plus, the bigger sizes allow you to enjoy fruit right from the beginning.
Figs are best enjoyed indoors or outdoors between April and December. Its fruiting season lasts three months: an early spring fruiting, a large main crop in July and then a late fall or early winter crop. This fruit produces figs almost year-round, allowing you to store them and make jams and preserves. Since it grows in containers…thriving wherever it's planted, the possibilities are endless with the LSU Purple. Southeasterly climates are ideal for its growth, and it thrives despite humid, hot conditions.
Fignomenal Fig Tree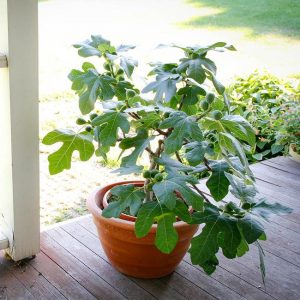 Your garden space or patio will be perfect for the compact and sweet Fignomenal Fig. Fignomenal won the Retailers' Choice Award at Cultivate 2021, which indicates that this is the best compact fig on the market!
There's nothing more powerful than a little thing! It has a full flavor of figs, but in a tiny package. This is a dwarf fig tree (Ficus carica) that grows up to 28 inches tall and wide, which makes it perfect for small gardens, patios, and sunrooms.
When you grow the Fignomenal Fig outside, you'll always have sweet, ripe fruit for desserts. It has beautiful, broad foliage. It is medium-sized and has a dark brown outer skin and a bright pink center.
It's even better, as Fignomenal Figs require very little maintenance. As long as they receive plenty of direct sunlight, are kept hydrated regularly, and are kept out of extreme cold, they will thrive. Leave them alone so they can do what they do best!
A low-maintenance fig that requires little pruning. During the winter months, simply bring your Fignomenal Fig Tree indoors.

---
Desert King Fig Tree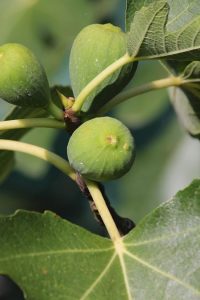 With the Desert King Fig Tree, you can enjoy fresh, high-quality fruit right from your home. This cultivar is highly productive and reliable, producing bushels of sweet, richly-flavored and strawberry-hued figs. In addition, it has proven performance in the Golden State garden because it's grown there.
Likewise, the Desert King grows easily. Coastal, high elevation, and cool-climate gardeners love the Desert because its fruit ripens during summer.
As a result, it is resistant to late spring frosts that can damage its fruit. 
Little Miss Figgy Tree – USDA Organic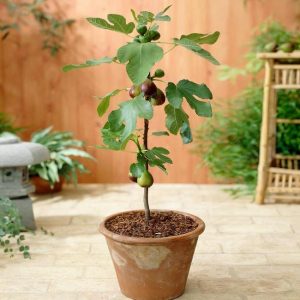 Grown organically, these figs are fresh. What fruit offers greater versatility and taste? You will not need much space to grow an abundance of juicy fruits with the Little Miss FiggyTM Tree. The versatility of your new tree makes it suitable for a variety of different garden spaces or patio containers.
In addition, Little Miss Figgy boasts deeply green foliage and deep purple fruit bounties. A smooth, juicy silhouette grows on your new tree and each fig is bursting with sweetness. The tree will give your home instant curb appeal thanks to the tasty treats growing right on its branches.
The best way to enjoy nature's candy? Since figs do not ripen on trees, they must be consumed within two or three days of picking. Your backyard is the perfect place to grow it. Figgy Trees can be planted in pots or containers for patio use or directly in the ground. With constant seasonal growth and adaptation, you'll have plenty of fresh figs to snack on, top with, bake with, or simply eat off the branch.
Most importantly, what is your favorite? You should not spray or use harsh chemicals on your Little Miss Figgy since it is a natural product. Figs are rich in fiber, potassium, calcium, and iron, as well as the health benefits of organic development. 
---
Black Mission Fig Tree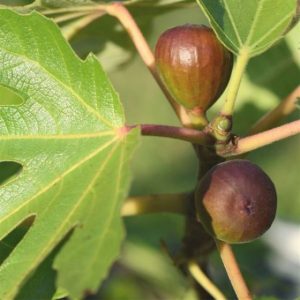 There is good news for fig lovers! A Black Mission Fig Tree (Ficus carica 'Mission') is a simple and easy way to grow your own fruits. There are two harvests each year from this prolific tree.
What a treat to pick figs from your own tree for snacking, baking, and more! Over many productive years, you'll know how your food was handled.
It is a popular choice for growers because it is easy to look after. Consider planting it in warmer climate zones. Colder zones can plant their Black Mission Figs in containers.
It is easy to maintain the Black Mission Fig variety. To grow this tree, you don't need green fingers. Keep them looking and performing their best doesn't require much effort.
All it requires is well-drained soil, even watering, and it will grow beautifully.
Black Mission Fig Trees are considered one of the most prolific fig types in the world. It's bursting with sweetness and flavor, with jammy, sweet fruit to die for.
---
Chicago Hardy Fig Tree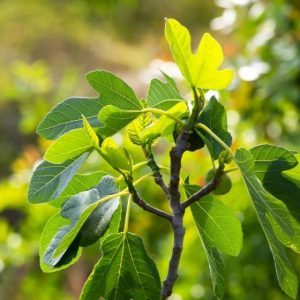 After you embark on the journey of epicurean edible gardening, there is no turning back! Growing your own crops on your patio, balcony or in an orchard row is a very rewarding experience.
This cold-hardy Fig tree will provide you with a bounty of delicious figs starting as early as late summer. There are also some absolutely stunning hardy fig trees (Ficus carica 'Chicago Hardy') in Chicago!
Hardy figs of Chicago are distinctively leathery, dark-green, three-fingered trees or shrubs. Approximately 10 inches long, these leaves are massive!
The Mediterranean look will be infused into Northern gardens. The look of containerized pairs or trios on a balcony or patio would be sophisticated.
Since it's a hardy selection from Chicago, it's been nicknamed Bensonhurst Purple Fig. The plentiful harvest will make you happy no matter where you live…even after a tough winter.
Green flowers can be overlooked, but when the tiny figs start to appear, you will rejoice. An average Chicago Hardy Fig tree can produce about 100 pints of homegrown, super fresh fruit per season.
You can grow this cold-hardy, easy-to-maintain variety year round. Furthermore, the fruit is delicious.