6 Best Fig Trees To Grow In San Diego
It is easy to grow figs in San Diego County, but you need to find the warmest spot on your land and select the right variety to achieve sweet, delicious fruit. Try varieties of Black Mission, Celeste, Conadria, and White Genoa along the coasts. In the interior, where climates are warmer, try any of these, but also Kadota and Black Jack. In addition to growing in pots, 'Black Jack' fig trees can be grown on a balcony or patio.
A fig tree produces most of its fruit during its first growing season. You should cut them back during the winter after they lose their leaves since they can grow 6 to 8 feet each year.
A little mulch over the roots will keep the soil cool in summer and prevent weed growth, even though figs love the heat and are drought tolerant. When the fruit ripens, too much water can reduce its flavor.
There are very few insect or disease problems with fig trees. You can keep birds out of your trees with netting, which prevents birds from ruining your garden. By pruning trees yearly, you will be able to net their fruit as it ripens because trees are kept short and manageable.
Birds know when fruit is ripe, and they flock to it. In the short term, mylar balloons and reflecting tapes or hanging old CDs from the trees (which reflect light from their silver finish) can work great. But since figs take so long to ripen, birds discover them and invade. You should use netting if you have a problem with birds. 
Insects can also be a problem, but a layer of Tanglefoot around the base of the tree and keeping the lower branches of the tree pruned up off the ground will keep them away.
It can be challenging to harvest your figs at the right time. Skin will usually split on fruits that are soft to touch. The figs are too early for picking if you see white sticky sap on them when you pull them off. Fruit can only be harvested if it tastes sweet enough.
---
Black Mission Fig Tree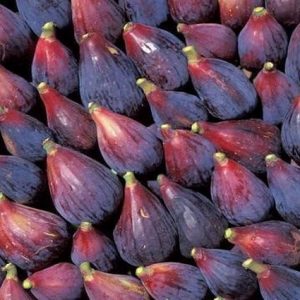 There is good news for fig lovers! Black Mission Fig Trees (Ficus carica 'Mission') are easy and simple to grow. The fruit of this tree is harvested twice a year.
From your very own tree, you can run outside and harvest wonderful, fresh figs to enjoy as snacks, bake with, and more! Over many productive years, your food will have been cared for properly.
Its easy-care nature makes it popular with growers. You should direct it to warmer zones with cooperative climates. You may also plant your Black Mission Fig in a container if you live in a colder zone.
It is easy to maintain the Black Mission Fig variety. You don't need to be an expert gardener to grow this tree. Keep them looking good and performing at their best doesn't require too much work.
---
Celeste Fig Tree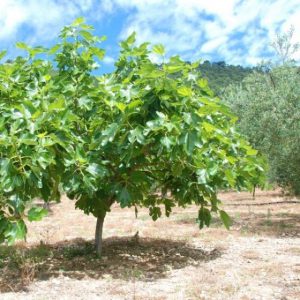 Fig trees such as the Celeste Fig (Ficus carica 'Celestial') are among the most popular in the United States, for good reason. Sugar Figs are produced by this tree which is often known as its nickname, the "Sugar Fig".
Its flavor and texture are buttery smooth and it has a scrumptiously sweet taste every summer. This fruit is not only tasty, but it is gorgeous as well.
Purple skin covers edible, strawberry-like flesh inside that is rose-colored. Figs are delicious when eaten fresh. Skin and all can be eaten, so there is no need to peel! Furthermore, the fruit makes an ideal snack and can be stored and stored for a long time.
It's a striking specimen in its own right. The fig leaves you see on the tree throughout the summer have an attractive, deep-green lobed shape. I love the shape of the leaves and how the branches look so nice.
---
Chicago Hardy Fig Tree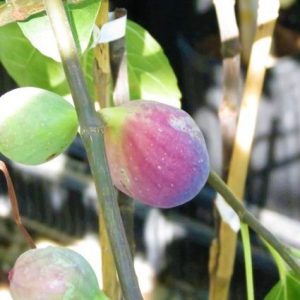 You cannot go back to conventional gardening once you venture into epicurean edible gardening! It's wonderful to see your very own home-grown crop ripening on your balcony, patio, or even planted in a long row in an orchard.
Your cold-hardiest Fig tree will produce abundant figs from late summer to early fall. Fig trees are also beautiful, especially the Chicago Hardy (Ficus carica 'Chicago Hardy').
The Chicago Hardy Fig developed into a small tree or shrub with distinctively leathery and deep green three-finger leaves. Approximately ten inches long, these leaves!
A Mediterranean look will be given to northern gardens. It would look so elegant on your deck or balcony if you placed a containerized pair or trio.
Due to its vigorous growth and rugged nature, it's named Bensonhurst Purple Fig. No matter where you live in the US, you will enjoy its abundant harvest.
Little Miss Figgy Tree – USDA Organic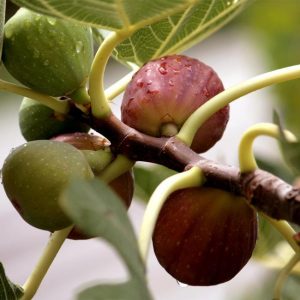 Grown organically, these figs are fresh. Can you think of a more versatile or delicious fruit? The Little Miss FiggyTM Tree produces plenty of juicy fruit with only a small amount of space. You can fit your new tree into a variety of spaces in your yard or in a patio container thanks to the tree's versatility.
Furthermore, the Little Miss Figgy features dark-green foliage and a bounty of deep purple figs. Your new tree produces figs with a smooth, juicy silhouette and plenty of sweetness. The rich hues throughout and the delicious treats growing right on this tree will instantly boost your curb appeal.
---
Brown Turkey Fig Tree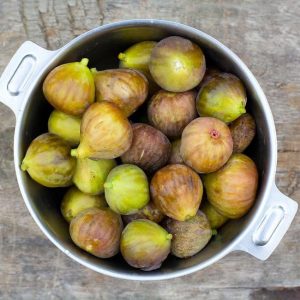 Brown Turkey Figs produce twice as much as green Turkey Figs. Unlike other turkeys, the Brown Turkey produces two harvests per year. During the first growing season, a small crop is produced. As the summer progresses, you will begin to see a larger and sweeter harvest followed by the most flavorful autumn harvest.
The process of growing is easy. Brown Turkey Figs are renowned for their excellent quality, but they remain robust and flourish in harsh winters that would ultimately destroy most other fig trees. You can even grow it indoors if your climate doesn't fit in the recommended growing zones.
Assorted Figs – USDA Organic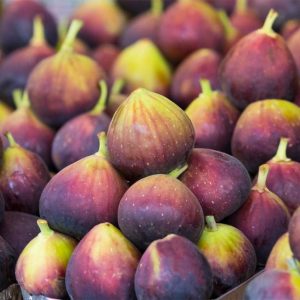 The natural growth of these figs means they won't need harsh chemicals or sprays. Why not make this classic fruit healthier and more natural? As part of the Assorted Figs package, you'll receive a grab bag of one of our on-site fig varieties, such as our Chicago Cold Hardy Fig, Brown Turkey Fig, and Celeste Fig.
Adaptability and durable growth are compatible with low maintenance. This attractive cultivar can be planted in a wide variety of sites. Organic fig trees not only produce a great deal of delicious fruit, but each and every fig stands out in the garden due to its bright hue. Beautiful and functional, these blooms are sure to make an impression.