Best 6 Flowering Trees To Grow In Idaho
In Idaho, homeowners are often seeking fast-growing flowering trees to provide shade and color to their gardens, in addition to evergreens. Choosing trees for your environment and hardiness zone is easy with the Faster Growing Flowering Trees Nursery.
The Pacific weather trends influence Idaho's climate, which is diverse. The northern regions of the state receive more rainfall and experience cooler temperatures than the southern regions.
Idaho's growing season varies from 200 days in Lewiston to much shorter at higher elevations. Since there are no hurricanes in the Gem state and tornadoes are almost nonexistent, it is safe to plant trees around your home. If you want to plant fast-growing flowering trees in your Idaho residential landscape, climate will be a major consideration.
---
Purple Robe Locust Tree
How about a native tree that grows fast, is hard-wooded, requires little care, and is extremely ornamental? This tree literally can't be kept in stock!
Black Locust trees can sometimes be improved by propagating a new variety such as the Purple Robe Locust (Robinia pseudoacacia 'Purple Robe').
Thanks to the spectacular purple flowers and strong scent, it has become extremely popular. In addition to their brisk growth rate of 2 or 3 feet every year, the Purple Robe Locust trees are also extremely hardy and drought tolerant once established.
Trees of the Purple Robe Locust develop long clusters of violet flowers similar to those of Wisteria in the spring. Each cluster may be up to eight inches long and covers the tree profusely.
Cut a few of these flowers and enjoy them in an indoor vase, as it is an impressive display.
While this improved variety has a lot fewer thorns than its predecessor, keep an eye out since some of the thorns will grow. 
You need to act now. Our native trees are always sold out and this year won't be any different.
---
Lavender Chiffon Rose of Sharon Shrub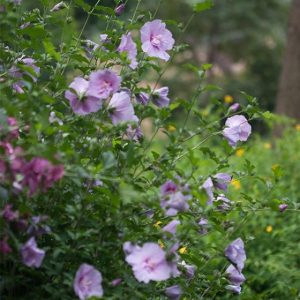 An ornamental deciduous shrub, Lavender Chiffon Rose of Sharon is a stunning specimen. Several of these can make an eye-catching hedge in your perennial bed.
Also suitable for patios or porches, these can be grown in containers. If you would like to add a personal touch, you can prune Lavender Chiffon into a small tree.
One of the longest blooming and most prolific varieties of Hibiscus is your Lavender Chiffon Rose of Sharon (Hibiscus syriacus 'Notwoodone' PP#12619). By late summer, blooms grow up to 4 inches wide and fully double. The lavender flowers resemble anemones thanks to their lacy centers.
In summer and fall, a greater number of flowers bloom. Individual flowers last only one or two days. Adding to the elegance of your Lavender Chiffon are its 4-inch-long, 3-lobed leaves.
Its vase-shaped upright, multi-stemmed structure and impressive blooms make it a standout in your yard. Growing conditions are generally wet or dry, but it can grow in virtually any soil.
Determinate and hardy, this deciduous shrub requires full sun. This plant is tough and able to endure both bad and good weather.
---
Native American Plum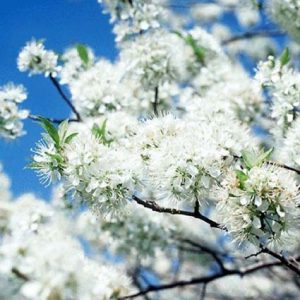 Known as a deciduous, single trunk tree or shrub with multiple stems, the Native American plum has a single trunk. Whether used as a specimen in your yard or as part of a small hedge, the multi-stemmed form of N. america Plum is well suited for landscape use. It forms large colonies and suckers easily as a shrub. This plant is tolerant to drought and adapts to a variety of soil conditions.
Wild Plum, Native American Plum, Acorn Plum, and Hedge Plum are all names given to your Native American Plum tree. The fruit of this variety can be used if you desire, but it is generally grown for ornamental value and not for fruit production.
A flower cluster with five petals appears in the spring. A tree's rough, oblong leaves will fill out your landscape for summer, and soon you'll be rewarded with the red, 1-inch plums.
In spite of its yellow flesh, plums are best prepared for consumption in preserves and jellies rather than eaten raw. It's certain that your wildlife will be able to benefit from your left-over fruit if you choose to leave it on your tree.
Yellow leaves turn into red fall colors in autumn. The branches and twigs of a Plum tree are a dark reddish-brown color, so even throughout the winter they have an attractive look.
---
Helmond Pillar Barberry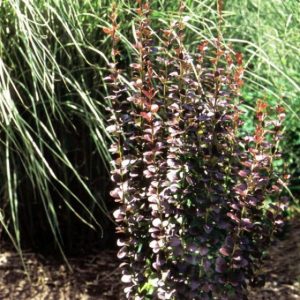 The Barberry in this category is quite different from others in its family: tall and slender when mature, it develops into a columnar shape, almost like a piece of living statue. A vibrant yellow flower appears in spring, changing into cute red berries by fall. The foliage is purple in color.
In contrast to most Barberries, Helmond's are relatively unaffected by diseases or insects. Since they are not attacked by deer and pruning is strictly optional, it is an easy purchase choice.
This plant prefers full sun and well-drained soil, but it can tolerate a little drought, and it can even withstand pollution from big cities. If planted strategically, its stems can act as effective varmint deterrents, as they are thorny, but effective.
This plant can be used for a variety of reasons. It can be used as a perennial border plant, a specimen plant, a formal hedge, a divider of a screen, or as a truly unique specimen.
---
Audubon Washington Hawthorn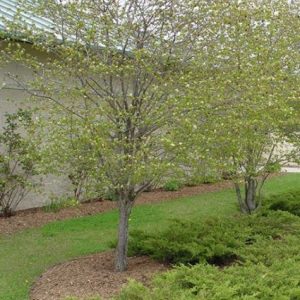 One of the last of the ornamental Hawthorne trees to bloom is the Washington Hawthorne tree.
A beautiful, deep-green color eventually replaces the reddish-purple color when the foliage unfolds.
White flowers will begin to bloom late in the spring on the Washington Hawthorne. The pure white blooms set off the dark lustrous-emerald foliage quite well.
Beautiful fall color is associated with the Washington Hawthorne. Fall foliage turns this tree into a beautiful showstopper with its orange, scarlet, and even purple fall colors.
In late fall, your trees are adorned with red, glossy berries that will remain on the tree all winter long, providing a delight for songbirds.
Hardy and attractive, the Washington Hawthorne grows everywhere.  
Add the Washington Hawthorne anywhere in your yard for a unique plant that will add interest to your yard throughout the year.
Imperial Honey locust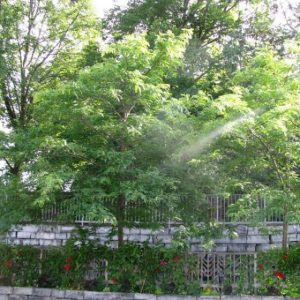 Your chances of achieving the kind of shaded backyard paradise you've always dreamed of are great, no matter how difficult your climate is. It will grow into a healthy turf tree that your entire family will love (Gleditsia triacanthos var. inermis 'Imperial').
The roots of this modern cultivar are not prickly and don't form surface roots. The spring flowers will be reduced to tiny, fragrant blooms, and the fern-like leaves will cast a pretty shade while still allowing the lawn to thrive underneath.
Despite its rugged appearance, this hardy variety can resist wind damage and winter damage and can survive brief periods of drought after the first few years. Compacted soils can be used to plant it in new construction sites.
Reduce cooling costs by installing one at the southwestern corner of your property. Make the most of your property's natural hills and dips by creating a personal park in a larger space.
Trees work well together, too.  
The golden-yellow color of Imperial Honey locust foliage enhances the tail end of the growing season. Keeping these small compound leaflets clean is also a breeze!