Best 5 Flowering Trees To Grow In New England
The beauty and diversity that a Flowering tree adds to the environment while taking up very little space is amazing.
It could be placed next to your doorway, on the edge of your driveway, on a narrow sliver of sidewalk between your home and the street, in the garden bed by your patio or even in a large pot on your deck.
The woody trunk and branches of these trees offer wildlife habitat and visual interest throughout the year, in a way that annual flowers don't, while a variety of leaves, bark patterns, and flowers produce flowers for wildlife.
The trees in our local ecoregion support many other creatures, as do all native plants, and their presence in your property will draw those creatures into your landscape.
There is nothing more enjoyable than planting a tree that blooms. The great thing about this is that you don't need to have any gardening experience to take on this project, and it is a great way for those who don't consider themselves to be gardeners to be able to contribute to the restoration of local native plants. In the following paragraphs you will find Best Flowering Trees For New England.
---
First Editions Berry White Hydrangea-Tree Form
A love song would have been written if Barry White ever saw the Berry White Hydrangea tree. I know you'll love this hydrangea tree, too.
As summer progresses, the Berry White Hydrangea-Tree Form (Hydrangea paniculata 'Renba' PP 28,509) blooms in clusters of white blooms, which transform into deep pink blossoms. There's nothing better than seeing the blooms up close!
There is no doubt that our expert growers possess a special talent. Your neighbors and you are sure to enjoy spending more time outdoors thanks to this incredible plant.
A wonderful color show can be expected with the Berry White Hydrangea. When it blooms in summer, the flowers are bright greenish-white with a rounded shape.
When summer arrives, they undergo a dramatic wardrobe change. Your garden will look fashionable and classy with these deep pink blossoms. It's impossible not to crave vanilla ice cream and strawberry sorbet when you see their mouth-watering colors.
Espresso Kentucky Coffee tree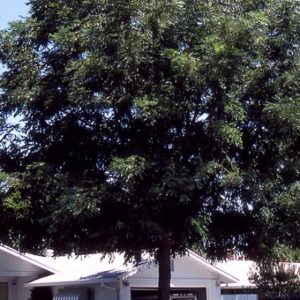 The Espresso Kentucky Coffee tree (Gymnocladus Dioicus 'Espresso-JFS') imparts the essential ingredients needed to make you feel motivated to get up and tackle the day.
As the leaves of this Coffee tree mature into blue-green in the late spring, they illuminate your garden.
Leaflets turn radiant yellow in the fall, while stems turn a beautiful hot pink.
The features and fashionable looks of this tree will never be duplicated, so place an order before it is too late!
Coffee tree's Espresso Kentucky isn't just about caffeine, it is just that extraordinary!
Its vase-like shape will help it stand apart from the crowd. You can have quite a spectacle in your garden with its thick, sturdy limbs and delicately colored leaves.
Crimson Queen Japanese Maple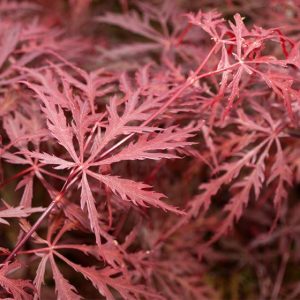 There are no words to describe the beauty and majesty of this Japanese maple. Maple trees are considered to be among the prettiest trees because of the captivating beauty of their bright-red leaves that cascade elegantly down as they grow.
There is no question that the Crimson Queen Japanese Maple (Acer palmatum var. dissectum 'Crimson Queen') is used in landscaping primarily because of the trees striking beauty, but also because of their size compared to other maples.
A typical Japanese Maple is typically 8-10 feet in size and is a good choice for filling in gaps between other trees and shrubs.
There are numerous uses for deciduous shrubs, and one of the most common of these uses is for privacy. It is quite independent and loves being the center of attention as an ornamental shrub, and as such it does very well.
As your guests will be driving through a beautiful red tinted forest with beautiful trees along the driveway to your home, you will feel as if you are driving through the enchanted forest!
When planted correctly, the Crimson Queen Japanese Maple is one of the easiest trees to maintain and is very low-maintenance when compared to other queen trees.
It would be ideal for this plant to be planted in full sunlight and with a well-drained soil, since it loves the sun very much. In order to make sure that this plant receives even moisture, we suggest that you use a nice layer of mulch over its roots, so that it does not get caught in the stems.
Japanese Maple Trees are hardy and pretty resilient trees, but mulch can also protect them from diseases and pests that may harm their beauty.
---
Armstrong Gold Columnar Red Maple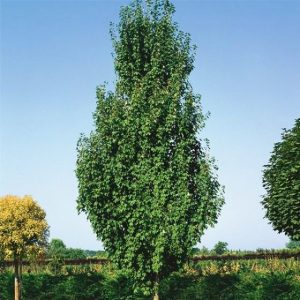 Do you have any experience of trees that appear as thick, bright, and health as this one? Red Maple Armstrong Gold Columnar (Acer rubrum 'JFS-KW78') sticks out like a spire.
The large, captivating shape and bright colors of this lamp can't be missed. One of the earliest trees to begin changing color is the osage orange tree.
The ellipse shape of this tree does not require any pruning. Although the tree naturally grows tall and proud, you look like an expert gardener pruning it.
This tree pulls in the attention of passersby effortlessly if you are looking for one. Red Maples make for a spectacular decorative accent in any garden.
A properly planted, well-drained tree can grow as tall as 40 feet and as wide as 12 feet and make quite an impression in your landscaping.
Crimson Sunset Maple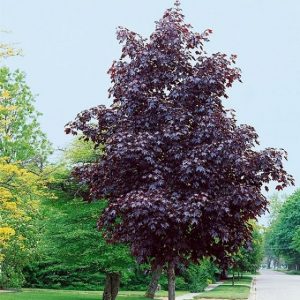 As you sit beneath the upright, deep purple leaves of the Crimson Sunset Maple (Acer truncatum x platanoides 'Crimson Sunset'), you will undoubtedly feel relaxed. There would be no end to your admiration for this tree even if you sat there for hours.
This purple-leafed tree thrives in scorching heat, while most purple-leaved trees do not.
Known for surviving temperatures as high as 113 degrees Fahrenheit, the Crimson Sunset Maple takes on a purple hue when the sun is hot.
Purple-leafed maple trees stand out as a terrific centerpiece in your landscaping.
A Crimson Sunset Maple plant should be planted at least 15 feet away from a building or house in order to develop its upright oval shape.
Maple trees prefer being planted in more open areas where their deep colors can shine.
Your tree will be happy to grow in full sun if you plant in well-drained soil.
Autumn Splendor Buckeye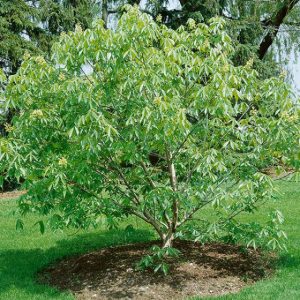 It was developed to be a total showstopper, the Autumn Splendor Buckeye (Aesculus x arnoldiana 'Autumn Splendor'). There are countless reasons to sit in the sun and enjoy the changing colors of the seasons each year.
During spring, the trees may just be green, but you will be blown away by the cream-colored yellow flowers that bloom. The fall coloration is about to blow you away.
The red-orange to maroon leaves of Autumn Splendor Buckeye trees in the fall are what give this tree its name.
It is not a waste to enjoy the little things like this tree by planting it near your deck, porch, or patio.
You can add coloration to your gardens to make them look elegantly full. It makes your garden look professionally landscaped with the colors that add an exceptional accent tree.
Prune this tree after the temperatures have returned to normal after the winter cold.
A well-drained soil, with full sun or partial shade, is the best location for plant Autumn Splendor Buckeye.