5 Best Flowering Trees To Grow In New Jersey
A flowering tree with flowering foliage makes an impressive landscape statement, adding to the curb appeal of the home. The flowers not only adorn you with a profusion of beautiful blooms, but are often heavily scented and provide pollinator food. The best plants have multi-seasonal interest as well as early flowers.
New Jersey is home to beautiful, hardy, easy to maintain spring-flowering trees. There are a variety of trees and shrubs that grow there, including natives that are well-behaved and non-natives that bloom.
Spring-flowering trees can accentuate your early landscape and add interest to your yard for a much longer period of time thanks to their extended blooming season.
Beautiful, hardy, and low-maintenance, spring-flowering trees can be found throughout New Jersey 
---
Native American Plum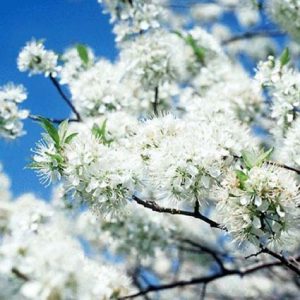 A plum tree or shrub is a deciduous single trunked tree. Whether used as a specimen in your yard or as part of a small hedge, the multi-stemmed form of N. america Plum is well suited for landscape use. It forms large colonies and suckers easily as a shrub. This plant is tolerant to drought and adapts to a variety of soil conditions.
Various names are given to your Native American Plum tree, including Wild Plum, Acorn Plum, and Hedge Plum. Although it is grown for ornamental value and not for fruit production, you can use the fruit of this variety if you like.
A flower cluster with five petals appears in the spring. Summer brings oblong, toothed leaves and ripening red plums, each an inch in diameter, following shortly thereafter.
The flesh of plums is yellow and can be eaten raw, despite their use in preserving and jelling. It's certain that your wildlife will be able to benefit from your left-over fruit if you choose to leave it on your tree.
Foliage turns from yellow to red in autumn, creating a colorful autumnal scene. Plum trees retain a reddish-brown appearance through the winter, thanks to their branches and twigs.
---
Redmond Linden
As a young plant, the Redmond Linden (Tilia americana 'Redmond') presents a very sophisticated, uniformly triangular appearance. It is evident why this is a useful tree to plant on the street. In fact, it won the Society of Municipal Arborists' award for Urban Tree of the Year.
Due to their long, straight trunks and graceful branches, Redmond Lindens make a beautiful impact on any landscape.
This linden family member has the largest leaves in the group and its glossy foliage is a dark green above and a lighter green beneath. The leaves of this plant are heart-shaped and can reach an extraordinary eight inches in length and six inches in width. A slight breeze and the sound of leaves fluttering will help you stay cool in the hot summer.
Eventually, a canopy that is upright and oval will emerge. Clusters of flowers 2 to 3 inches wide appear in June. Your yard will smell deliciously spicy when they are in bloom.
---
Helmond Pillar Barberry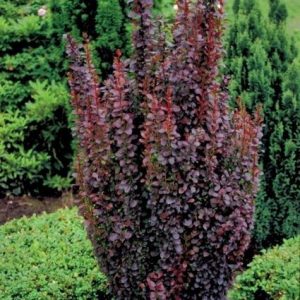 It becomes columnar when mature, almost like a statue, and stands tall and slender when young. A vibrant yellow flower appears in spring, changing into cute red berries by fall. The foliage is purple in color.
The Helmond is relatively resistant to diseases and insects compared to most other barberries. Despite deer leaving them alone and pruning being purely optional, they are an excellent choice.
A Horned Lark can survive droughts and large cities despite dry weather and well-drained soil. If planted strategically, its stems can act as effective varmint deterrents, as they are thorny, but effective.
This plant can be used for a variety of reasons. It can be used as a perennial border plant, a specimen plant, a formal hedge, a divider of a screen, or as a truly unique specimen.
---
Audubon Washington Hawthorn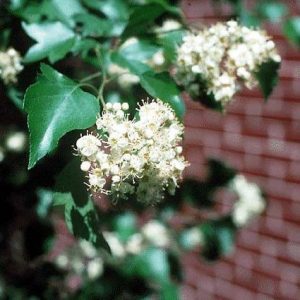 As the last to bloom among Hawthornes in Virginia, Washington Hawthornes are possibly one of the best ornamental trees available.
The reddish-purple color eventually gives way to a deep, emerald green when the foliage unfolds.
White flowers will begin to bloom late in the spring on the Washington Hawthorne. A stunning combination of white blooms and lustrous, emerald foliage.
Gardeners love Washington Hawthorne's fall color. You'll be amazed by this plant's vibrant orange, scarlet, even purple leaves in the fall.
Late fall and winter are the perfect time to enjoy red, glossy berries that adorn your trees, bringing joy to birds.
---
Coral Bark Japanese Maple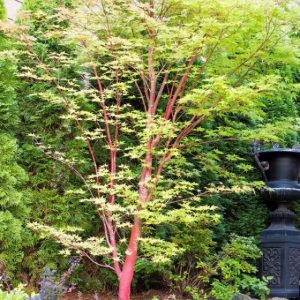 Japanese Maple trees are loved by all, right? There are a lot of beautiful ornamental features on this variety. Coral Bark Japanese Maples are a small tree that display a good display and possess so much character.
The origin of the tree's name is readily apparent from a glance at it. A red bark's beauty is widely admired. In winter, when the temperature plummets, reds become more intense.
In winter, the bark of the younger, thinner branches exhibits an electric, fluorescent color. Your socks may literally fall off!
Several red saps are received by the tree in order to achieve its bright red bark. The sap appears on leaves in spring and summer as well.
---
Akebono Flowering Cherry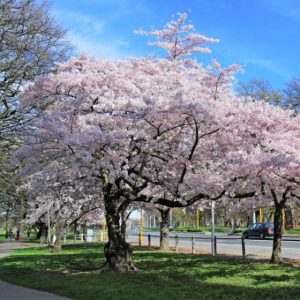 When you have Akebono Flowering Cherry (Prunus x yedoensis 'Akebono'), it is quite different from flowering cherry trees. Take a walk through a grove of cherry blossom trees and you'll be blown away by their size. Although it may be hard to paint the picture in your head, it's so simple to do! Your garden can be enhanced by Akebono today!
Cherry blossoms appear on Sakebono trees before leaves appear in spring, and it is often called the tree with the biggest blossoms. If it is covered in its thousands of pink, semi-double flowers, you won't even notice the branches.
During the blooming season, the lightly fragrant flowers turn into lush, deep green leaves that turn this masterpiece tree into a sunny shade tree. Autumn brings with it a display of golden yellow leaves with orange highlights as summer fades to fall.
A young cherry tree has a more upright shape, however it quickly adopts an asymmetrical, rounded shape, complete with a rounded crown and dense foliage.
The Akebono Flowering Cherry is suitable for large mass plantings as well as private plantings in an urban area. Trees need to be planted in places where people will be able to appreciate them!