7 Best Pine Trees To Grow In Arkansas
The state of Arkansas has more than 9,000 miles of hiking trails, two national forests, and more than 18 million acres of forests, making it an ideal outdoor paradise for those who enjoy the outdoors.
Despite the fact that oak and hickory dominate the forests, the pine tree is so unique that it has earned the status of the state tree. I thought it would be interesting to see what kinds of pines can be found in the state of Arkansas.
Pine trees are evergreen conifers, and the cones they produce can be as small as 1 inch long, or as large as 15 inches long, depending on their size.
Having a mature tree with a very regal appearance makes them very popular in public areas such as parks, playgrounds, and gardens since they are so easy to grow.
Also, homeowners can use them as great additions to their gardens and backyards, making them a great addition to any property.
As a matter of fact, Arkansas has four different types of pine trees and the following information should prove very helpful if you are inquisitive about these trees or researching them.
Vander wolf's Pyramid Limber Pine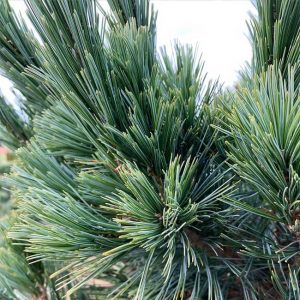 There are many reasons why Vander wolf's Pyramid Limber Pine is popular with gardeners.
The twisting, deep-blue, soft needles of this evergreen are unique. In addition to its narrow width, its pyramidal shape adds graceful height to any landscape.
In a crowd, its striking branching and deep color stand out. New growth grows green, then matures into twisted, blue-green needles with large, decorative pine cones.
Plant a row to create a simple, attractive privacy screen or for an accent tree.
Planning to landscape a smaller space? Additionally, the Vander wolf's Pyramid Pine can be planted in containers on a patio. Also, you can pinch out or break the new growth in half to create a denser tree.
It has low maintenance good looks, and it only needs a little pruning when established – once established, it will tolerate drought, and it has excellent disease and pest resistance, making it an easy addition to your yard. It is in fact perfect as a tree for rocky areas and difficult planting locations since it doesn't require much maintenance.

---
Austrian Pine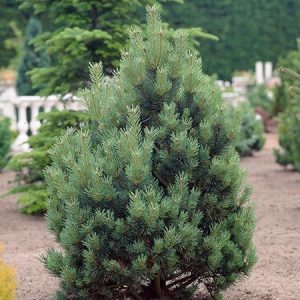 There is no doubt that Austrian Pines are one of the top choices for privacy trees in urban areas because they have a high tolerance to pollution and smog.
It's also known as 'European Black Pine', and it's a lush and solid living wall.
If Austrian Pine trees are planted as standalone trees or in rows, they will reach a height of 40 to 60 feet, growing large enough to block the neighbor's view of your home at the same time as adding beauty to your landscape.
Wouldn't that be even better? The products have been tested in some of the windiest areas of the country and they have proven to be effective.
You can put Austrian Pines in front of your home to act as a windscreen, preventing your home and other plants which are more sensitive to high winds from getting damaged.
Low-maintenance Austrian Pines are perfect for growing in places where other trees are unable to. They are drought-tolerant, and can adapt to a variety of poor soils, ranging from sandy soils to soils that are heavy in clay.
---
Dwarf Mugo Pine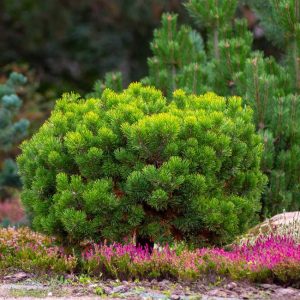 The Dwarf Mugo Pine is a great addition to your garden beds to give them an edge.
Dwarf conifers, such as this one, are slow-growing broad-spreading evergreens that are perfect for rock gardens, foundation plantings, mixed plantings, and more.
Because it has a compact footprint, this plant can also be grown in a container since it has such a small root ball.
This slow growing variety of Mugo Pine can reach a height of up to 3-5 feet and a width of up to 6-10 feet, but for most landscapes, it remains greatly reduced in size.
The foliage comes in a dark green color with a dense, upright growth habit, making it an ideal background plant for perennials as well as other dwarf shrubs for mulching beds and borders.
You can either grow the Dwarf Mugo Pine in its natural shrubby form, as in Japanese gardens, or you can carefully prune it into a neat mound, a feature very popular in these gardens.

---
Eastern White Pine Tree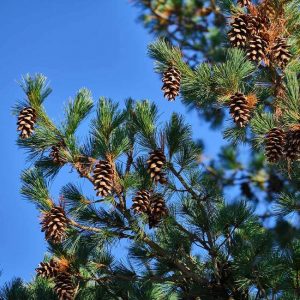 It is a good idea to plant a tree that will last for generations. Eastern White Pine Trees, if properly cared for, can live for many generations, especially since they can thrive down to -30 degrees Fahrenheit, and can adapt to nearly any environment they are placed in.
Despite its wide adaptability to a large landscape, the Eastern White Pine fits perfectly into large, open spaces or under the canopy of tall trees like Aspens and Birches.
In spite of its ability to adapt to large, open spaces and tolerate most soil types, it has evergreen foliage that shines throughout the year.
As well, you will enjoy looking at the snow-covered branches full of needles and pine cones against the stark white and gray of the winter landscape.
In addition, Eastern White Pines are a favorite with wildlife. It's well suited for a graceful display in your own backyard as so many animals such as porcupines, red squirrels, snowshoe hares, and so many more enjoy the bark of Eastern White Pines.
Loblolly Pine Tree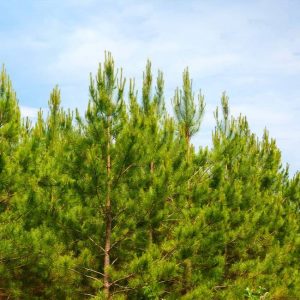 Are you looking for pine trees that grow quickly as an accent or privacy hedge? This particular variety of pine is a great choice for you.
Loblolly Pine trees grow up to two feet per year, which makes them popular among gardeners and landscapers who are looking to create privacy in a crowded area.
The pine tree has an oval shape, with slender, dark green needles and red brown cones, making it a very attractive landscape solution.
During their lifetime, these trees can reach heights of 60-90 feet, giving you the option to enjoy them for the rest of your days!
A native of the Southeastern United States, this tree is a fast-growing evergreen species that can withstand flooding, poor soil conditions and even moderate drought conditions.
The native tree is also a safe haven for wildlife, including chickadees, nuthatches, turkeys, chipmunks, squirrels and more.
Japanese Umbrella Pine Tree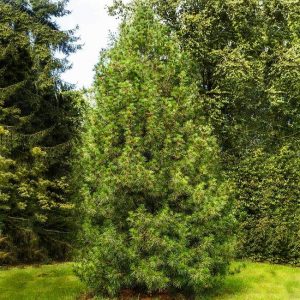 The Japanese Umbrella Pine is an Asian evergreen specimen that has a unique spin on traditional growth and hedging methods. It is aptly named for its graceful shape and cascading green needles.
This variety is slow-growing with a steady growth rate, so you are likely to find it growing well in almost any area of your landscape.
You can use the Japanese Umbrella Pine as any border for your driveway, as a backdrop for your flower beds, or even as a focal point for your front yard without having to do any guesswork on your part.
It will not even be necessary for you to prune this unusual tree, unless you want to train it or shape it according to how you want it to look.