Best 7 Shade Trees To Grow In New Jersey
Shade trees are an essential part of NJ landscaping, especially during the summer when it's hot and humid. The trees will keep the sun's rays away from your home and allow you to save money cooling it. Additionally, they will make the yard a more pleasurable place to spend time in during the summer months.
Shade trees should be planted away from your home and driveway so as to prevent future damage to your property. Take the mature height of the tree and the width of the crown into consideration when installing them. You can plan your landscape design with the help of a professional arborist or Certified Tree Expert.
Trees are beautiful and majestic, but some require more time to grow and mature than others. The top  fastest growing trees for your New Jersey landscape can serve as shade, privacy, or for added beauty, so take a look at our list of the top five fast-growing trees for your landscape this spring.  You can use it to determine where to make improvements to increase the value, appeal and effectiveness of your property.

---
Crimson King Maple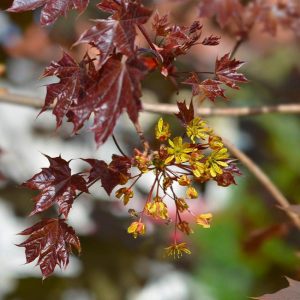 Maple trees provide vibrant fall color…but the Crimson King Maple Tree displays its beautiful purple leaves all summer. It is also one of the few trees that produce excellent color in the Northern states because it has striking, rich purple foliage in colder climates, too.
Moreover, the Crimson King Maples do well in any soil, because they will produce beautiful color wherever you plant them. It is easy to buy and maintain these trees, which retain their purple foliage year-round.
The Crimson King Maple also provides dense shade, keeping your home and yard cool in the summer.

---
Northern Red Oak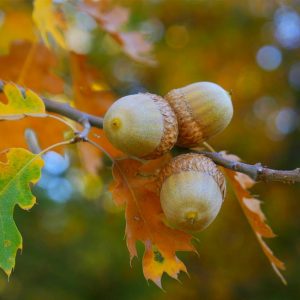 A Northern Red Oak is a great choice for those who are searching for a large tree that will provide shade all the time without having to worry about it.
An investment that will last for years and years, as well as growing rapidly, the American Red Oak is the ideal tree for nearly every American family.
Even in the most adverse environmental conditions, it will grow. It is a tree that will thrive in nearly every type of environment, whether those conditions are wide, open pastures as well as dense forests or polluted city sidewalks.
If you do not have good soil, a compacted space, wet sand, dry clay, or air from the city, then this tree can still grow just as well as in someone's perfect garden or in a field with plenty of air.
---
Legacy Sugar Maple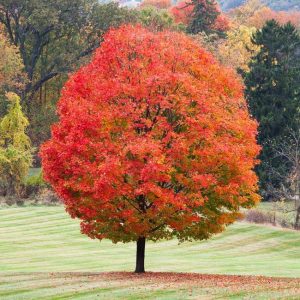 There is a hardwood that possesses beauty, charm, and strength all in one piece – the Sugar Maple. The Sugar Maple is capable of growing to large heights, spreading out its stunning leaves as it grows. This incredible tree is widely regarded as a state tree in both New York and Vermont. Canada even uses the leaves of the Sugar Maple as a symbol on its national flag.
In addition, you'll enjoy an eye-popping display of color. Among all the autumn foliage, its fall colors stand out the most. This is when the green leaves morph into golden tones, bright yellows, and burnt oranges so intense they seem to glow.
You'll look forward to next fall when the colors of the fall show culminate in an unmatched deep red.

---
Quaking Aspen Tree

Quaking Aspen trees are known for their climate and soil adaptability and have the ability to grow up to 5 feet per year.
During the fall, they have a stunning color show that you're guaranteed to love. Aspen quaking aspens are also well-known for their ability to grow well in cold climates and in poor soils.
In the autumn, your new tree will have bright yellow leaves which will add a touch of splendour to its white bark.
The Quaking Aspen is an incredible tree, unique in every sense, and getting its name both from its shimmering heart-shaped leaves as well as from the peculiar way it trembles or quakes when a light breeze passes through it.

---
Bloodgood Japanese Maple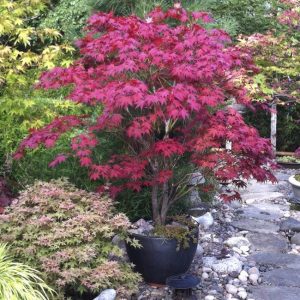 The Bloodgood Japanese Maple Tree is known for standing out with astounding color and being a fresh, vibrant focal point of any landscape.
A lot of designers like to use this plant because its vibrant silhouette complements grasses, flower beds, and so on.
We are known for our Japanese Maple trees, but what makes us different? First of all, unlike many other cultivars, the foliage of this variety stays red for a longer length of time than others do.
Even in high heat, color will occasionally fade, but you will still have months of great visual interest thanks to it.
Additionally, due to its small size, you are able to plant it in tight places such as your patio, your yard, or your home.
Superior Hybrid Poplar Tree

There are many attractive shade trees on the market today, although this tree is one of the fastest-growing.
The cost of improving a home's value could be as high as thousands of dollars by planting Superior Hybrid Poplar Trees.
In addition, Hybrid Poplars have a pleasing oval shape, complementing both residential and commercial properties.
Whenever you need quick shade or privacy, simply plant Poplars wherever you want them. A large number of them have grown up to eight feet in just a single year.
Therefore, you can plant them strategically in the shade so you can lessen your air conditioning costs dramatically by blocking the direct sunlight.
They drop most of their lush green foliage in the winter, allowing sunlight to stream through just when it is needed the most.