Other Considerations: New Home, Fences, Storm Water and Bio-swales
New Home
If you are moving into a new home that is being built in a previously undisturbed or minimally disturbed site, the single most important thing you can do is to minimize the "footprint" of the construction effort. This applies not only to minimizing destruction of the vegetation, but also to reducing soil compaction by heavy equipment. Soil compaction can significantly effect the movement (or lack thereof) of water and roots through soil and hence, change the ability of the soil to support desired plants. Temporary chain link fences (pictured here and available at many rental centers) and other boundary limiters can be used to keep heavy machinery in defined areas.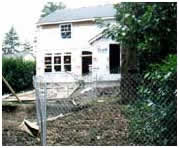 Fences
See note and figures on Fences at end of Designing for Wildlife Section.

Storm Water, Bio-Swales and Green Roofs
Minimizing storm water run-off and the use of bio-swales for this purpose are emerging areas of importance in landscape design.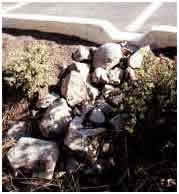 An example of a bio-swale is provided in Example 2 – NS-restoration.
"Green-roofs" are also emerging as a manner of reducing storm water by absorbing rainfall and permitting a significant portion of that rainfall to be taken up by plants or evaporated directly back into the air. Use of green-roofs and on site bio-swales is often sufficient to adequately absorb rainfall, even in relatively high rainfall locations such as Portland,
OR, and Seattle, WA. For more information on bio-swales, please visit: www.greenroofs.com