Worx WG751 40V 20-inch Lawn Mower Review
Table of Contents
Introduction
We naturally have more lawn care duties and tasks because summertime means spending time outdoors. Could the Worx WG751 lawn mower handle the job? Yes, along with the key points and suggestions listed below.
The Nutricut dual-stage mulching system is a feature of the Worx 20″ – 40V Lawn Mower, which functions as a 3-in-1 mulcher, bagger, and side-discharge mower. The sturdy steel cutting deck is made to last, has excellent mulching capabilities, and is dent resistant. Mulching is available whenever you want because natural lawn fertilization is integrated into the design. Additionally, at 20″, it is wide enough to finish your lawn in fewer passes while still being nimble enough to maneuver around landscaping elements and in between bushes.
Depending on the weather and the terrain, this Worx lawn mower should be able to cut up to 1/4 of an acre in one charge. The collection bag can be easily removed for side discharge and holds 1.4 bushels of material. And considering the sturdy steel deck, the unit's weight of 53.6 lbs. isn't excessive.
Who Is This Product For?
To maintain a beautiful yard, use the premium, dual-stage NutriCut technology mulching system. This lawn mower is ideal for you if you enjoy mulching a lot and believe your lawn benefits from it more frequently than once a year. Worx created new mulching technology to make it simple to mulch your lawn regularly. Mulching abilities are already present!
In terms of cutting deck size and power, this is the biggest electric lawn mower that Worx has ever produced. This is good news for those who want to have their small to medium-sized yards mowed quickly. The higher voltage produces greater torque, and fewer passes are necessary to complete the task because of the larger cutting deck. Even the rear 10?? wheels are included for improved mobility and traction.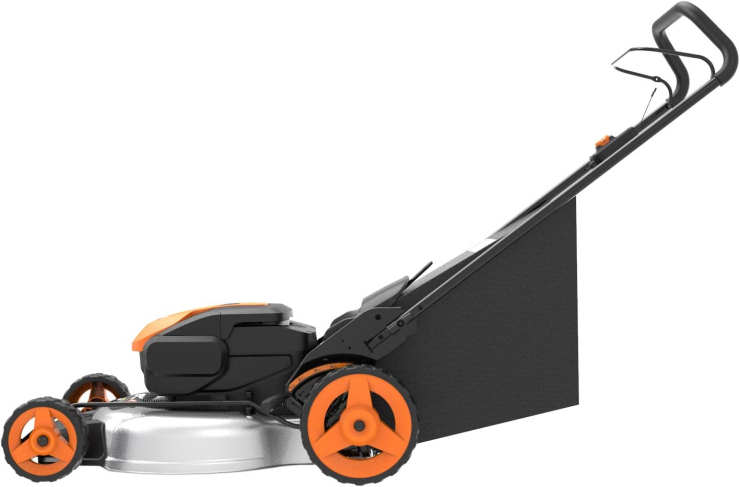 To make this mower last longer and cut more effectively, Worx jammed two 20V 5.0 Ah Power Share batteries inside of it. You can also bag or let it release outside for the remainder of the year.
No more gas smells. You'll save money and the environment by switching to battery-powered, rechargeable mowers like the Worx WG751 lawn mower. Additionally, yanking a cord is no longer necessary. Instead, this lawn mower is started by pressing a button.
| | |
| --- | --- |
| Brand | WORX |
| Model Number | WG751 |
| Power Source | Two 20V 5.0 Ah Power Share batteries |
| Grass Bag Capacity | 1.4 Bushels |
| Height Adjustment | Single-lever – 7 positions |
| Drive Type | Push |
| Deck Material | Steel |
| Machine Weight | 66.8 lbs |
| Battery Voltage (V) | 40 V |
| Cutting Diameter | 19-inch |
| Runtime | Up to 1/4 acre |
Pros and Cons of Worx WG751 40V 20-inch Lawn Mower
Pros
Cons

Lightweight material
Easy to operate
Value for money
Good battery life
Features of Worx WG751 40V 20-inch Lawn Mower
1- Ease of Use
Ease of Use
????? 4.6/5
It has a two-step electric starting system. The Worx WG751 mower can be started by pressing and holding the start button while raising the bale handle. Compared to the gas-powered models, this mower is incredibly lightweight and quiet. It sounds like you're using a fan to trim the grass. Conversing normally with someone without shouting over a loud engine is possible.
It is simple to adjust to the desired height thanks to the single lever. You can mow it as short or if you like, depending on the season or your preferences. The blower on this cordless lawn mower is robust, portable, and lightweight. It can produce up to 360 cubic feet of air every minute. The blower is consequently perfect for all jobs. The way a fan operates is its best feature. It is simple to use and can be operated with just one hand.
The handle can be collapsed entirely for convenient and small storage. In addition to being padded, the ergonomic handle makes cutting more comfortable to use. The Worx mower also has controls for two speeds. You can select the frame that best suits your needs. Long-lasting 3.7 lb. battery power is provided.
2- Design
Design
????? 4.6/5
In the box, the lawn mower was essentially pre-assembled. All that is left for you to do is extend, secure, and charge the batteries. The Worx initially resembles a typical lawn mower without the gas tank and oil dipstick. The battery section is located where the gas tank would normally be found. The mower has a cutting power of 40V and is powered by two 20V 5.0Ah lithium-ion batteries. With the push of a button, you can check the battery life indicator behind the battery compartment. The dual charger with the batteries can be used to charge them. The indicator lights turn green while charging.
The lights will remain steady once the batteries are fully charged. There are two 20V batteries, and it takes the batteries about 2 hours to fully charge. Worx Power Share also includes the mower batteries. Other Worx lawn and garden tools can use the 20V batteries.
3- Materials and Discharge Options
Materials and Discharge Options
????? 3.8/5
The Worx WG751 lawn mower's wheels and outer housing are strong, lightweight plastic. The mower has a cutting width of 19?? thanks to the steel 20?? cutting deck. Steel is more mulching friendly than plastic or aluminum because grass slides off from it more easily. Steel is also more durable.
The Worx mower offers three different ways to cut grass. Mulch, bag, or side discharge are all options. The mulching plug that comes with the mower must be installed there to mulch. And at last, after installing the side discharge attachment, you can use side discharge.
Electronics are used by some brushed and brushless motors to adapt to changing environmental conditions. The blade speeds of cordless lawn mowers frequently increase as loads rise to make up for this. The Worx 2 x 20V battery-powered lawn mower is placed last for cutting power among our push mowers.
A single-point height adjustment is available on the Worx WG751 battery-powered lawn mower. Users only need to make one adjustment, and then they are ready to cut the grass from anywhere between 1.5?? and 4.25??, unlike when using a 4-point setup, where you would need to adjust the cutting height at each wheel. Steel deck is used in the Worx mower's construction. Even though it makes a mower heavier to move around, it is preferred over plastic decks for durability.
4- Batteries
Batteries
????? 4.7/5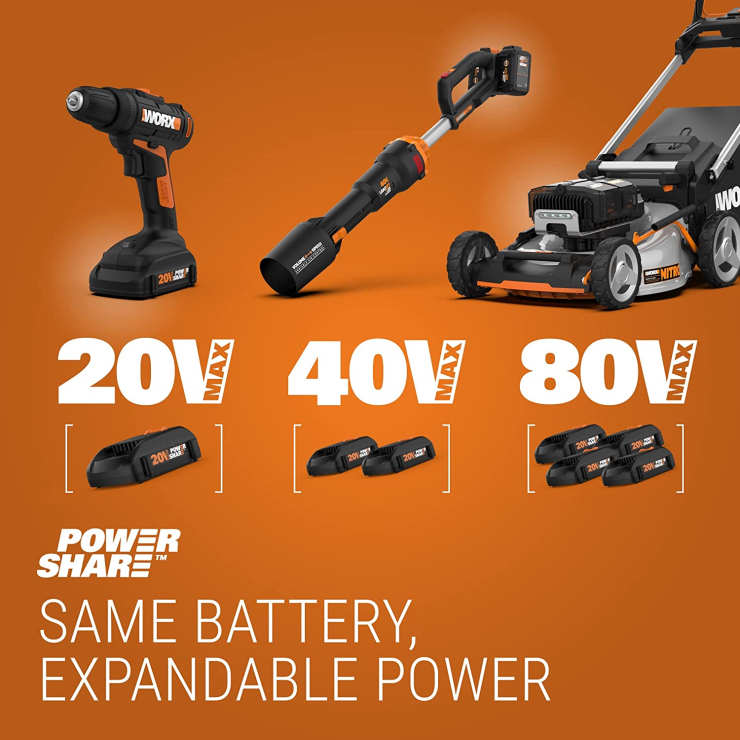 Worx WG751 power supply the ability to share rechargeable batteries is one of the key characteristics of the power system. You now have two extra batteries if you have other Worx tools around the house.
Because both 20V 5Ah batteries are included, you get more power and a good value. Manufacturers frequently offer batteries sold separately from the main product. But that's not the case in this instance. The typical runtime of a 5 Ah battery is 50 minutes. So the Worx WG751 can work on a small lawn if you don't have a large one.
Let's assume you know your instruments' compatibility with the environment. Then you'll be happy to learn that this product doesn't emit emissions and, more importantly, reduces noise pollution because it operates remarkably quietly. The real difference is how energy consumption functions differently and how simultaneous consumption is employed to guarantee optimal availability without pause.
The ultra-fast dual charger that comes with the device is the best in terms of performance. You won't waste time because the charging process takes a maximum of one hour. You'll never unexpectedly run out of power because the battery meter clarifies how much is still available. The Worx WG751 can cut up to 500 m2 once fully charged and prepared for use.
Final Verdict
The Worx WG751 40V Lawn Mower appears to be a good buy for homeowners looking to switch to an electric OPE platform without spending much money. This mower should be adequate given the runtime for people with lawns smaller than a quarter of an acre.
For small to medium-sized yards, the Worx 20″ cordless lawn mower is the ideal option, and it doesn't cost much more than a top-notch gas-powered mower. I enjoy items that make routine tasks we dread performing simpler and, like the Worx cordless lawn mower, a little more enjoyable. When not in use, the Worx WG751 stores vertically to take up as little space as possible. It is ideal for lawns up to a quarter acre in size. The runtime, noise level, and price of this mower are all sorts of rules if you're the type who likes to keep their yard in good shape.
You may also be interested in:
Greenworks 48V 20-inch Cordless Push Lawn Mower Review
Worx Nitro WG751.3 40V 20-Inch Cordless Lawn Mower Review