5 Best Peach Trees To Grow In Southern California
You can find a wide range of different fruit trees in Southern California that flourish and produce sweet, delicious fruits all year round.
Although growing fruit trees can be somewhat tricky, it is very rewarding. In order to grow a successful garden, you need the correct soil, the right amount of sunlight, the right amount of chill exposure, and many more factors.
When you have figured out how to properly care for your fruit trees, you will realize the effort was worth it once you start to see the results.
It can be successfully grown in many parts of California, including the San Francisco area, that are suitable for peach trees.
For peach trees to grow properly, they need adequate summer watering, deep, well-drained soils, high nitrogen fertility, fruit thinning, and pest control sprays in order to prevent leaf curl and brown rot.
In general, peach trees live for a short period (15-20 years on average). It is important to note that peaches (e.g. nectarines) are self-fruitful (self-compatible), which means that they need no pollenizer tree to produce fruit. It is recommended that the trees are spaced 12*16 feet apart to 18*18 feet apart.
Mini Bonanza Peach Tree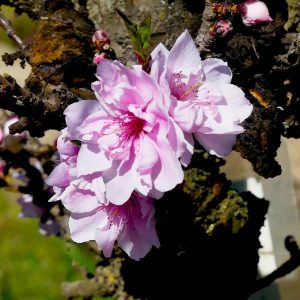 It is possible to grow your own peaches even if your yard is only the size of a postage stamp, even if you love fresh peaches.
If you live in an apartment, you can still grow your own peaches. If you have gardened for a number of years or if you are just getting started, you might want to try growing your own.
With the Bonanza Peach Tree (Prunus persica 'Bonanza'), growing peaches has never been so much fun!
Compared to other types of ornamental trees, this tree performs beautifully both in the ground as well as in a large container on the patio, deck, balcony, or porch.
If you have a sunny spot, then you should plant one of these small fruiting trees. They are so much fun to grow!
It is small enough to be perfect for small gardens, but Bonanza Dwarf Peach trees are capable of producing very large fruits. Under the long, textured foliage, the harvest is holding a pretty appearance which you are sure to enjoy.
The yellow fruits feature rounded orbs that are accented with beautiful red blushes. Sweet without being tart, the yellow flesh of each fruit is juicy.
Mild flavor is loved by kids! This small accent tree is the perfect way to introduce kids to the wonders of nature.

---
White Lady Peach Tree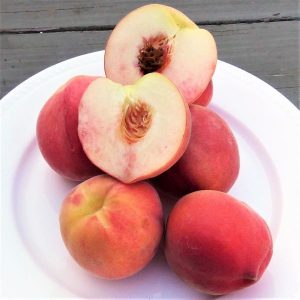 There are many trees that produce fruit, but the White Lady Peach Tree (Prunus persica 'White Lady') is one of the best.
You should consider planting one in a sunny location in your front yard where you can take advantage of its splendor from spring to fall.
A delicate pink cluster of flowers will emerge in the early spring as a respite from the winter months.
They are tolerant of temperature changes and so you won't have to worry about a frost nipping them off before they can develop juicy summer gems!
It is worth planting this beauty even just to be able to enjoy the beautiful spring bloom.
This weighty, strong branched tree has magnificent foliage in bright green that permeates its canopy, making it a fantastic shade tree for any area of your landscape. The long, curved leaves are attractive throughout the entire growing season.
White Lady Peach Trees are among the most popular varieties of low acid, high sugar, white peaches available today. Their aroma is remarkable and their flavor is heavenly.
You can taste a difference between the firm flesh, almost crisp, and the delicious, intense flavor. The same variety scored highly in a blind fruit tasting event during which blind fruit tasters were blindfolded!

---
Elberta Peach Tree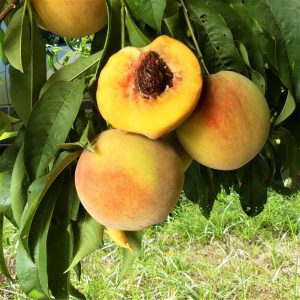 Peaches (Prunus persica 'Elberta') are native to Georgia, and are an antique plant that is still cultivated today!
Since its introduction in 1889, the Elberta Peach has had a reputation for being one of the finest peaches that have ever been grown.
It is becoming increasingly common in the United States and over the years has become the most planted peach variety.
Even today, the Elberta peach remains one of the most popular home garden varieties available to customers.
Peaches such as Alberta are among the finest that you can eat fresh. A firm flesh and a sweet, tasty taste are some of the characteristics of Elberta peaches.
Additionally, this wonderful tree is highly valued as it produces an enormous amount of peaches, making it a highly valuable tree. The advantage of having continuous large crops of this delicious fruit every year is something you'll love having.
Especially suited to cooking, preserving, freezing, and baking, these yellow freestone peaches make an excellent choice.
The only peach pie that tastes better than one made with Elberta peaches is one made with Elberta peaches!
It is also a great canning variety because the freestone makes the preparation process go faster, and it is a nice and firm variety.
With this recipe, you will get thick, meaty slices that can easily be dried or dehydrated for a delicious snack.
Galaxy Peach Tree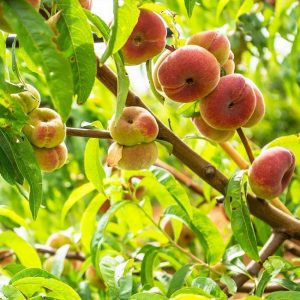 The Galaxy Peach Trees are one of the best-tasting peach trees you will find anywhere in the world.
The Galaxy (a white donut peach) isn't like golden peaches grown all over the country.
It is less acidic, has a tiny stone in the center and is quite a rarity.
In terms of size, the Galaxy Peach is the biggest donut peach you can grow, and is almost 50 percent larger than the Saturn Peach.
During the fall months, you will be able to enjoy the sweet, juicy, fresh peaches from your garden.
The Galaxy Peach is indeed a phone you'll love, as there are lots of features you're going to love.
With all of its weeping foliage, its sculptural branches that add ornamental value and its robust peaches, the Galaxy is one of the best specimens of its kind.
Furthermore, there will never be a shortage of peaches in your home. You will receive almost 50 pounds of these exquisitely sweet dessert peaches, which you can enjoy all year long!
Added to that, because the Galaxy is disease resistant, it requires no guesswork to grow, no harsh chemicals or sprays in the garden, and no hands-on involvement at all.
It is easy to grow these donut peaches in warmer climates that do not experience hard freezes, as they require only 200 to 300 chill hours. Besides that, the Galaxy is also hardy, as it can withstand temperatures as low as -10 degrees Celsius.

---
Redskin Peach Tree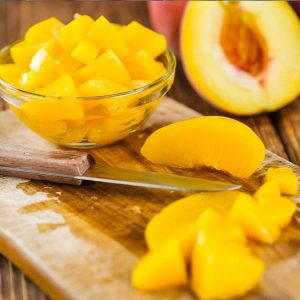 Redskin Peach Tree is a descendant of two favored varieties, Red Haven and Elberta, which combines the best of both into one premium fruit producing tree.
As you might expect, when you pick a Redskin peach, it is not only fresh and firm, but also packed with a sweet, tangy flavor that is hard to resist.
What are some of the other benefits? In spite of its small size, this self-fertile dwarf variety is a great choice for a variety of landscapes due to its manageable size.
There is no need to worry about loss of flavor when you use your tree's peaches for canning, baking or eating fresh picked peaches.
---
Rio Oso Gem Peach Tree
The fruit of your Rio Oso Gem Peach Tree is known to be exceptional, and this is why it is cherished so much!
The Tree of Heaven is an ornamental tree that grows easily, produces a good amount of excellent fruit, and it is easy to care for.
Prunus persica 'Rio Oso Gem' (Prunus persica 'Rio Oso Gem') is one of the most popular ornamental fruit trees in the world.
It produces delicious fruit! Large and firm in appearance, a compliment to the eye or a sensation to the tongue, its appearance is as stunning as its taste.
Your Rio Oso Gem Peach displays a stunning picture hanging among its vibrant foliage when it is adorned with a yellow skin and a scarlet blush.
The flesh of Rio's yellow freestone melon is slightly coarse yet juicy, with a lovely rich, sweet flavor with orange undertones and a tart finish.
Aside from the fruit, the blooms in late spring will be a stunning display of pink, floral brilliance in the midst of a cold spring, a wonderful beginning to a brilliant summer.
Initially appearing as gorgeous, red buds before opening to prolific clusters of pink blooms that cover your tree as soon as they emerge. As soon as these blooms appear, you will see your landscape teeming with pollinators!