7 Best Palm Trees To Grow In Florida
The first thing that comes to mind when someone mentions Florida is images of the Blue Ocean, white sand, and magnificent palm trees.
The warm tropical climate of Florida makes it one of the best places in the world for growing palm trees due to its warm tropical climate.
When you live in a tropical climate like Florida, you can plant any number of palm trees in your garden regardless of the climate you have.
Plants of the palm family make excellent landscape plants. You will be astonished by the wide range of palms you can grow, whether you are looking to frame a view or create a privacy wall to shield you from your neighbors.
The palm tree is one of the most important elements in a tropical garden because of its incredible variety of colors, sizes, and shapes.
It is nearly impossible to find the right palm for your tropical garden when there are over 2,500 different types of palms to choose from.
You can learn more about the most commonly found palm trees in Florida by reading their common names, so you will be able to remember them more easily. Your local nursery should be able to supply you with these palm trees.
As a part of selecting palm trees, you will also have to think about how they will integrate with the surrounding buildings.
An example of more formal architecture could include a more formal tree such as a fruit palm tree whereas an example of a modern or Spanish-style home might include a palm tree.
The other plants found in the landscaping as well as how the palm trees are placed within the landscape should also be considered to enhance and complement the overall appearance.
The purpose of this article is to assist readers in the identification of the most common kinds of palm trees that grow in Florida.
The pictures of Florida palm trees along with descriptions of their leaves, trunks, and growth habits will provide the information necessary to identify Florida palm trees.


---
Lady Baltimore Hibiscus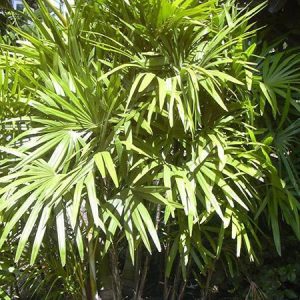 There are many reasons that make the Lady Palm an extremely popular choice for indoor plants since it can be easily adapted to areas with low light levels and even prefers to grow in areas with shade.
Lady Palms do not require direct sunlight in order to thrive, and they will fill any space with a unique tropical beauty that no other palms can offer.
It has multiple trunks that lead up to fronds that are filled with lush, green, slender leaflets on long, slender stalks that protrude from the upper fronds.
This vibrant green color completely transforms the dull and boring areas of the home or office into an exciting and vibrant exotic space.
There's no wonder why Lady Palms are commonly found decorating lobbies, enhancing boring corners and framing entryways because they are such an excellent choice for accent pieces that welcome visitors with warmth.
Do you think that's even better? It is impossible to imagine anything easier than keeping them.
As Lady Palms are drought resistant and heat resistant, they will do just fine without constant care, so don't worry about feeding them constantly.
As a matter of fact, their role is to clean the air and filter out pollutants for the benefit of every one of us.

---
More Birds Vintage Glass Bottle Hummingbird Feeder Green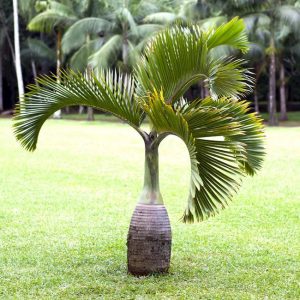 Known for its unique appearance, the Bottle Palm does not fail to stand out and adds value to gardens immediately due to its trunk that resembles an antique bottle of South American rum and its stand out silhouette.
During the course of its growth, this incredible palm becomes progressively more bottle-shaped as it matures.
There are no more fronds on the "bottle", and the ring-shaped appearance of the bottle takes shape.
As a result, you will be able to watch as the Bottle Palm becomes more and more interesting and beautiful.
Eventually, the fully grown, stout "bottle" even becomes smooth and, like the Buddha's belly, is quite happy to be rubbed for good luck!
You will benefit immediately from an eye-catching tropical accent and a surprising array of features that will delight you.
The Bottle Palm will make your garden a relaxing, tropical oasis where you can unwind and enjoy the sunshine. Bottle palm's fronds only grow four to six times a year and its leaves are shaped like feathers with an arched shape.
In spite of its small number of leaves, this palm will not take up too much space in the garden, making it an ideal choice for beds that are frequently used.
As long as you take care of your Bottle Palm by growing it in temperatures above freezing, by providing ample water and mulch, the no-nonsense plant rarely requires trimming. The Bottle Palm is a great plant for gardeners who want to create a personal paradise with little effort on their part.
Sylvester Palm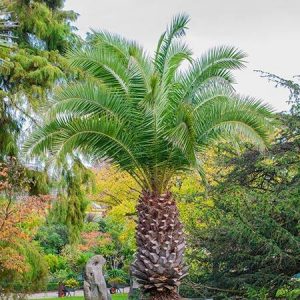 If you have always wanted to bring the tropics into your yard, then this Palm might be what you've been looking for.
Generally speaking, the Sylvester Palms are tolerant of a wide variety of conditions and soils.
This is one of the many reasons why they are low maintenance and drought tolerant. They are easy to grow and need little maintenance.
Date Palms like this one can provide landscape designers with the beautiful look that they are seeking.
There are silvery blue-green leaves in those trees providing the dazzling color that makes people pause and stare at them.
Unlike the rest of their family members, they have an unusual diamond pattern on their trunk which gives it a textured appearance.
The long branches of these trees spread into a circular canopy, creating a perfectly symmetrical appearance. Along the trunk of the trees, the branches are perfectly symmetrical.
In the golf industry, there are a lot of courses and resorts that are scrambling to get their hands on these, and you can have them in your own yard.
The guests won't know whether they're in your backyard or on a tropical getaway, especially when it's time for the palm to ripen and the clusters of creamy white flowers turn into bright red dates, which are pollinated by birds and insects.
European Fan Palm Tree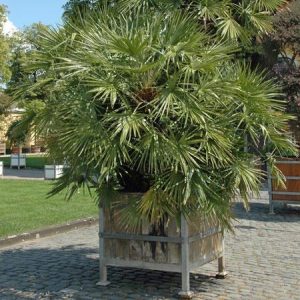 Nearly anywhere you go you will be able to find tropical beauty. The European Fan Palm Tree is the perfect plant to add a touch of lushness to your surroundings.
The long, fan-shaped leaves of this plant grow up to 24 inches long and provide dramatic appeal to give it an undeniable tropical look.
You can bring a wide range of greens, blues, grays and yellows to your landscape with the leaves of the European Fan Palm, thanks to their stunning colors.
In addition, because of its unique form, it dazzles everyone who sees it. As the name implies, the European Fan Palm forms trunks that can grow up to 15 feet in height.
Its trunks are brown in texture and have scales that run along their entire length, resembling pine cones. As the tree matures, it boasts numerous trunks that surround the main trunk.
When taken together, this layering effect gives a feeling of depth to any area.
It's low maintenance, which is one of its best features. This palm tree has the advantage of being one of the easiest palms to grow and is extremely durable and vibrant. It is extremely drought resistant and cold hardy, surviving temperatures of -20 degrees and below.
There is no denying that this rugged beauty, with its rugged demeanor, is sure to impress, particularly because it can be grown in various settings and flourish in various types of soil.
Additionally, the European Fan Palm is naturally pest resistant, meaning that pesticides don't have to be used on its leaves
In the beginning, they are orange and are not ready to be harvested until they turn to a deep purple or black color. The Sylvester dates are commonly used in the making of wine and jams, but they can also be eaten fresh.
Sago Palm Tree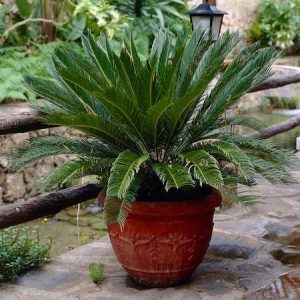 There is an abundance of vibrant, feather-like foliage covering the Sago Palm Tree, which sits atop a textured, brown trunk.
The fronds of this luxurious palm are very thick and shiny green with the typical cascading effect of other palms.
In addition, it is actually considered a kind of 'living fossil' since the species has changed very little over the last two million years.
Moreover, it looks so flawless, that it has been mistaken for an artificial plant many times.
Do you think that's even better? Would you agree that it is one of the best plants for beginners to grow?
Sagos are essentially mistake-proof palms if left unattended, as they will continue to grow regardless of what the individual does or does not do.
The water requirements for these plants are similar to those for cacti, and the soil is allowed to dry between Waterings. Although it thrives in bright light, it can also be grown in moderately bright light.
Despite its preference for bright light, the plant can tolerate moderate lighting as well. A hardy variety that is highly adaptable, it can be used in a variety of climates, even down to 20 degrees.
A hardy variety that is highly adaptable, it can be used in a variety of climates, even down to 20 degrees. There is a variety of this plant that is highly adaptable, as it can be used in a number of climates, including temperatures as low as 20 degrees. Low-maintenance and luxuriant at the same time? That's a given.
The best thing about this plant is that it can grow both indoors and outdoors. The Sago Palm has a marvelous presence that makes it look like it was taken straight from the Tropics.
The low-maintenance habit and stunning appearance of the Sago make it an excellent addition to your landscape whether you pot it and bring it indoors during the winter or keep it outside in the warmer areas all year long.
Cardboard Palm Tree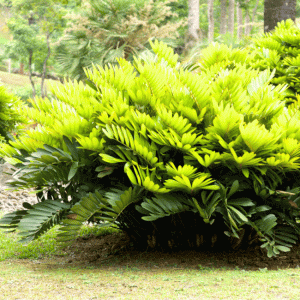 Cardboard Palm Trees are a type of Palm Tree with a modern, unique twist – their foliage grows fast and their lush greens differentiate them from other types of palm trees.
Also, because of their ability to survive and thrive indoors, you can get a taste of paradise in the comfort of your own home.
Unlike Cardboard Palms, which grow slowly, they can withstand neglect quite well.
In other words, it will not matter if you do not have a green thumb because the Cardboard's manageable habit and low maintenance nature makes it ideal for planting anywhere, from borders on the patio to the interior of your favorite container.