Best 5 Olive Trees To Grow In Florida
Many homeowners have been searching for a replacement for their citrus trees that have been affected by citrus greening.
While it may seem straightforward, finding fruit trees that will grow in the soil in Florida other than mangoes and avocados can be a very daunting task.
The article that you are reading today I believe I have found a great replacement that you can grow in your landscape that will produce a salty treat for you for a long time to come.
I am of course referring to an olive tree. You can grow olive trees with their silvery foliage all over Florida's Tampa Bay area, including the Central Florida area.
The best thing is that you will not have to add fertilizer to the trees or reform the native soil in order to use this system.
Having said that, if you are interested in growing olives, then let me go over a few things you will need to know, such as which types you should plant, their growth habits, when they fruit, and how long before harvesting. Let's start with a few words.
Ensure your olive trees are planted in a sunny location with a well-draining soil so they will thrive. Once your trees are established, you will only have to provide them with minimal care, but if the winter temperatures go below 20 degrees, then you will need to protect them.
Koroneiki Greek Olive Tree – USDA Organic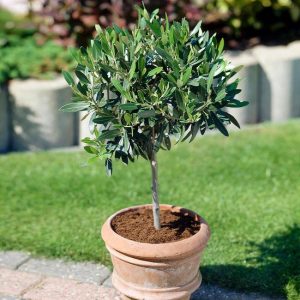 Koroneiki Olives, which are native to Greece, are regarded as the most important variety of olives when it comes to olive oil production.
It has been cultivated for over 3000 years, mainly to produce olive oil for commercial purposes – and now, you can plant your own at home!
In addition to the classic elegance of the Olive Tree, this tree is also certified by the USDA as organic. It has glossy, pointed evergreen leaves.
The Koroneiki Olive will bloom with aromatic, cream-colored flowers in May that will develop into green, oval-shaped fruits that mature to a dark burgundy color as they mature.
Koroneiki Olives are known for their huge yield – the fruits are ready to harvest in October or November when they have ripened and are ready for harvest.
It produces olives that have full flavors and are full of nutrients, which make them perfect to be pressed into delicious olive oil. (Because these olives are used primarily for the production of olive oil, they will not make a good snack.)
Plant your organic Koroneiki Olive in the ground if you live in a growing zone 8-11, or keep it indoors or on your patio if you live in a cooler climate.
As a self-pollinating tree, this olive tree will provide fruit without the need for another tree – although multiple olive trees will produce a greater yield!
That's not all, what's even better is that it's free. You can enjoy a bountiful harvest of delicious olives, without the use of harsh chemicals or sprays with our Koroneiki Olive Tree, which is certified USDA Organic.

---
Arbequina Olive Tree
Fruit of excellent quality

A Productive Harvest

Adaptable in nature

Flowering early

A bouquet of fragrant flowers
You will never need to purchase fresh olives again when you plant the incredibly fast-growing Arbequina Olive Tree (Olea europaea 'Arbequina').
It produces delicious olive fruits. The harvest of your own olives for fresh eating, brining and milling into olive oil will be exceptional.
Early in the year, the Arbequina blossoms with small creamy white blooms that are nearly hidden by the tree's dark green foliage. This fragrant, small flower is a favorite among gardeners.
Arbequina plants do well in a variety of conditions, even in poor soil or drought. It can be shaped, but it's also a good candidate for pruning if you decide to shape it.
---
Frantoio Olive Tree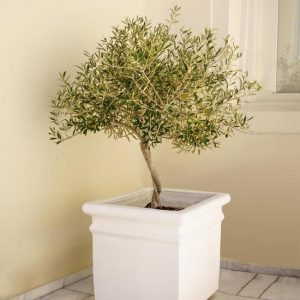 A widely popular variety for oil and more, the Frantoio Olive Tree is second to none.
Even better? The Frantoio boasts a stunningly dark, oval-shaped olive, which ripens at mid-season with a one-of-a-kind flavor you'll love.
And since this Frantoio is grown in the Golden State, specifically for California homes, it's a proven performer.
Plus, the Frantoio is one of the most versatile trees on the market.
Planted in the ground, Frantoio Olive Trees reach 25 to 30 feet in height, but when they're container-planted, they last season after season and stay a smaller, more manageable size (especially with judicial pruning).
And though they perform best with a pollinator or partner tree for more fruit, Frantoios are self-compatible for producing.
Lecciana Olive Tree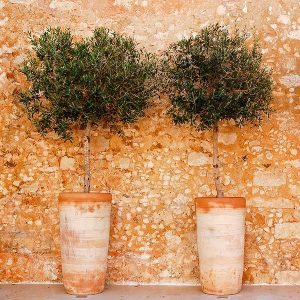 A larger fruit harvest means more olive oil

Silver-green leaves are slender and upright

Plant in the landscape or in containers
The classic, upright olive tree features the slender, green leaves that are characteristic of the species.
Approximately three years after planting, your Lecciana will produce fruit, ripening in time to be harvested in October.
A perfect olive for olive oil production, the Arbequina olive has a taste between the Koroneiki and the Arbequina.
In addition, this olive tree has a higher cold tolerance and disease resistance than other olive varieties, so you can plant it anywhere and it will thrive.
Your Leccino Olive tree can be either planted in the ground for an olive orchard at your home, or planted in a container as an elegant and fruitful patio tree.

---
Arbosana Olive Tree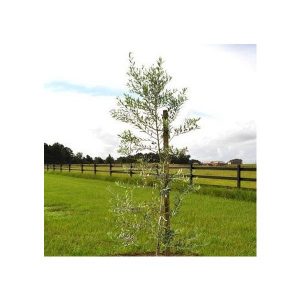 Harvests that are large

Olives with a lot of flavor

Easy to take care of
Small clusters of delicious, petite olives grow on Arbosana Olive trees (Olea europaea 'Arbosana').
Aromatic and delicious, aficionados say it offers delicious notes of tomato and almond.
There is nothing better than fresh from the garden! You can grow an Arbosana in your yard to provide your family with healthy olives.
It's a great variety to add to your garden if you live in a Mediterranean climate, where you have a mix of a little chill during the night and a dry heat during the day. Arbosana ripens a few weeks later than Arbequina, so if you want to extend your season, pick Arbosana.
It is common to begin harvesting olives for oil as soon as two years have passed after planting this variety. We have healthy trees with well-established roots. This is crucial to producing fruit quickly!
The Arbosana Olive, originally from Spain, is great for fresh eating, brining, or milling into a robustly flavorful olive oil. In California, Arbosana is one of the most widely used cultivars for olive oil production.
Little Ollie® Dwarf Olive Tree
There is no doubt that this is a choice that will make everyone happy. With the help of Little Ollie Dwarf Olive (Olea europaea 'Montra'), you will achieve domestic bliss in a way you never imagined was possible.
Eventually, it will naturally grow into a rounded puff of fine, wispy leaves with a fine texture.
These trees have long, lance-shaped leaves that are cypress green on top, but ironically, their silvery undersides show when the wind blows their slender branches in the wind.
Enjoy Little Ollie Dwarf Olive's foliage display all year long by planting it in a spot that gets plenty of sun.
You can do whatever you like with this plant, no matter how much or how little you do with it.
The durable nature of this choice allows it to withstand shearing, so it can be considered a heat-tolerant alternative to the traditional good looks of Boxwood. This can then be shaped into some fantastic shapes for a patio tree or tight accent tree.
If you store it in a container for many, many years, it will last for a very long time. This endearing selection is the perfect way to add some charm to your balcony.
There are inconspicuous flowers produced by Little Ollie Dwarf Olive, but the plant rarely sets any fruit. You can use this mess-free ornamental choice to adorn your sidewalks and patios without having to worry about damage caused by reflected heat.