How To Troubleshoot a Lawn Mower That Won't Prime
If your lawn mower won't prime, then you must have wondered whether it is possible to troubleshoot this commotion and, if possible, how to do that?
First, gather up all the tools and materials and check the condition of gas. Then, remove the backing plate, primer, primer bulb, gasket, and air box to inspect thoroughly. Clean, repair or replace the faulty elements. Reinstall all the internal component accurately and tighten all the connections securely.
Initially, the entire process might sound complicated, but if you thoroughly follow today's guidance, it won't be a difficult task to do. So, learn how to troubleshoot a lawn mower won't prime.
What Causes the Problem?
If your lawn mower suddenly fails to prime, the most common culprit behind this trouble will be either a worn-out primer bulb or a defective fuel line. It can be either one or both of them to cause the priming difficulty or complete failure.
Besides these two, similar issues can arise due to lack of fuel or if gas turns contaminated or water got mixed with the gas.
Your lawn mower might experience priming difficulty due to a faulty gasket or air box.
5 Steps to troubleshoot a lawn mower that won't prime:
Reportedly, it's a common issue that almost every lawn mower user encounter sooner or later.
But imagine you are all set to mow your lawn or garden on a perfect day, and when you attempt to start the mower, it won't prime as well as there's no sign of fuel coming out. Isn't that one of the most irritating situations?
The good news is that if you go online, you will find several consumer forums, blogs, and YouTube videos with various DIY ideas. But all of them might not be reliable and can worsen the situation.
Therefore, I have enlisted an easy-to-do yet effective troubleshooting method to fix such problems quickly:
Things you will need to troubleshoot the lawn mower won't prime:
Have a look at the checklist of the required tools and materials for this particular troubleshooting task:
Tools
Materials
Powered/Electrical Screwdriver
Carburetor Gasket
Standard Mechanical Tool Box
Air Filter Backing Plate W/ Primer
Bosch 1/4″ Impact Driver
Carburetor Jet Cleaning Kit
Wire
Primer Bulb Replacement
Safety Goggles & Gloves
Step 1- Check the condition of the Gas & level:
The first obvious thing to check is whether you have gas in the touring engine, and is it sufficient?
Before adding to your lawn mower, inspect whether the gas is contaminated or presence of water in the gas.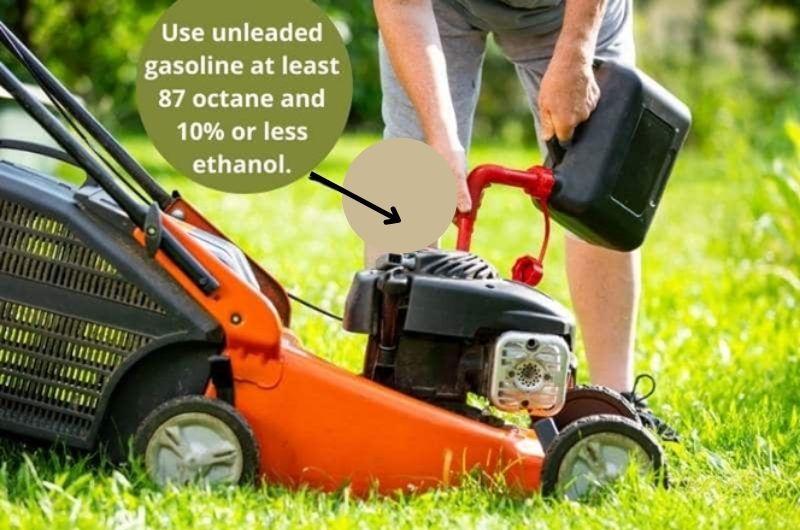 If you see that the gas looks contaminated or water got mixed with the gas, I highly recommend flushing out the gas.
If the gas is clean, but the level is low or insufficient, add more gas to the tank.
Step 2- Remove the Backing plate: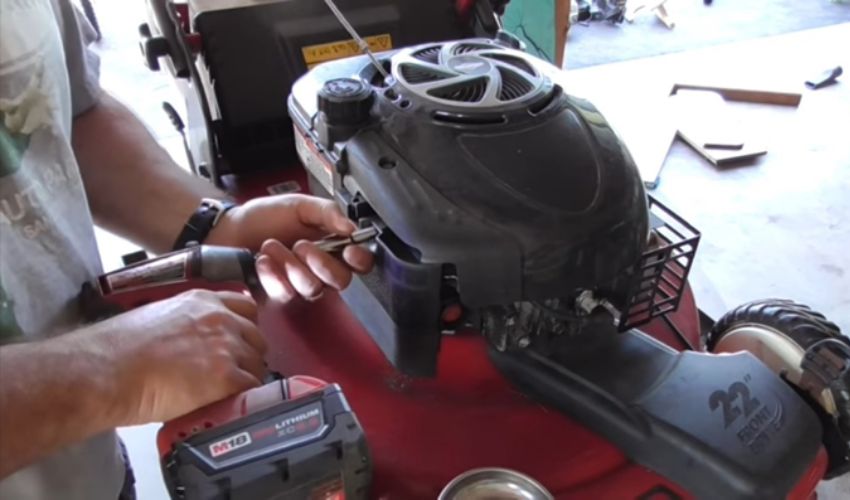 First, use an electric or power screwdriver to pull out the three 5/16 screws to take off the little backing plate.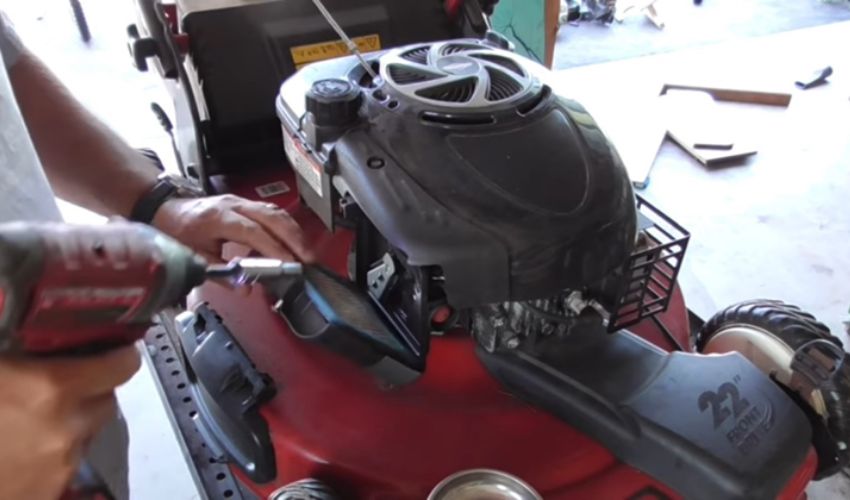 Now check whether the backing plate is in a good or bad state, and if it is not in good condition, you might have to replace the Backing Plate.
However, if the plate is in good shape, let's move forward and see the gasket on there.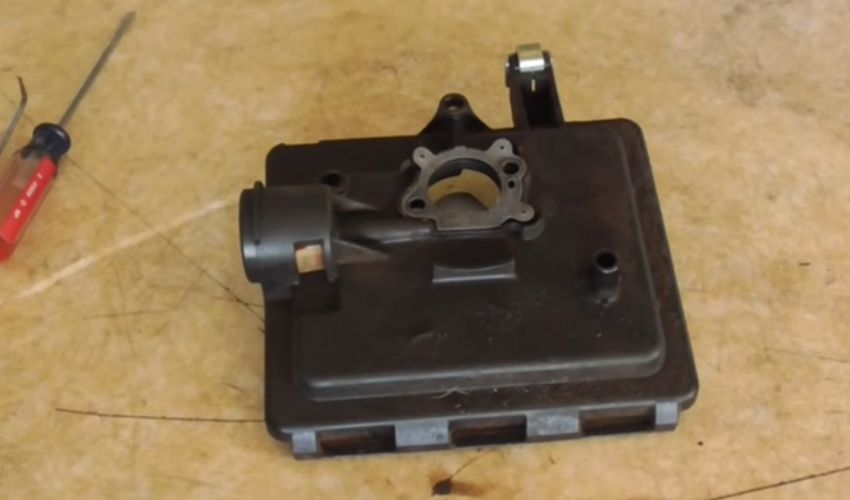 Next, bring this whole thing over to the bench and ferry over there to work more comfortably.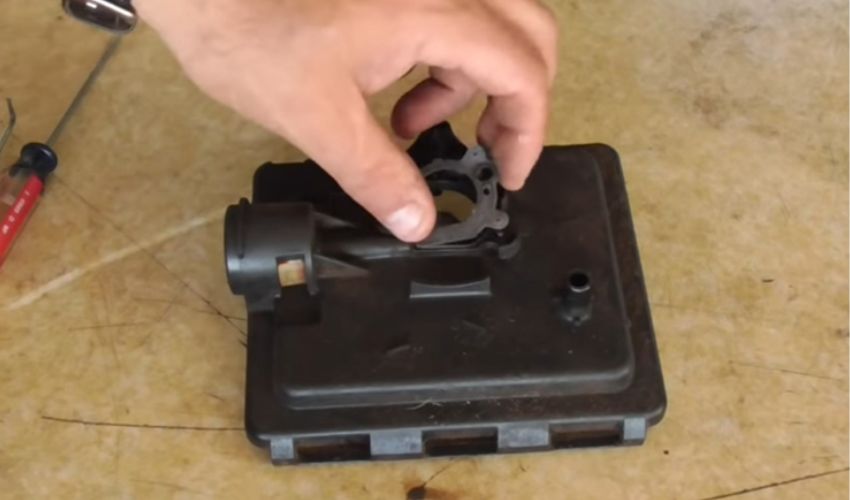 This is the backing plate and now loosen up the gasket.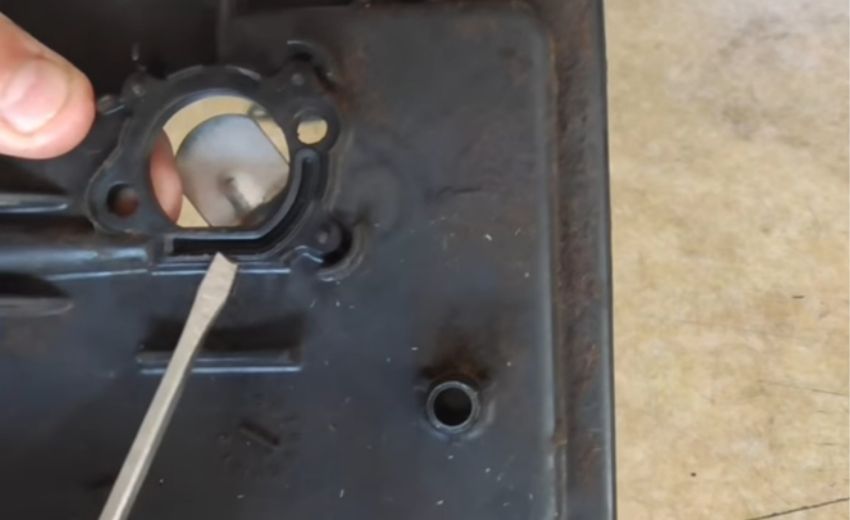 One common issue here, is that this gasket sometimes does not make a good connection right here on this little groove.
So, you can double up that gasket.
Step 3- Remove Primer & Primer Bulb: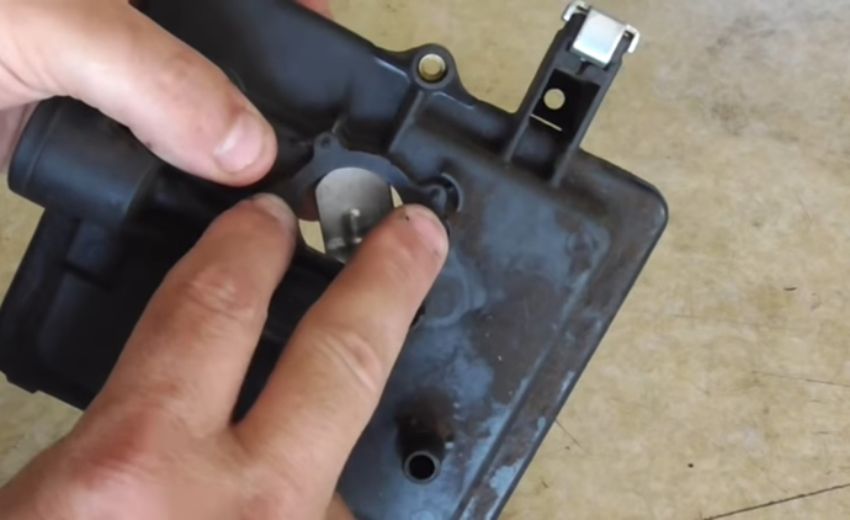 Sometimes these two screws get torqued down so tightly that it wraps the plastic.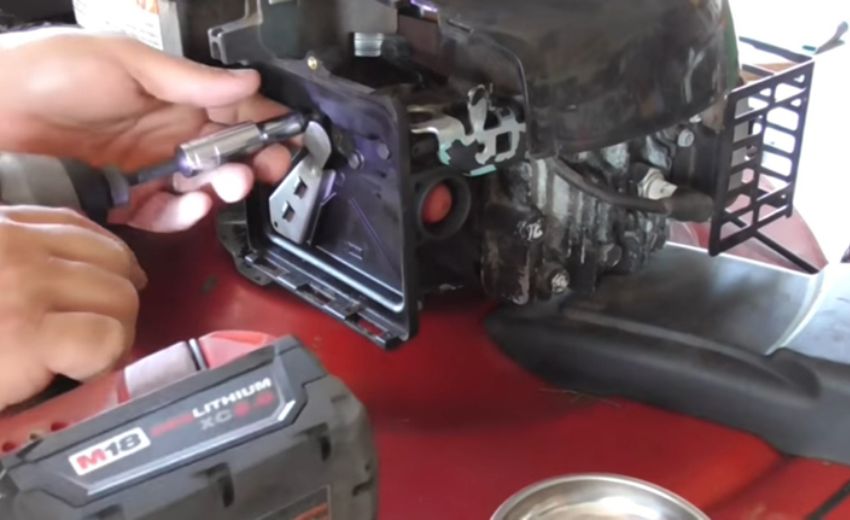 Then, you will see a little screen with clips attached there as shown in the picture.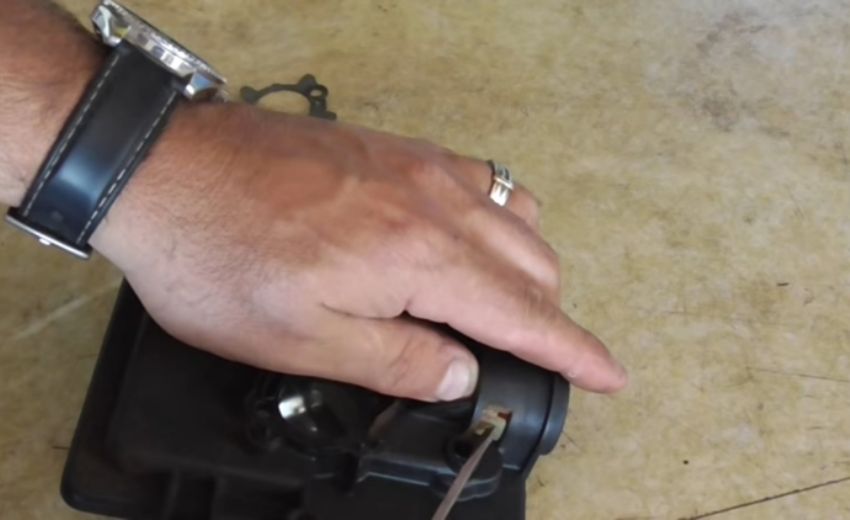 All you need to do is push those clips in. Thus, pull the primer out.
Once the top tab adjustment is done, you can slip a screwdriver under there. Now, you should be able to push out the primer bulb.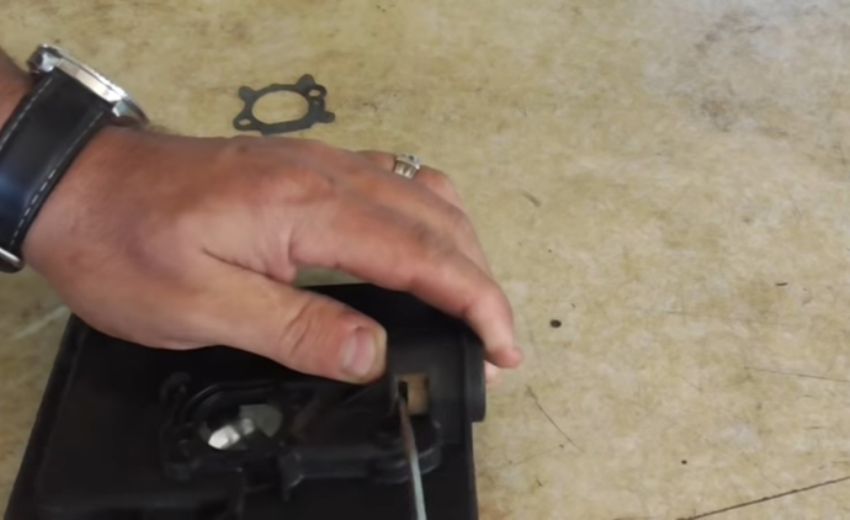 If the primer bulb looks damaged, replace the Primer Bulb.
If it does not look damaged but has debris, clean the debris out.
In case, you need to repair the primer bulb of your lawn mower, read the How to Repair a Lawnmower Primer Bulb article and follow the instructions.
Step 4- Take the Screen out & clean the area: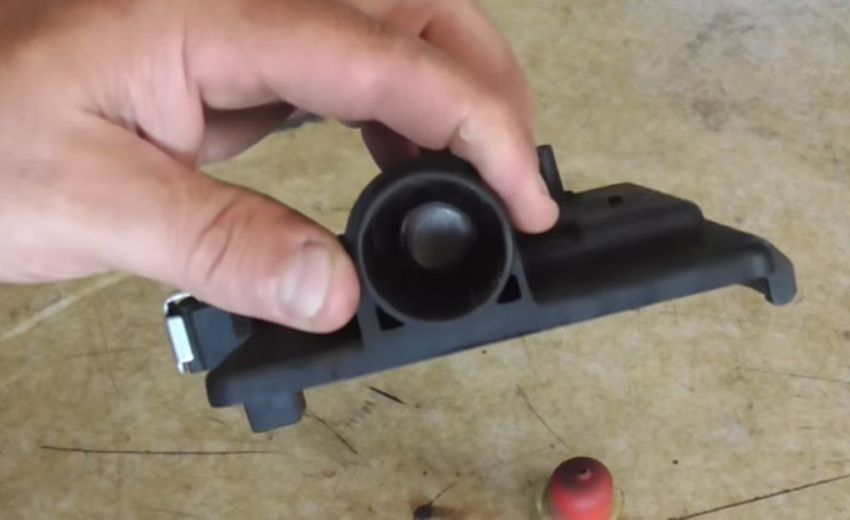 After pulling out the bulb, you will see a screen in that hole.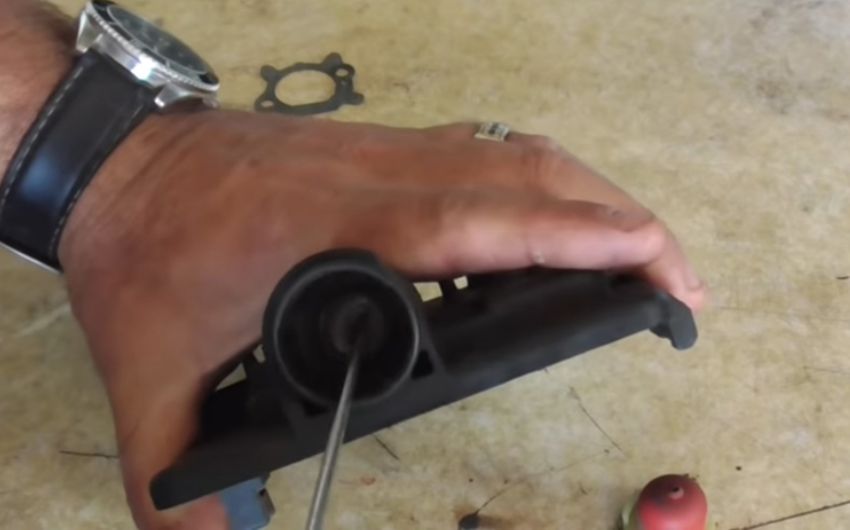 So, pull that screen out too.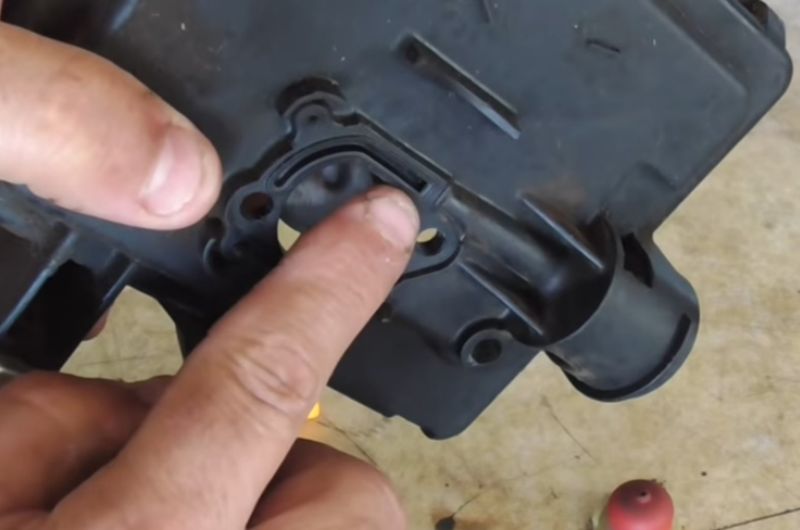 Also, make sure that the air opening is not blocked.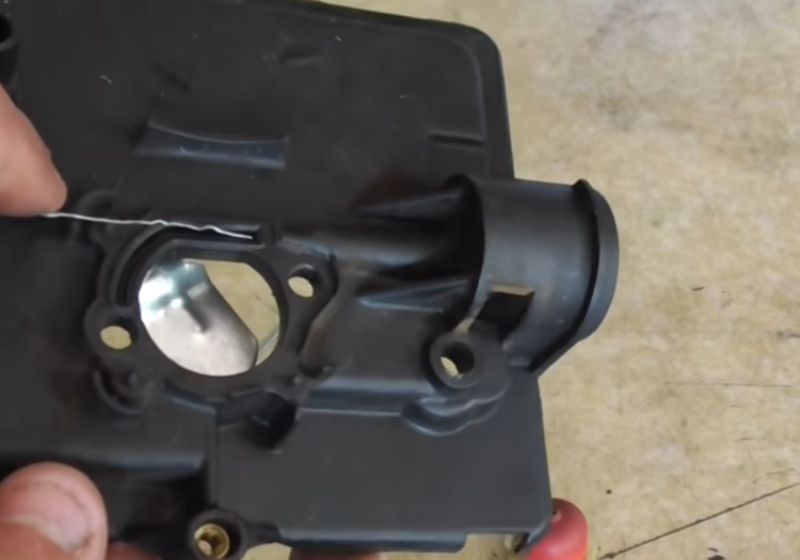 Now, you need to run a wire through here and push it right through there.
That wire will come out the other side if everything is clear as shown in the picture.
Next, you can spray a little bit of carp cleaner through there and blow it out with air.
After cleaning up everything, or replacing the faulty primer bulb, reinstall everything by following the previous steps.
Step 5- Checking the Gasket & Air Box:
Another thing you need to check is the gasket, which mainly ensures everything is flush and air-tight.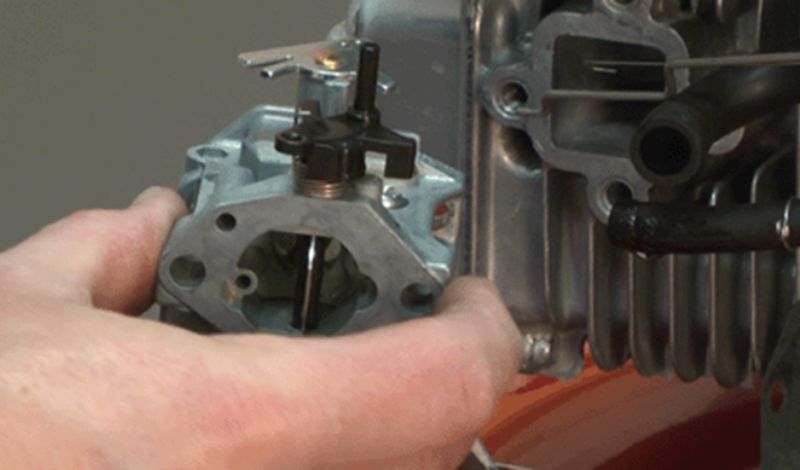 But the worn air intake gasket does not let an air-tight seal come from the primer base to the priming port in the carburetor.
To inspect further, remove the plastic air box and check the gasket. If it looks faulty, replace the Gasket.
But if the gasket's condition looks good, check the air box because sometimes it cracks where the gasket lays and causes improper seal trouble.
Warning:
Undertaking such troubleshooting task can be hazardous if you do not have enough expertise. Therefore, always remember to read your lawn mower's instructions manual before operating, servicing, or troubleshooting it. Also, make sure you have the minimum expertise to do this task alone.
Frequently Asked Questions: lawn mower won't prime
What causes a primer bulb on a lawn mower to not fill up?
Such issues can occur due to defective gas lines, faulty primer bulbs, weak hookups, or problems with the carburetor.
Can you prime a no-prime lawn mower & how?
Yes, you can. First, splash starter fluid directly into your mower carburetor via the air intake. Then, carefully remove the air filter cover and air filter. Now, spray starting fluid into the air intake nozzle. Replace the air filter, and reinstall everything in place quickly. Your mower should start straight away now.
How does a lawn mower's primer bulb work?
Pressing the primer bulb produces a vacuum that sucks up the gas from the fuel tank via the fuel lines and into the carburetor. Thus, when you press the primer a couple of times, it starts supplying enough fuel to mix with air in the carburetor for combustion.
Final Verdict
Every once in a while, mower can fail to prime and cause trouble due to earlier explained reasons, but the good news is, it's not too expensive, time-consuming, and complicated to fix this problem.
For better understanding and reference, I have explained the simplest way to troubleshoot your lawn mower that won't prime. But remember, you can only get the best result if you thoroughly follow all the instructions without skipping a single detail.
Related Posts: