4 Most-Common Problems With John Deere LX277
John Deere LX277 is JD's one of the superior garden tractors with minimal problems. In this LX277 series, John Deere has introduced three tractors – John Deere LX277 42″, 48″ & AWS 48″.
Like every other garden tractor, this tractor model also has some common issues that can be fixed within no time. Stay tuned, as I'll be stating the four most common problems along with fixing solutions of JD LX277.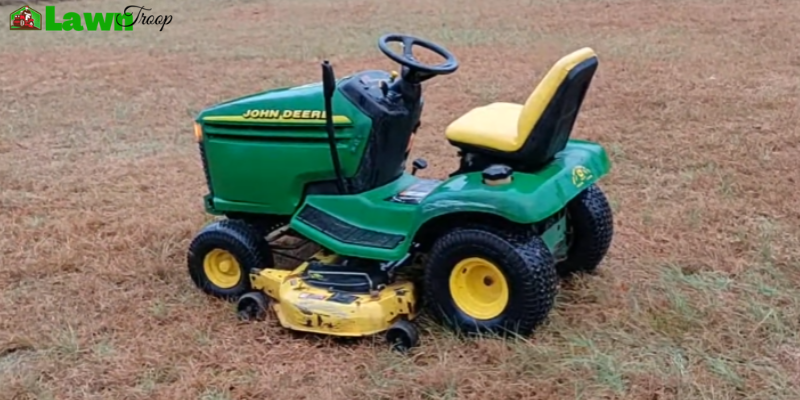 1. John Deere LX277 Engine Stalling Problem
Some JD LX277 reported that they're facing sudden stoppage or slowing while mowing their garden. Well, it's an engine stalling problem in action & there's nothing to worry about.
You might be noticing the engine stalls every 20 seconds of mowing after engaging the PTO. However, the mower will be doing fine until you engage the PTO.
The Fix:
This stalling problem occurs for several reasons: Weak/Failing Battery, Failing Voltage Regulator and Failing PTO. You can fix all of them by yourself.
Check the battery first. You can simply take your mower or battery to your nearby auto parts storage & they'll check it for free. If there's an issue with the battery, replace it.
Secondly, check the voltage regulator. The voltage of your regulator should be around 14V while the engine is running at full throttle. Anything other than 14V means a failing voltage regulator that needs a replacement.
Last but not least, check the PTO coil's resistance. If it's low, then you know who's the main culprit of the LX277's engine stalling problem. Replace the coil & you'll be fine.
2. The Motor Surging Issue
Like the engine stalling problem, some users also faced motor surging issues at higher idle & sometimes under load. You may notice higher speed while the gear is at neutral.
Also, sudden slow-moving is also caused due to motor surging. This surging issue might not be a problem unless you have a kid playing around the garden while you're mowing.
The Fix:
The tractor's motor surging/hunting issue happens for three reasons – Air Leak Fuel Delivery & Governor System Problem.
Check for air leaks first. If you find one or several leaks, go & get a new or used vacuum pump. Just doing this can make your mower work better in tackling the surging issue.
Secondly, check the fuel delivery chamber & monitor the flow out of the pump. If you find any irregularity, then replace the fuel pump to fix your motor surging issue.
Last but not least, check if there is a governor adjustment issue. Loosen the governor arm slightly so it can rotate on its shaft. By doing this, you can check the linkage of the governor & carburetor.
If you find any issues after the thorough inspection, call your dealer for service. It's not DIY work for most users & you shouldn't risk your governor entirely.
3. John Deere LX277 Hard To Start
Despite everything being in good condition, some customers noticed their JD LX277 demanded their sweat to start.
This hard-to-start issue is one of the most common problems of tractors, including the LX277. If you're one of the victims of this problem, then I've good news for you.
Fixing this problem won't cost a dime & you can do it yourself. All you've to do is clean the fuel filter.
The Fix:
Over time, the fuel filter stores a tiny amount of fuel due to evaporation or gravity. If you can somehow push that fuel to the fuel tank again, you won't face the hard-to-start problem.
Firstly, disconnect the clap attached to the fuel line & pull the hose back. Later on, grab the hose with your hand & push air through it.
You can use a compressor in this regard & you'll notice the fuel filter will expand a little bit. While using a compressor, maintain the pressure at 50 psi.
4. Deck Belt Popping Off Sometimes
People notice the deck belt popping off for unknown reasons & it can be pretty dangerous. Don't hesitate to learn about this problem even though it's a rare one.
You should be aware of it for one & only reason. As there's no prevention of this problem, you better learn the cure before facing it.
The fix:
Removing the mower deck of your John Deere is needed before fixing this problem. After removing the deck, you'll be able to settle the belt in place.
If you don't know how to remove a mower deck, check this tutorial first. I could write the steps here, but a visual explanation will be more beneficial to you in this case.
Customer Comments On John Deere LX277
"Bought my John Deere LX277 from my uncle back in 2007 for $800. This will be the 13th mowing season. I replaced the upper hood with a JD knock off part. Overall, It's a solid lawn tractor!"
–Ron Douglas
"I have one with over 700 hrs on it. The only issue I have is the plastic hood. Why they don't use something stronger for their hoods is beyond me! Other than that, it's been a great machine."
–Kerry Pearson
"My mom and step dad picked up John Deere LX277 42″ back in 2000. Used it till 2017 & then we got the big one, the John Deere 48″. Now that's Deere quality right there."
–Ryan Antczak
Final Thoughts
Don't be afraid of the problems mentioned above; all of them are fixable by anyone. Though some of the problems may need an expert's observation, the warranty will get you covered.
It's overall one of the greatest mowers from John Deere, from both price & performance perspective. If you're trying to get a lawn mower that will last for decades, go for John Deere LX277.
Related Posts: