Worx Landroid WR140 Vs WR150 Robotic Lawn Mower
Table of Contents
Introduction
Whether you have a big garden or a small lawn, you would know how exhausting it is to try mowing with a noneffective lawn mower. But this is not even the worst thing. After spending all that time and energy, it isn't enjoyable to see that the mower didn't even do a good job! And since you are reading this, this should be the case for you. 
But, considering all the overwhelming amount of options available, you might be confused. And this is exactly why we prepared this comparison review. As you might already know, when it comes to gardening-related products, Worx is one of the well-liked market leaders. And these two Worx Landroid versions are among the best-selling lawnmowers. But, of course, knowing these products are liked by many is not enough.
Everyone has different needs for their garden, and before deciding to invest in a lawn mower, first, you need to determine your needs. And after that, this comparison review will give you every detail from the essential features of the two products to their advantages and disadvantages. So, without further ado, let's see what different features these two Worx Landroid versions offer.
| | | | | | |
| --- | --- | --- | --- | --- | --- |
| Landroid WR140 | Cutting diameter: 7" | Cutting capacity: ¼ acre | Adjustable cutting height: 1-½"-3" | 20V Power Share | Cut to the edge feature |
| Landroid WR150 | Cutting diameter: 9" | Cutting capacity: ½ acre | Adjustable cutting height: 1-½"-4 | 20V Powershare | Cut to the edge feature |
| | | | |
| --- | --- | --- | --- |
| WR140 Pros | WR140 Cons | WR150 Pros | WR150 Cons |
| Rain sensor | Doesn't cover more than ¼ acres | Customized mowing programs | The initial installation might require professional help |
| Fully automated | Might make tire tracks | Larger cutting width | Might lose its way when turning back to its base |
| Can be controlled with its app | App updates might be annoying | Navigates narrow paths easily | Might have difficulty cutting longer grass |
| Tackles obstacles easily |   | Charge lasts longer |   |
Comparison of Worx Landroid WR140 Vs WR150 Robotic Lawn Mower
1- Cutting Height and Width
When it comes to lawn mowers, one of the essential features to view is the cutting height and width. Because these values are the things that will determine how effective your lawn mower will be. And also, One of the main issues with robot lawnmowers is that they often leave the lawn edges uncut. 
However, fortunately, both of these Worx versions cut to the edge feature. Plus, you can forget about the labor-intensive clearance processes thanks to the razor's placement and the flawless boundary wire following mechanism. And, since we got that out of the way, let's check out how these two versions do in terms of cutting height and width!
Worx Landroid WR140
Regarding cutting width,  Landroid 140 offers a smaller inch than WR150. Although the difference is insignificant, keep in mind that with WR140, you will only have 7 inches of cutting width.
On the other hand, the cutting height is adjustable. This version offers a range between 1.9 to 3.5 inches. And adjusting is simple. Unfortunately, though it only covers a small region, it is less effective in fast mowing. 
Worx Landroid WR150

WR150, however, is one step ahead of its sister by 2 inches, meaning that it has a cutting width of 9 inches. Regarding cutting height, adjustability is, of course, also offered in this model. Landroid WR150's cutting height range is between 1.6 and 3.9 inches. This translates to better immediate coverage and a more adaptable vertical clearance for all your yard needs. 
Even though the values are not much apart, this round clearly shows that the WR150 version offers more convenience. That said, the final decision will be determined by your own needs for your garden.
It might be helpful to note the shortcomings of your previous lawn mower. This way, you can decide if you need to go with the option that offers larger and higher cutting width and height.
2- Size and Coverage

Another essential feature of a lawn mower is its size and how wide of an area it can cover without needing to be charged. After all, for you to be able to store this lawn mower securely, you need to have enough space for it. Speaking of security, these two Worx Landroid models share a perfect feature that needs to be mentioned.
To cope with safety, both robots include additional security measures. For example, because it contains a theft alarm to let you know when the robot is outside your property so, even when you are not home, you won't have to worry about the mower being stolen.
Also, both Landroid models of Worx include lift and tilt sensors, which immediately halt the blade. Because of this, there is no possibility that the robots will harm you or your family. 
Worx Landroid WR140
The dimensions of the Landroid WR140 are 22 inches wide, 15 inches deep, and 10 inches high, which makes this model smaller and a little more compact than the WR150 model. Although, it should be noted that both models still share the exact battery specifications and charge timeframes.
In terms of coverage, unfortunately for some, WR140 can only mow up to ¼ acres and can struggle with more extensive areas. However, this doesn't mean that this model is not good. Especially if you have a smaller lawn than ¼ acres, surely this model will be enough to handle it and make you happy.
Worx Landroid WR150
Worx Landroid WR150, on the other hand, is 25 inches wide, 17.5 inches deep, and 8.86 inches high. Of course, this also means that it weighs more than the 140 models, which might be a problem for some. However, since this model can cover more land, if your garden area is bigger, this one is better for you.
This Worx model has coverage of ½ acres, meaning that it does so much better than its sibling model. This makes this Worx model more practical and ideal for bigger spaces. And considering all of these, WR150 does a better job than WR140. Besides, if you want your mower to go on longer without getting charged, even though your lawn is not that big, WR150 is a better choice. 
3- User-friendliness
As you can see, actually, both models are more or less the same. Their only differences are size, coverage, and, naturally price related. However, before discussing price differences, let's first see what features these two models share. For example, the Landroid WR series' interoperability with smartphone applications is one of the aspects that attract the most consumers. 
Thanks to this application, you can schedule tasks, keep tabs on the cutting procedure, and access extra benefits using this app, all of which can enhance the user experience. Moreover, if can even let you know if it becomes trapped in an impossible rut or hole! With that being said, you also have the option only to use the virtual platform if you don't want to link the robots to the mobile application. 
You are free to use any one of the robot's nine different buttons to your needs. Yes, both Landroid 140 and 150 have nine buttons. In this component, you may also set the date, time, scheduling, and modes of your lawnmowers. Also, both Landroid models have AIA navigation patents, giving them 10% more effective mobility and motion than competing companies. 
The Worx Landroid WR140 M and Worx Landroid WR150 L can deliver a thorough mowing service for your yard thanks to their ability to go through very small places and acute angles. Compared to handheld mowers, which could be challenging to control, this is a significant increase in efficiency.
Worx Landroid WR140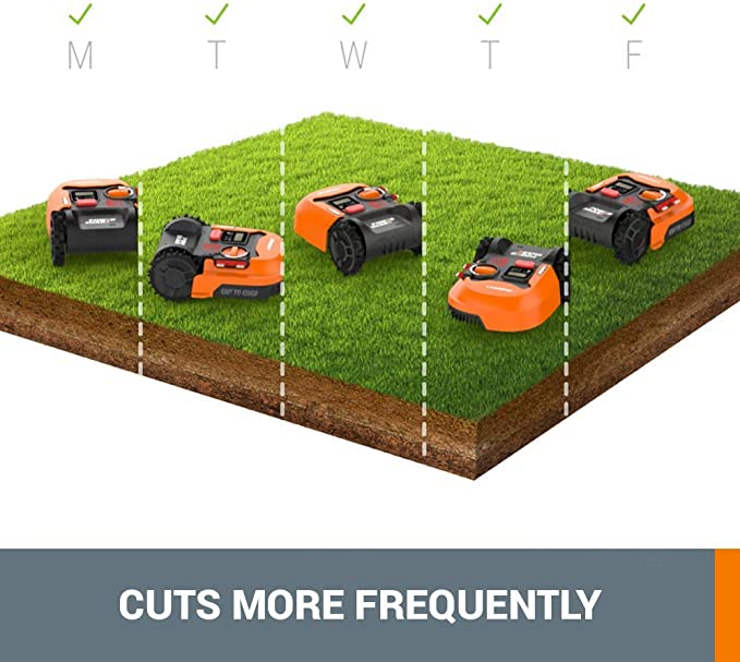 Worx Landroid WR150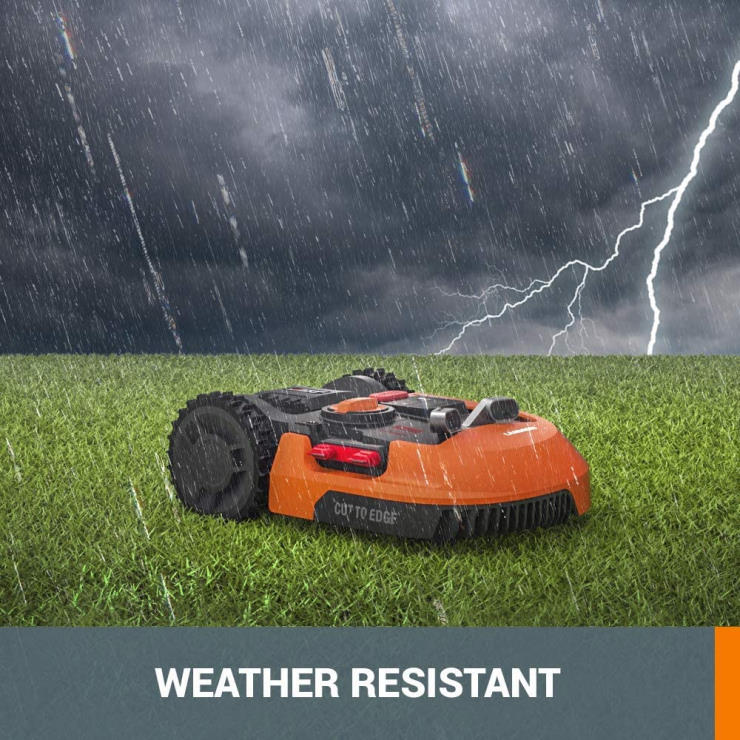 4- Latest Technology

As we said, both Worx models are good at their job. So, deciding point only will be how large of a garden you have. Because both models are constructed with the same leading technology, in fact, they are more like smart home robots rather than just smart lawnmowers!
The WR Series' robust design can withstand harsh weather, and it even has a rain sensor that will alert the robot to self-dock when heavy rain occurs. The WR140 and WR150 will wait until it has stopped raining for at least 180 minutes before continuing to cut the grass. As you can see, both of them are hardworking helpers that don't even require you to reroute them after it rains.
This latest technology also shows itself in the way that both lawnmowers operate. They both have a single disc with triple-attached razors. These razors chop the grass into small pieces because they rotate quickly. 
And not only that but also to produce better and more even growth in the future, these bits will subsequently act as fertilizer for the soil. As a result, the Landroid WR series or Worx serves as both a mower and a yard booster.
5- Price

Price is another critical topic when shopping for a lawn mower. Especially when comparing two models that are this similar to each other and don't have many fundamental differences, price matters since, perhaps, this will help you decide whether or not you need to pay more.  
Worx Landroid WR140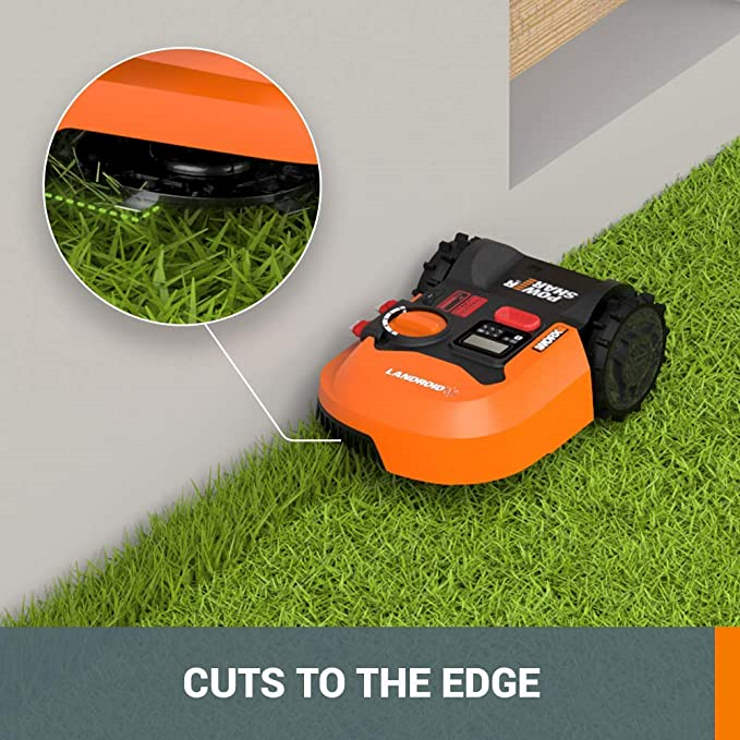 As you might have already guessed, the WR140 is the more affordable option. Since it is not as big as WR150 and does not cover as many areas as WR150 does, this one is a better option for those with a limited budget and who don't have a big lawn. So, how much is it exactly? 
Worx Landroid WR150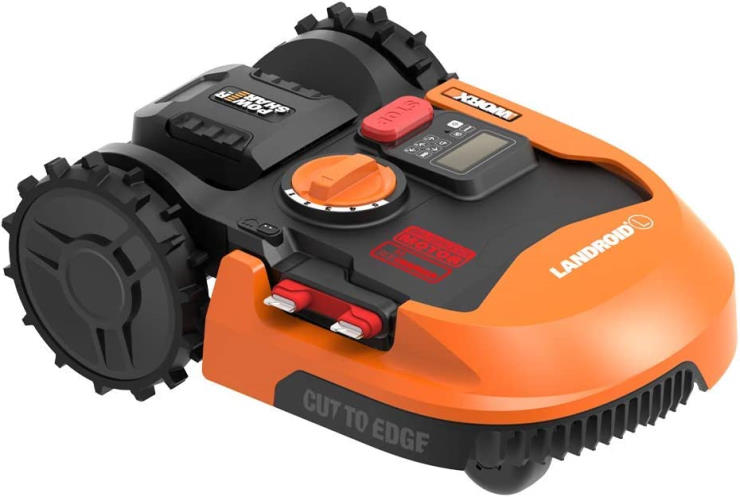 Of course, since this model has more coverage, it is normal for it to cost higher. After all, this pricing applies to any lawn mower on the market today. Besides, if your garden space is larger than ¼ acres, investing in WR150, in my opinion, is worth it.
Final Verdict
As you know, these two Worx models don't have many differences. So, the decision comes down to your needs and your budget for the lawn mower you want.
Because, in terms of motor power, application, and blade technology, both models have the same beautiful features. The only significant difference between the Worx Landroid WR140 and WR150 robot mowers is the space they can mow in a single session. 
The WR140 might be the most excellent option for you if your yard is smaller and doesn't exceed ¼ acres because it can help you save a lot of money.
However, if your yard is larger than half an acre, you should not hesitate to purchase the Landroid WR150 because it offers greater rapid cutting and can help you save a lot of time, thanks to its effectiveness. Keep in mind, though, that optional products, such as the anti-collision system, are offered.
Additionally, for users who want to feel comfortable about their robots, investing a little additional money in the Worx Landroid WR150 is not a terrible option because of the incomparable peace of mind this model will provide.
That said, from a realistic point of view, the coverage is where there is the biggest difference. While WR140 can cover only approximately 1000 square meters, WR150 can cover up to 2000 square meters.
You may also be interested in:
Worx Landroid WR140 vs. WR155 Robotic Lawn Mower