5 Best Peach Trees To Grow In Houston Area
With Houston situated close to the "humidity machine" known as the Gulf of Mexico, residents of Houston are familiar with the intensity of the summer but the mildness of the winters.
The apricots and apples grow here but they often do not produce fruit properly, due to the spiciness of the soil. It is recommended to choose fruit trees that are subtropical in origin or those that are grafted on hardy rootstock that will not succumb to diseases that are encouraged by our climate.
The Houston, Texas area lies between USDA Hardiness Zones 8b and 9a and is bordering the hardiness zone.
It is essential that both peaches and their smooth-skinned sibling nectarines have their place in every Southern garden orchard.
There are many varieties tested or developed at Texas A&M University that are often recommended for Houston's soil and climate, such as Tex Star, Tex Royal or Tex Prince.
Irrespective of their variety, peach trees need periodic monitoring and spraying to prevent insect or foliage pests and diseases, as well as netting to prevent birds and rodents from eating the fruits.
Harvester Peach Tree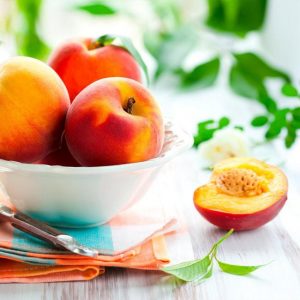 Harvester Tree branches and roots are well developed.

Can produce a large peach crop the first year.

Pollination of more trees leads to more production.
During the first year of your development, you will have more peaches than you ever imagined.
Although it is a dwarf tree, the Harvester Peach Tree yields one of the highest yields of all the peach trees you will ever come across.
Furthermore, it is a dwarf variety, which means that it doesn't require a lot of space for it to be able to perform year after year, especially since it is self-fertile.
From your own backyard, you will be able to have a bushel of fresh peaches, right there on your table.
In addition, it is extremely easy to grow, as it can adapt to most soil types, thrives in partial to full sunlight, and tolerates high temperatures and humidity.
Galaxy Peach Tree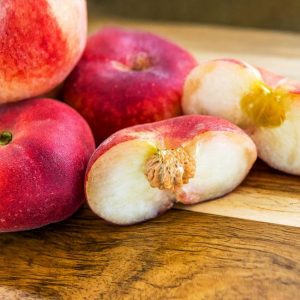 You cannot find a peach tree like Galaxy Peach Trees anywhere else with such a uniquely sweet flavor.
Golden peaches are available all over the country, but the Galaxy (a white donut peach) is not nearly as common; it has a tiny stone in the center and is less acidic.
Galaxy Peaches, also known as Jupiter Peaches, are the largest donut peaches you can grow and are nearly 50 percent larger than Saturn Peaches.
As fall approaches, you will have a great delight tasting your fresh, sweet, juicy peaches.
There are some very interesting features about your Galaxy Peach that you're going to love.
There is nothing quite like the Galaxy tree, from its weeping foliage to its sculptural branches that have ornamental value even coming with the addition of robust peaches.
As a plus, you will never have to worry about running out of peaches. The package includes half a ton of sugar packed dessert peaches for you to enjoy from now until the end of the year!
The Galaxy is disease resistant, which means that there is no guesswork in growing, no harsh chemicals or sprays, and no effort needed in the garden at all.
Having only 200 to 300 chill hours required, these donut peaches can be grown in warmer climates that do not see hard freezes during the winter months.
In addition to the Galaxy's ability to tolerate temperatures as low as -10 degrees, it is also a tough computer.
---
Honey Fruit Cocktail Tall Bearded Iris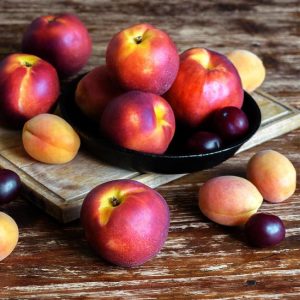 The freshness of the fruit, which is grown quickly, will delight you right from the backyard.
If you want to have your own mini orchard in a compact space or if you need a quick, no-fuss harvest of a sweet fruit medley, then The Fruit Cocktail Tree would be the perfect choice for you.
The combination of peaches and plums you will receive will represent our most popular varieties, so that you can benefit from a harvest as early as the first year.
Having grafted these single-stone selections together into one tree, we have cultivated and nurtured this unique specimen, so you can get multiple great tasting, different fruit types when you buy just one tree.
Moreover, this cultivar is healthy, hardy, and provides years of fruit production over an indeterminate period.
Toward the end of the summer, the harvest season starts and as a result there will be plenty of fruit available for canning, freezing, making jams and preserves, as well as baking pies and cobblers.
The best part about our Fruit Cocktail Tree is that it is self-fertile, adaptable to most soil types, and matures to a manageable height of 10 to 15 feet, making it ideal for growing in even the smallest areas of the garden.

---
White Lady Peach Tree
This is one of the best varieties of peaches you can find on the market at the moment.
With the White Lady, you get peaches that ripen faster than other varieties and taste better than ever before.
During the summer months, you will find yourself rewarded with loads of juicy, sweet, and low-acid peaches by the end of July year after year.
This fruit is known for its sweet, low-acid taste and heavenly aroma, making it the perfect fruit for summer.
An event in which the White Lady Peach was one of the top-scoring varieties, has recently taken place at our plantation.
There is no need to drive to the grocery store or to spray or apply harmful chemicals because this tree provides a daily dose of vitamins and minerals, as well as unforgettable flavor, without costing an arm and a leg.
Peaches with red-skinned skin and cream-colored flesh are large and firm, with large and firm fruit. What could be better than that? Besides the fact they're freestone!
Early White Giant Peach Tree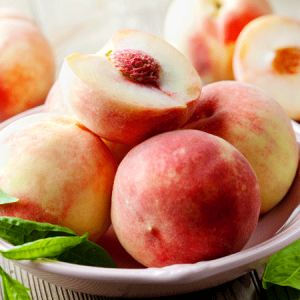 A big, robust peach, fast-growing and hassle-free – that's how you'd describe the Early White Giant, which is known for its vast production and quick growth.
The Early White Giant Peaches ripen earlier than other varieties of peaches, which means you will get a large harvest of juicy, sweet, aromatic peaches at the beginning of June, year after year.
It is also worth mentioning that Early White Giants can produce more than 60 pounds of peaches each year, so you'll have plenty of fruit to enjoy in everything, from cobblers to yogurt and even curries.
The present tree provides a daily delivery of vitamins and minerals without the need for expensive trips to the grocery store or dangerous sprays and chemicals.
Frost Proof Peach Tree
Would you like to grow fruit in a Northern region but you do not know where to start?
A Frost Proof Peach Tree may be exactly what you are looking for. It is important to realize that while most fruit trees can be injured by a late frost, the Frost Proof Peach will remain unaffected and will still produce a large harvest.
Moreover, the Frost Proof Peach is very resistant to pests and diseases, as well as being able to withstand drought conditions.
Frost Proof is synonymous with low maintenance and hassle-free care. It's an excellent choice whether you are a beginner or an expert in this field.