4 Most Common Problems With SCAG Cheetah: [Must Know]
No matter what model of SCAG Cheetah (61″, 72″, 52″) you own, you'll admire the premium & sophisticated feel for sure. From personal usage to commercial mowing, SCAG Cheetah performs the best in every form.
However, the best products can also have flaws & SCAG Cheetahs aren't an exception. In this article, I'll be stating some of the most common problems & solutions of all the variations of SCAG Cheetah.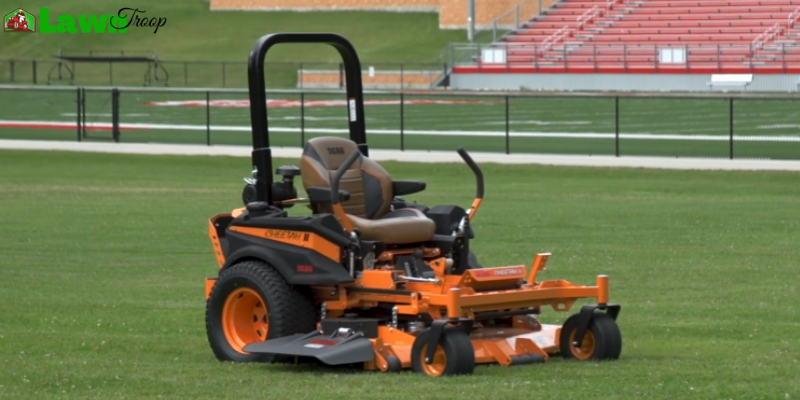 Four Most Common SCAG Cheetah Problems:
1. Limited Anti-Scalp Rear Rollers
SCAG Cheetah doesn't offer any rear anti-scalp rollers & it isn't quite acceptable from a $12-13k commercial mower. You do get rollers in the four corners along with a triple roller setup in front/center.
But the one roller you'll be getting in the rear underneath isn't adjustable. For the lack of anti-scalp rear rollers, you may have scalping issues with your lawn. Don't worry, there are ways to prevent scalping.
The fix:
Just drive consciously on uneven areas of your field. Place your foot on the deck lift & try floating the deck just after seeing any uneven areas. In this way, you can prevent your lawn from being scalped.
The other way – replace the built-in blade spacers with shorter blade spacers to move the blades a bit higher. Then readjust the deck at proper height & you should see at least a 50% improvement.
2. Problem With Cutting Tall Grass
It's frequently reported people are having issues cutting the 8 to 12 inches grass. Though SCAG Cheetah comes with Velocity Plus Cutter Deck for cutting high/tall grass, you may still face issues doing so.
Tall grass tends to lay down & makes it harder for the roller to cut them thoroughly. On top of that, the ZTR (Zero-Turn) mowers are notoriously fast. That's the reason they might skip flat & tall grass.
The Fix:
To overcome this problem, you have to drive slowly & do the mowing task two to three times (in the same place). However, you can also sharpen or change the blade after a couple hours of cutting period.
3. Comfy Seat With Bad Suspension
One of the most hated issues of SCAG Cheetah is the Seat Suspension. You'll have a hard time coping with the suspension if you're from models like SCAG Wildcat & others.
The Fix:
Sadly, there's nothing to do with this issue. All you can do is try to be comfortable over time & ride slowly. You can also spend around 1200 bucks to give yourself a comfy air ride seat.
4. Engine Stalling & Starting Issue
If your luck doesn't favor you, you may end up having an engine stalling & starting issue from SCAG Cheetah. It is the one & only technical issue you might face with your Cheetah.
The scenarios might look like this:
Scenario 1: The engine turns off automatically & doesn't start again until it's cool enough.
Scenario 2: The engine starts on its power without functioning the mower deck. In this way, the mower only moves without mowing.
The fix:
This problem happens for several reasons: malfunctioning wiring, defective PTO switch, & faulty fuel filters. Try inspecting these mentioned issues & try fixing them one by one.
The best thing you can do is call your dealer for a complete understanding of the matter. Chances are, you'll be getting a full refund or complete repair if this situation occurs during the warranty period.
Customer Comments On SCAG Cheetah
"I'm using a SCAG Cheetah. One hundred hours on it & the seat is pitiful! Terrible seat on it. I don't understand why SCAG can't have a comfortable suspension seat on the Cheetah. The platform isn't good either."
– Sam K
"My 2016 Cheetah is the most productive piece of equipment I've ever owned! The speed of this mower is incredible. Overall this has been very reliable, just like the other four SCAG mowers I own."
– Ruth Ford
"SCAG has some of the best cut & build quality mowers on the market today. I'm currently owning a SCAG Cheetah & running it for a long time now. 4000 hours on this Cheetah without having any major issues."
– Shawn Henry
Final Thoughts
SCAG has provided top-notch mowers for decades, including SCAG Cheetahs. From top to bottom, these Zero Turn Mowers are capable enough to satisfy any users.
None of the problems mentioned above is a deal-breaker. SCAG Cheetahs are both tough & speedy. They are so strong that you can pass your Cheetah to your grandchildren as well.
Related Posts: